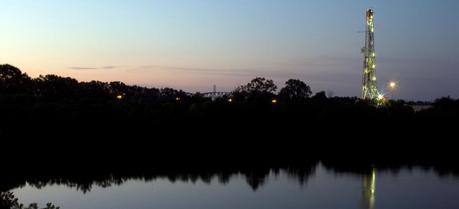 A shale gas well during sunrise in Shreveport, Louisiana. (Credit: Flickr @ Daniel Foster https://www.flickr.com/photos/danielfoster/)
The British Geological Survey (BGS) in partnership with the ReFINE (Researching Fracking in Europe) consortium, led by Durham University, published a review of global oil and gas well integrity in the journal Marine and Petroleum Geology (see footnote).
According to the Durham University news site, the key findings are:
Studies of oil and gas wells that were drilled over the last 100 years reveal highly variable well barrier and well integrity failure rates of 1.9%-75%. This variation in failure rates is probably due to the differences in the number of wells included in each study, their age, design and the geology they penetrate. For example, of 8,030 wells targeting the Marcellus shale inspected in Pennsylvania between 2005 and 2013, 6.3% of these have been reported to the authorities for infringements related to well barrier or integrity failure.
In the UK, 2,152 hydrocarbon wells were drilled onshore between 1902 and 2013 mainly targeting conventional reservoirs. Between 50 and 100 of these wells are orphaned. In total, up to 53% of the 2,152 wells were drilled by a company that no longer exists or which has been taken over or merged.
Of 143 active UK wells that were producing at the end of 2000, one has evidence of a well integrity failure.
Public domain data on well barrier and well integrity failure rates for onshore wells in Europe is scarce.
Dr Rob Ward, Director of Groundwater Science at the BGS, and a co-author of the paper said, "This extensive review of published information shows that hydrocarbon well integrity problems are a real issue. Despite this, there has been only one reported incidence of a UK onshore operational hydrocarbon well causing pollution due to well integrity failure, although there is a lack of of information for the many hundreds of other abandoned wells.
Analysis carried out by the BGS, as part of the study, shows that 45 per cent of the 2152 hydrocarbon wells drilled since 1902 penetrate highly or moderately productive aquifers. These aquifers are important for drinking water supply and supporting flow in rivers and wetlands, and so any leakage from the wells could have significant environmental impact and require costly remediation.
The risks associated with well integrity failure therefore need to be taken very seriously and as a result wells drilled onshore in the future (including those for shale gas) will be subject to strict regulatory controls that require a detailed environmental risk assessment to be carried out, approval of well design by an independent inspector, well integrity testing and effective groundwater monitoring."
The paper is available for free download.
Davies, R., Almond, S., Ward, R., Jackson, R., Adams, C., Worrall, F., Herringshaw, L., Gluyas, J., & Whitehead, M. (2014). Oil and gas wells and their integrity: Implications for shale and unconventional resource exploitation

Marine and Petroleum Geology

DOI: 10.1016/j.marpetgeo.2014.03.001