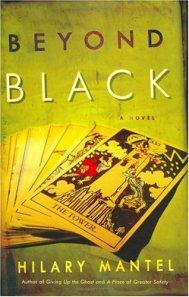 Beyond Black by Hilary Mantel
Fourth Estate (paperback), 2005
451 pages 
www.harpercollins.co.uk/authors/3691/hilary-mantel
http://en.wikipedia.org/wiki/Beyond_Black
BLURB FROM THE COVER 
A comically sinister tale of wicked spirits and suburban mediums from the Man Booker Prize-winning author of 'Wolf Hall' and 'Bring Up the Bodies'. 
Alison Hart, a medium by trade, tours the dormitory towns of London's orbital ring road with her flint-hearted sidekick, Colette, passing on messages from beloved dead ancestors. But behind her plump, smiling persona hides a desperate woman: she knows the terrors the next life holds but must conceal them from her wide-eyed clients. At the same time she is plagued by spirits from her own past, who infiltrate her body and home, becoming stronger and nastier the more she resists… 
Shortlisted for the Orange Prize, Hilary Mantel's supremely suspenseful novel is a masterpiece of dark humor and even darker secrets. 
EXTRACT 
Travelling: the dank oily days after Christmas. The motorway, its wastes looping London: the margin's scrub-grass flaring orange in the lights, and the leaves of the poisoned shrubs striped yellow-green like a cantaloupe melon. Four o'clock: light sinking over the orbital road. Teatime in Enfield, night falling on Potters Bar. 
REVIEW 
I love the blend of light and dark mantel offers in Beyond Black. There are some truly funny scenes especially when Alison is working as a psychic. She also clashes with Colette a lot which can be really funny. These lighter moments are contrasted with some pretty dark stuff. The dark stuff revolved around Alison's memories of a terrible childhood. Her mother was a prostitute, hung about with various nasty men and the police were always after her. I found some of the flashbacks to her childhood truly disturbing. In one scene various men her mother associated with cut her up with a knife to teach her a lesson when she oversees them dismembering a body. I found this truly disturbing.
Mantel offers well-written and very believable characters in Beyond Black. I thought Alison was great. She's quite a tragic figure. She spent a childhood in hell and her psychic gift means her adulthood is not much better. Mantel gives the impression Alison is not completely happy with her psychic powers. She feels attacked by the spirits she sees all the time, plaguing her life and sanity. Alison is grossly overweight. She has chosen to become so large to create some kind of defence against the dead who constantly attack her. My heart bled for her at time. I really didn't like Colette. She is not a very pleasant person. She is quite abrasive and comes across as cruel. She is constantly belittling Alison and is very controlling. I was happy when Colette abandons her. Alison's mother and the various nasty men in her life were well-written character and managed to avoid being one-dimensional villains.
I loved the concept of Beyond Black. I've not really read much fiction about someone who is psychic, well not one that focuses so much on the trade. I really enjoyed the scenes when Alison was working especially at psychic fairs and in bars. These were well written and fascinating in a way. Some of the most interesting characters are the various other psychics Alison knows. Mantel offers something interesting and a bit different with Beyond Black.
Beyond Black is an original ghost story. Alison is the perfect definition of haunted. She survived a childhood in hell surrounded by not one but several monsters. Mantel hints that her mother passed her round various men for sex when she was very young. This is not overtly stated but there are enough hints to give me the creeps. She has been mentally scarred by her childhood. Her psychic powers mean Morris; one of the men in her mother's life is her spiritual guide. He is the man who cut up all those years ago. Imagine if the spirit of someone who terrorised and abused you as a child was always around? Morris is also friends with the spirits of the other men her mother knew so they haunt Alison as well. She is haunted mentally and physically by her terrible childhood. If that's not a ghost story I don't know what is.
I loved Beyond Black. Mantel has become one of my favorite writers thanks to her novels A Place of Greater Safety, Wolf Hall and Bring up the Bodies. Beyond Black is the first Mantel novel I've read that isn't historical fiction so I wasn't sure what to expect. I wasn't disappointed. Beyond Black is a great read.
RATING