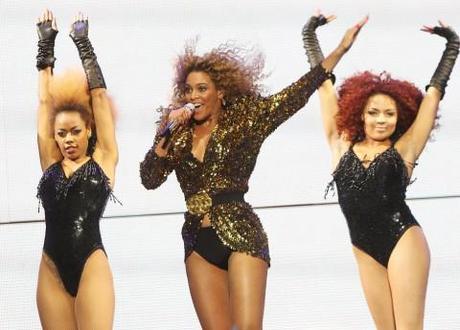 Beyonce performs at Glastonbury 2011. Photo credit: Beacon Radio

I want you to feel the love that's growing inside meLove On Topconfirmed to gossip site Just Jared that she is pregnant.
"The announcement comes after a stellar summer for the Grammy-winner in which she headlined Glastonbury and released another hit album, 4," enthused Andrea Magrath of The Daily Mail, who noted that the former Destiny's Child singer has been hinting for months in interviews that she'd like to start a family.
Tributes to the recently-deceased Amy Winehouse flooded in on the night. Legendary soul singer Tony Bennett paid tribute to Amy Winehouse and introduced a clip of the pair singing Body and Soul. Bennett said: "She was a true jazz artist in the tradition of Ella Fitzgerald and Billie Holiday. She had the gift." Meanwhile, Adele and Katy Perry were the big winners at the ceremony, walking away with four and three Moonmen gongs, respectively. See MTV.com for the full list of winners.
"OMG Beyonce just made a huge announcement on the #vma!!!!!," MTV tweeted Sunday night, with a photo of the singer-actress with her hands on her stomach.
Besides Beyonce's announcement, Jane Witherspoon of Sky News said the VMAs lived up to their reputation for providing a few shocks along the way. "Lady Gaga turned up at the event as her male alter ego Jo Calderone, drawing gasps from the crowd. Last year, she arrived wearing a meat dress … After opening the show with her single You And I, she even managed to unsettle Britney Spears by trying to kiss her on stage. Britney pulled away joking: 'I've done that already' – a reference to her notorious kiss at the same awards with Madonna in 2003."