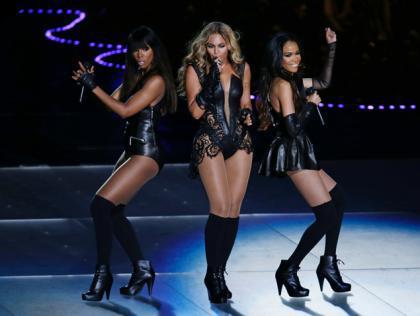 Beyonce performed during the halftime show for the 47th Super Bowl.  Her performance was even more scrutinized after "lip-synching" the American anthem at the inauguration ceremony.  Some felt betrayed that she pretended to sing at the ceremony, even though it is very typical because of the cold weather.
Beyonce's halftime show was highly anticipated.  She sang 8 songs in 12 minutes.  She was reunited with her former group, Destiny's Child.  Her performance garnered rave reviews.  At least it seems by everyone other than me.
Now don't get me wrong, I think she is a great singer.  That is exactly why I had such high expectations for her performance.  My biggest problem was the ironic fact that she didn't really sing many lyrics during her live, singing halftime show.  Her show was mostly her shaking her hips.  Not that there is anything wrong with that.
What frustrated me was that she would start sing a verse from a song I liked and then she would mostly dance the rest of the song.  I'm not sure if she wanted me to sing lead vocals.  Only problem is that I can't sing.  As much as I would like to think I can do anything, there are some things that have their limits.  Let's just say American Idol or X Factor isn't in my future.  Unless of course I decide I feel like being ridiculed by Simon Cowell.
Overall, I think the performance was pretty good (she sure knows how to dance J).  I guess I just expected her to actually sing a song in its entirety.  I probably just have too high of expectations.  But then again, even before she began to sing I knew that no matter what happened she would receive high praise.  Another thing I noticed was that when she was joined with her former group members it seemed to me that their microphone volume was severely lowered.  When it was time for them to sing a brief solo part I could barely hear them talking, let alone singing.
*This is what I though I would hear.
What do you think?
Was this the best halftime show of all time, like some are saying?
Email: [email protected]
Twitter: @adrakontaidis & @talkrealdebate