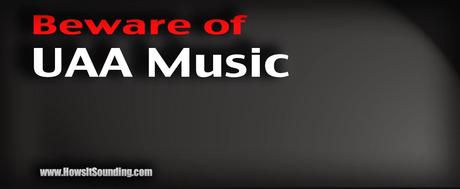 In today's world, there are tons of record companies and labels out there.  Some promise to make you the next biggest thing, others will help you produce an album, others will sign you for life, and then there is United Artists Alliance Music.  The one that is… different.
I have put off writing this article for a while because I didn't want to burn anyone too bad, but after I had the misfortune of working for them, and time has gone on past the point to which I really don't care anymore, I figured that I would let all of you potential artists or production assistants know to beware of these guys.  In short, they are one of the most disorganized, poorly run, and poorly prepared group of people that I have worked for; and I've done a lot of side jobs for a lot of people.
Let's start out with the gig itself.  This was supposed to take place at the Orange County Convention Center in Orlando, Florida.  It was a showcase of all of the local talent signed to this California based company.  The company states that they, "…strongly believe that every talented musician and act deserves to be heard and afforded the opportunity to experience major success in the music industry."  Sounds good right?  Well let's hear how they did it.
A few days before the event, all the people working the event were supposed show up to understand the layout of the environment, what we were supposed to do, and meet some of the latent.  Being the "I-need-to-know-everything-possible" person I am, I asked if food and gas was covered.  I have a written response from UAA Music that states lunch will be provided, but travel expenses would not be covered.  They claimed we would get a day rate, and work for "credit and connections".  Pause, rewind, play… "credit and connections…" I should have known right from there that if someone has to bother saying "connections", then you know there is something up, and they are either desperate for help, or a small or unsure company.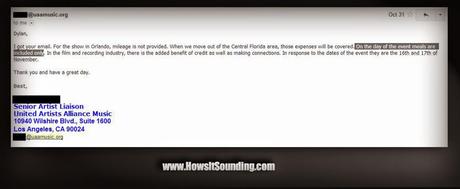 Regardless, all of us showed up.  We all introduced ourselves to each other as we waited, and waited, and continued to wait for the people in charge.  A few hours later, someone showed up and said they were in charge.  At this point, we were unsure what to expect.  We all sat in the room people would be performing in, we called out our names for attendance, then we were all handed stacks of business card sized advertisements.  One set for the rock day, and one set for the rap and hip hop day.  Ladies and gentlemen… this was the extent of their advertising: expecting us to hand these out to our friends.  Keep in mind, we were not getting paid for advertising.
Finally it came time for the day of the first event.  We all got there nice and early as we were supposed to, then we waited.  We waited more, then guess what?  We still waited.  Hours later, the people "in charge" showed up.  Now I don't want to drop names, but the person in charge who we had all seen two other previous days continued to dress like used car sales man, so we'll call him Used Car Salesman.
Our first order of businesses (because we had no idea what we were supposed to be doing because they did not tell us) was to go into one of the conference rooms they booked and arrange the tables to look "not look like a classroom" for the artists to sit and wait to perform.  That was all the instruction we got.  So we did the best we could, then waited.  Later, we found out that we had to load in, and load out gear for the bands.  Expected, but the team ended up organizing everything ourselves, because again, we got no direction.
Lunchtime came around.  After doing all this manual labor, we THEN signed a hold harmless agreement.  A little backwards, but whatever.  As I signed the document, I asked if lunch was being covered/reimbursed.  The response I was given was "no".  Umm… I have an email that says otherwise.  We still didn't get anything.  So a bunch of us went to McDonalds, and I kept my receipt.
Fast forward to the good stuff.  At one point, I was tasked with sending artists to where a video camera was set up so UAA could get artist testimonials.  Simple task: find the artists, send them down, check them off, send the next.  As the night went on, the artists were getting harder and harder to find.  The showcase was supposed to start at 6 PM.  Long story somewhat short, the first band went on at 9 PM.
Between this time, we all heard stories that someone on our team was fired because she lead an artist backstage.  Foreshadowing…
It's 9 PM and artists are getting pissed.  We have no information, and neither do they.  I just kept sending people down for testimonials.  Artists began to leave because of the lack of organization and lack of care the talent was being given by UAA.  When the bands finally started performing for the pitiful handful of family and friends and other artists waiting that were in the audience, some people started to get relieved that it was finally starting.
I had two people left to send for the testimonials but I was having a hard time finding them.  Then Used Car Salesman came up and asks ME where the artists were.  I said I didn't know, so he turned to his assistant, told her to clock me out, and told me to go home.  As much as I wanted to tell this man what I am telling all you now, I kept my professionalism, said, "that's my pen" as I took the pen from his hand that he took from mine, and I asked if I was still being paid for the full day.  I wasn't given an answer.  Now ladies and gentlemen, this is the only "job" I have ever been fired from and it was the most laughable experience of my life.
Since we were promised "credit and connections" I quickly went around to everyone I worked with, collected numbers and business cards, and as I proceeded to leave, Used Car Salesman saw me and asked his assistant to get security to escort me out.  They never showed up.  I followed his assistant, she said I would be paid for the full day, and that was that.
I heard from the rest of the crew that the next day, half the crew was fired the moment they showed up.  I was never paid, and neither were most other people.  Our lunches were never reimbursed either.  I was forced to sign a contract after the event, but I denied because I was not promised payment for doing so.
So, to all the artists and freelance workers that may want to work with these guys, DO NOT DO IT.  They are the most late, unorganized, unprepared, and all around laughable people I've worked with.  They told all of us that they have never done an event like this before, but that is NO excuse for the lack of preparation they had.  Most of the freelance people working the even had degrees in show production and recording arts, and some even had masters.  Sure degrees are nice, but most of us even had more experience then they did as well.  Save yourself the trouble and avoid United Artists Alliance Music.  You'll be glad you did.