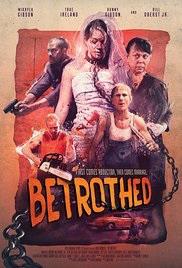 Director: Jim Lane
Writer: Jeff Rosenberg (Screenplay)
Starring: Mikayla Gibson, Joey Bell, David Brown, Elizabeth Castillo, Jamie B Cline, Adam Dunnells, Letiia Farr, Trae Ireland, Bunny Gibson, Bill Oberst Jr, Omar Gooding
Plot: A trip to the store turns into a surreal nightmare when a college student is kidnapped by a deranged, dysfunctional family. Now Audra West finds herself trapped in the middle of the desert, and betrothed to Adam, the youngest son of the murderous clan. As a determined detective conducts a frantic search, Audra realizes the only way to survive is to escape. But even if she could get away, almost two hundred miles of desert lies between her and help.
There may be spoilers the rest of the review
Verdict: No Holds Barred Horror Thriller
Story: Betrothed starts as we meet the Cooper's brothers Adam (Cline) & Nate (Dunnells) who along with their mother Ginnie (Bunny Gibson) kidnap woman to go through forced wedding and torture before killing them. Once we see what this family is capable of we move onto meet Audra (Gibson) who is spending time with her family as she gets on with her normal life but also becomes the latest target.
When Audra's mother Joan (Lindsay) goes in search of help she has to work with Rob Gordon (Ireland) a cop who just happens to be in the area to pick up a suspect. Audra has to find a way to survive with this twisted family by following the rules while planning her own escape.
Betrothed is a horror thriller that dives straight into the action as we see just how deadly the family is. We get what you would call a typical innocent looking leading lady that has fight in her which is easy to make us route for her. When it comes to the supporting characters every single on is important to the final outcome of the story. we have elements of religious cult without being too much about it as the family tries to create their own family. The story never lets up with a twist around every corner that will keep you guessing from start to finish.
Actor Review
Mikayla Gibson: Audra West is the 19-year-old student who is visiting her family when she gets kidnapped by the Cooper family. Audra becomes the latest choice to become one of their wives leaving her having to find a way to defend herself while planning her own escape. Mikayla is great in this leading role showing herself to be a strong leading lady in horror thrillers for the future.
Trae Ireland: Rob Gordon is a police officers who finds himself in the middle of this town to pick up a suspect. He hears the desperate cry for help from Audra's mother and starts to investigate only to uncover the real truth what he finds himself investigating. Trae is good in this role in which I think is one of the better written cops in horror in a long time.
Bunny Gibson: Ginnie Cooper is the mother of the household that makes the rules while planning her son's wedding. We see just how religious that she really is and how discipline she is to the rules.  Bunny is great in this role where we see her snap between characters with ease.
Support Cast: Betrothed has a supporting cast that all have an important part to play in the eventual outcome of this movie, we don't get any wasteful supporting characters.
Director Review: Jim Lane – Jim gives us a film that doesn't hold back with any lulls in the story and most important no wasted characters.
Horror: Betrothed gives us a capture horror film where we see how the lone captive must survive against the enemies.
Thriller: Betrothed keeps us on edge as we wait to see what will happen next.
Settings: Betrothed creates the isolated location for Audra away from anyone who would know where she could be taken too.
Special Effects: Betrothed does have a weakness and that is the special effects but clever camera does cover up large parts of this.
Suggestion: Betrothed is one I think all the horror fans should be trying. (Try it)
Best Part: Non-stop style.
Worst Part: Special effects can reflect the budget.
Believability: No
Chances of Tears: No
Chances of Sequel: Could have one.
Post Credits Scene: No
Oscar Chances: No
Budget: $450,000
Runtime: 1 Hour 30 Minutes
Tagline: First Comes Abduction, Then Comes Marriage
Overall: Strong horror with well written characters that all come off strong throughout.
Rating