We are top web or app Development Company in India, providing best travel website or mobile app for travel agency business with eye attractive UI design and user-friendly features that helping to attract direct customers or small travel agents to your travel website. There are two business modules for the travel agency b2b or b2c.
As per the industry demand, we have developed the b2b panel for travel booking service, where you can connect small travel agents to your business, and offer the best commission on all travel booking services like bus booking, flight booking. B2b (business to business) a corporate solution for travel service, In the b2b panel you can register any count of small travel agents to your business, and all b2b members can use your travel app for bus booking or flight booking purpose to their walk-in customers on own retail shop. And each bus ticket or flight booking confirmation message or email delivered instantly and relevant report and receipt available in member panel and commission automatically credit in the b2b customer wallet.
But if you want to start travel booking service online, for this we have developed b2c modules that allow online travel booking service direct to customers on your travel website or mobile application, you can promote travel website online with your brand name, any visitors can access your travel website to make transaction for bus booking and flight booking online through payment gateway, each travel booking service admin will earn commission. This is the business to customer solution, this b2c travel app available for all users, running on the web and accessible anywhere on mobile, tablet or desktop.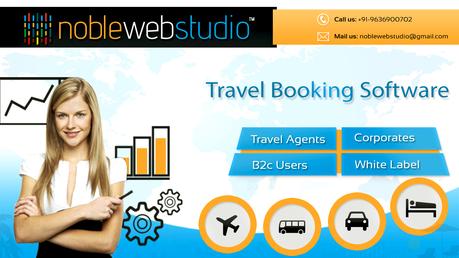 What we offer in travel portal
Bus Booking System: In this module, all surcharge and commission slabs will be defined by Admin. Your customer can book the bus ticket for any destination to another location. Ticket print facility will be there (on screen/Mail/SMS). In admin panel, you can see the uses, profit reports, and other relevant reports. There are also facilities for the promo code or cash back.
Flight Booking: In this module, there are two types of flight booking (Domestic and international). All the process depends on API. We will provide all solution dynamic as per requirement along with reports.
Travel API: We offer bus booking API and flight booking API with higher commission margin, in the bus booking system 17000 + operator and flight booking 5000+ operator available.
If you are looking travel solution for your business, then we can help to provide industry best travel app with bus booking and flight booking facility for b2b or b2c business, in our travel system admin can add multiple travel API and can switch travel route to another API in one click and several latest features added in system which helps to boost your travel agency business.