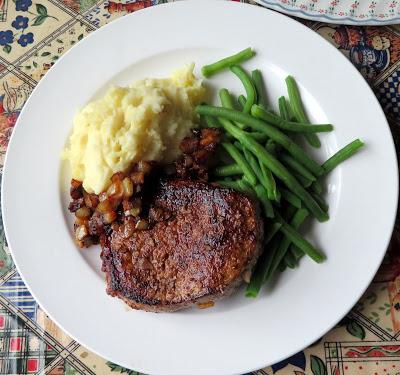 My friend Lura gave me this fabulous steak rub when I was over visiting her in America.  It was from some ranch that she and her family summer at from time to time. It was just wonderful and made for incredibly delicious and tender meat.  Sadly I ran out of it, so I have been trying to come up with my own concoction for it, or at least as close as I can get.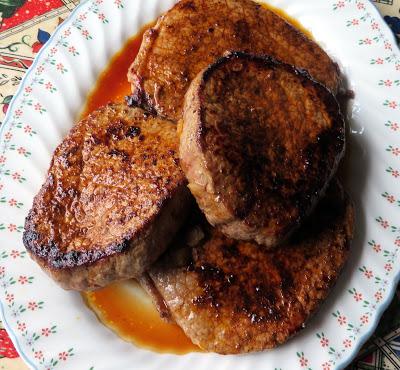 I took a look at the ingredients on the container and roughly put them together into what I thought might be delicious proportions.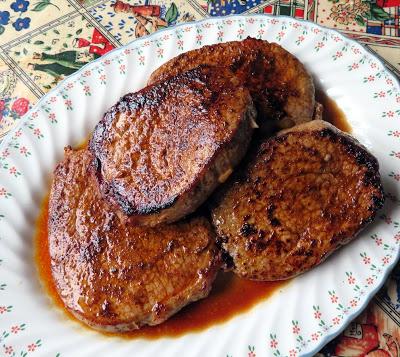 I was actually quite pleased with how it turned out!  Its not exactly the same, but it is still rather tasty!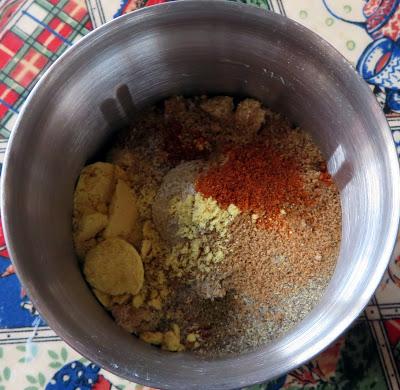 Its a fabulous mix of mild chili powder, ground coffee, sweet paprika, ground cumin, brown sugar, salt, dry mustard powder ground coriander, black pepper and some cayenne pepper.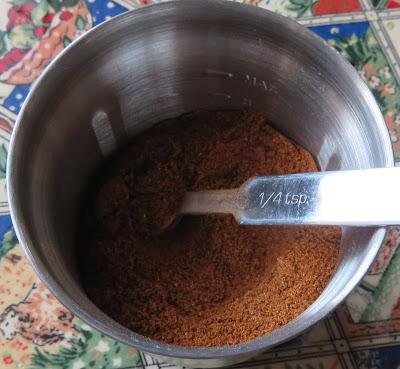 Although most of the ingredients were already ground, the coffee wasn't, so I popped everything into my spice/coffee grinder and blitzed it until I had a powder.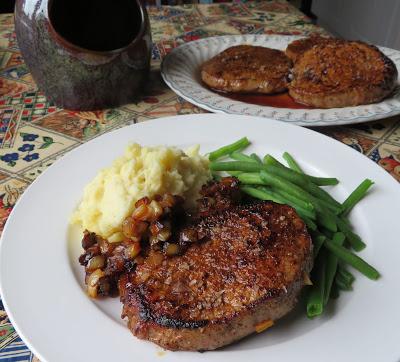 The end result was quite tasty, a bit spicy, a bit sweet, not too salty.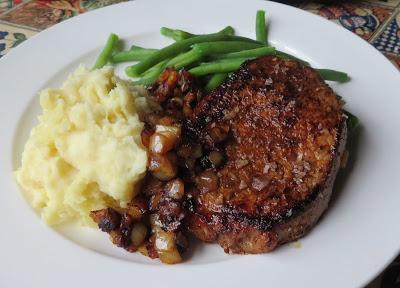 I used it on rump steaks today and they tasted fabulous.  Rump steaks are hit and miss I find.  sometimes they are tender and other times they are not.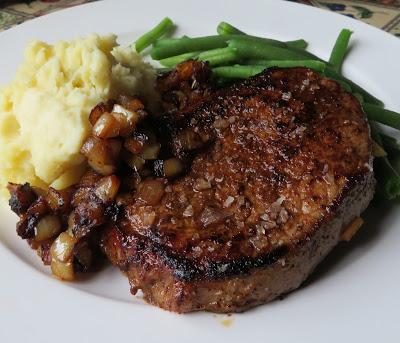 They are not actually my favorite cut of steak.  I much prefer a Sirloin or a Rib Eye.  The steak rub however, added a nice flavor to what was essentially a semi-tough steak, even done medium rare.
Yield:
variable
Author:
Marie Rayner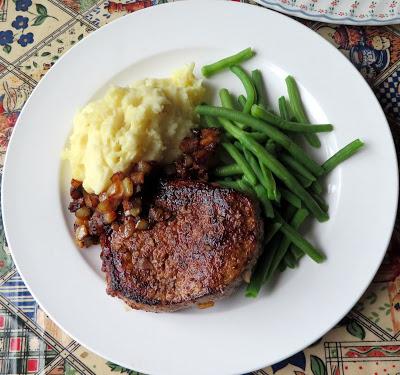 Best Ever Steak Rub
This tasty rub is easy to make and goes well on steaks, chops and even chicken. Store in an airtight container in a dark place to keep for up to six months.
ingredients:
35g mild chili powder (1/4 cup)
2 tsp ground coffee
2 tsp sweet paprika
2 tsp ground cumin
1 TBS soft light brown sugar, packed
1/2 tsp sea salt
1/2 tsp dry mustard
1/2 tsp ground coriander
1/2 tsp black pepper
1/4 tsp cayenne pepper
instructions:
How to cook Best Ever Steak Rub
Measure all of the ingredients into a spice grinder/coffee grinder. Blitz until well mixed and finely ground. Store in an airtight container.
NOTES:
To Use:
Drizzle some olive oil over your steaks and then sprinkle generously with the rub, rubbing it in all over your meat.  Let stand for at least half an hour prior to grilling, or up to 24 hours.  The longer it stands the more flavor penetrates the meat.  Best steaks to use are Sirloin, Rib Eyes, Strip Loin, Fillet Steak.
Did you make this recipe?
Tag @marierayner5530 on instagram and hashtag it #tastyCreated using
The Recipes Generator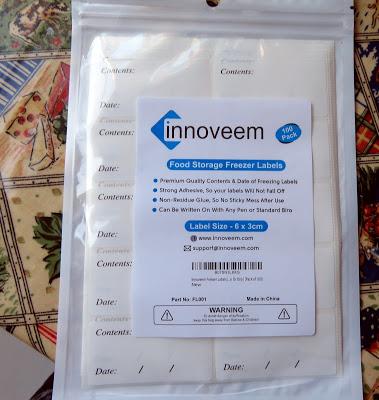 You know how I was saying the other day about how I am always forgetting what I have in what container in the freezer and how I need to start labelling things?  I got myself some freezer labels!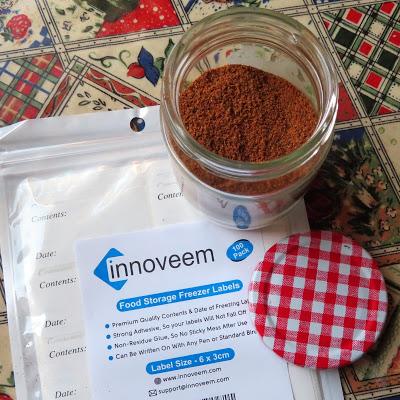 One of the reason that I have always avoided using labels etc. is because they ruin the containers you are freezing/storing your stuff in.  If you write on them with indelible marker, you can't get it off, and stickers always leave a residue when you try to remove them that is in and of itself very difficult to remove.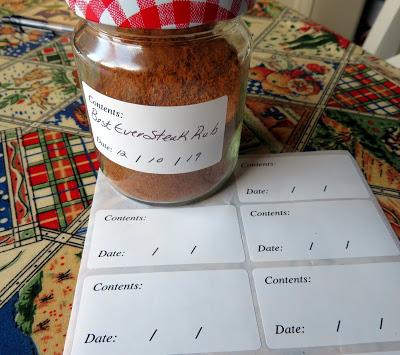 These
Innoveem Freezer Labels
are just the ticket!  They use a non-residue glue which means that they are really easy to peel off before you wash them! You can also write on them with any pen or Biro.  They come in packs of 100 and are approximately 6 X 3 cm in size and there is plenty of space on them to label and date your contents. They also work for labelling your own spice mixes in jars.  I highly recommend!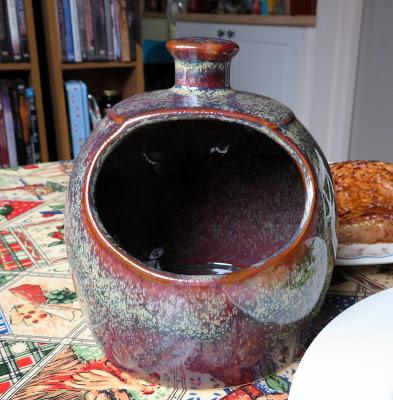 I also wanted to show you this beautiful Salt Pig I got from Sous Chef.
The Logoa Salt Pig. 
Its stunning.  It has the most unusual glaze on it.  I wish I could take a photo of it that would properly showcase how very attractive it is.  The special glaze changes its appearance from however you look at it . . .  sometimes it looks like a forest of trees and then other times it looks like a beautiful coastline. Each piece of Lagoa stoneware is produced in small batches by a team of artisans. They hand glaze each piece, so every plate, bowl and accessory is completely unique. I love this piece and it has pride of place in my kitchen.  Its nice and big as well, with a very attractive handle on top which makes it easy to move from counter to table top. I really love it!   I think it would make a fabulous Christmas Gift for the Gourmand in your life! 
Up tomorrow
: 
Surprise