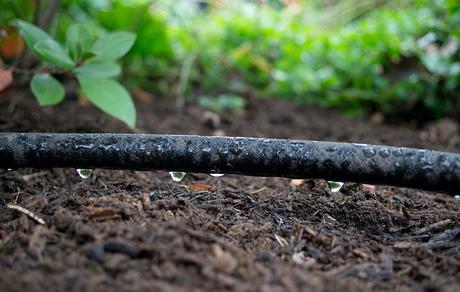 Image credit: goodhousekeeping.com Patrick Montero
Are you looking for an environmentally friendly alternative to garden hoses and sprinkler systems for your plants? If you want to waste less water and yet ensure that the plants are properly watered, a soaker hose allows you to do just that. Using a soaker hose is a great way to protect the environment and also water your plants adequately. They actually use substantially less water and ensure that the water gets where it is supposed to go- to the roots of the plants.
Things to Consider Before Buying a Soaker Hose
Not every soaker hose is a good buy, though. There are a few things you need to know about buying this kind of hose so that you don't end up with something that doesn't work well for you:
How it uses water- Not all soaker hoses operate the same way and not all hose manufacturers are concerned about giving you a quality product. You need to pay close attention to how the hose uses water, otherwise you could be hit with a huge water bill.
Durability- The vast majority of soaker hoses are made with recycled materials. That's great for the environment, but it is a risk factor when you are talking about durability and leaks. The hose will degrade in time, and when it does, it will lose water faster and a be less efficient and conservative. You need to look for hoses with good reviews that are designed to hold up well for extended use.
Length- Soaker hoses can come in different sizes, and you need to ensure that the one you pick is able to meet your needs and provide water wherever your garden or hedgerow is. It needs to be long enough to stretch to the places you plan to use it for. On the other hand, it also doesn't need to be too long so that you are wasting your money on a lengthy hose you won't be using.
Even distribution- The best soaker hoses are designed to let out water in an even manner, so that you aren't getting more water in some places than you are in others. Look for even distribution to ensure that the hose will water your plants effectively. You are looking specifically for hoses that do not spray out water in a geyser formation, as those can be wasteful and even dangerous for your plants.
Product Reviews: Top 5 Best Rated Soaker Hoses
We would like to show you the hoses we found that are fairly durable, reasonably priced and designed to accommodate a wide range of consumer needs. Keep in mind that just because we recommend a hose, that does not mean there aren't other options. There are other hoses out there of decent quality, and you need to consider your own requirements for whatever hose you settle for.
Gilmour Flat Weeper/Soaker Hose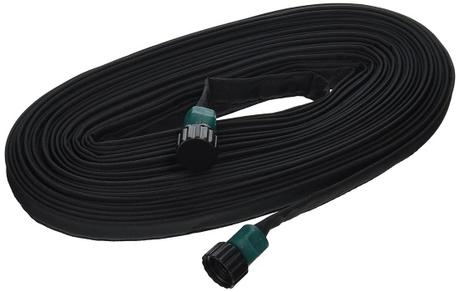 View On Amazon
This 75-foot hose is designed to be easy to set up and use. It uses recycled vinyl that is fairly tough and should last you for some time. It is also made to be clog-proof, so there should not be any issues with water not coming out properly. The manufacturers attempted to make a hose that requires little to no maintenance and that would work well for its entire lifespan. It only weighs a little over two pounds, and that lightweight design means that it cannot take too much pressure. You might burst the hose if you use high pressure water in it for too long, as some customers have reported, so just be gentle with it and only use as much pressure as you need.
Pros
75 feet of hose.
Made from recycled materials.
Very lightweight.
Cons
Can wear out or burst fairly easily when using high water pressure.
MINTCRAFT HOSE-25-B-53L 5/8-Inch Diameter Soaker Hose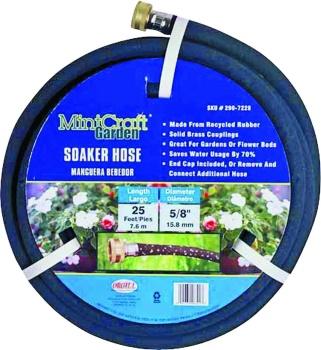 View On Amazon
You can save a lot of water by using a hose like this that disperses water evenly across your garden or other areas with plants. It ensures that not too much water comes out at once, thanks to the restrictive, seeping design that permits only a small amount of water out at once. Of course, that means that the hose can become overburdened and even burst if the water pressure is too high, so you do need to be careful about that.
This hose stretches for only 25 feet, so it's smaller than a lot of the other option there, but that may still work for you. Just make sure you know how much length you need out of the hose and give it plenty of room to snake around the plants to water them from all sides. It's reasonably priced at under $20 and made from recycled rubber, so you can save money and protect the environment all at the same time.
Pros
Low price.
Distributes water evenly.
Made from tough recycled materials.
Cons
Risk of bursting if too much pressure is used.
Bond 70280 Eco Flo 50-Feet by 1/2-Inch Soaker Garden Hose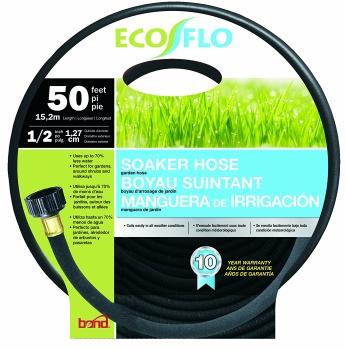 View On Amazon
What's great about this hose is the the manufacturers really stand behind it. They will replace the hose for you if anything goes wrong with it within 10 years. That's kind of unprecedented for recycled products, especially something as likely to burst or wear out as a garden hose.
This one is definitely one of the more durable ones, though, and its 50-foot length makes it suitable for most garden projects and outdoor watering tasks. You do need to be aware that this hose contains lead, though, and you may have concerns about it getting on your vegetables and causing lead contamination over time. The risk of any health problems is very low, but it is a risk you still need to know about.
Pros
Guaranteed for 10 years.
50 feet of hose.
Very durable.
Cons
Contains lead, may be a concern for someone watering plants meant for consumption.
Bosch Garden & Watering 27050GT Green Thumb Flat Weeper & Soaker Hose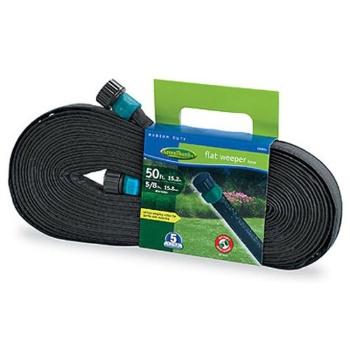 View On Amazon
Here is a 50-foot soaker hose that is made to be very easy to set up and use. A lot of the ones we picked are chosen due to how simple they are to operate, and this one is no exception. It provides a gentle water flow, so if you want more of a spray to shoot out from the hose, then you need to find a different one. It soaks out about eight feet in either side, so it is perfect for row planting, but less likely to work if you are doing square foot planting. You should also know that this hose comes highly recommended from a number of sources, and it is the top pick for environmentally-concerned customers. You get a lot of value out of it, and it's a good buy, especially at its budget-friendly price.
Pros
Provides gentle water flow.
One of the industry's best choices.
Works great for row planting.
Cons
Not designed for all types of planting.
Dramm 17010 ColorStorm Premium 50 Foot Soaker Garden Hose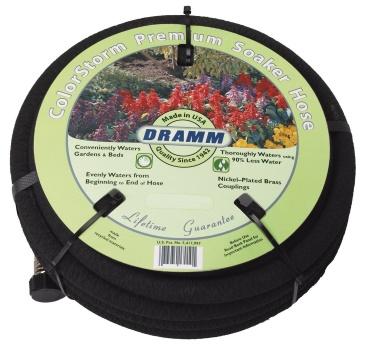 View On Amazon
This hose by Dramm boasts incredible water saving potential. It can save as much of 90% of the water you would normally use to irrigate plants, which puts it significantly above similar soaker hoses. The unique design ensures that water doesn't come out geyser-style and waste on the ground.
The water will reach the roots and provide your plants with water in an environmentally friendly way. It's a very tough hose, designed to last and designed to spread water out evenly the entire time. It is more expensive than the other options we have covered, but that's because of its consistent performance and high-quality design. You are getting what you pay for here, so if you want to make an investment in a quality soaker hose, then this is the one to go for.
Pros
Helps save you water (even more than other soaker hoses).
Incredibly durable.
Sprays water evenly throughout the entire hose, even after much use.
Cons
More expensive than the average soaker hose.
Conclusion
Hopefully, one of these caught your eye or at least helped you to make an informed choice as to what soaker hose you should go with. Just remember, that whichever product you, make sure it suits your needs, is long / short enough, so that you don't find yourself spending money on something that isn't good for your specific garden. Happy gardening!