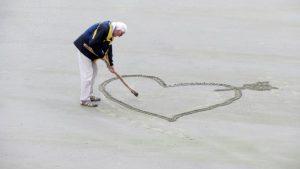 Buying good shoes for elderly with balance problems could be your most inspired decision.
This is why:
According to vestibular, 1 in every 3 people over 65 years sustain a fall yearly.
Then, in Every 14 seconds, a senior adult is admitted to an emergency room as a result of injuries from a fall.
Even worse, in Every 29 minutes, at least one senior citizen will die from an injury related to a fall.
Can you see where we are coming from?
Anyway, after coming across these grim statistics and talking to a few podiatrists, we learnt that the best shoes for balance problems help improve balance in older people who may be struggling with balance and mobility issues.
So, shall we talk about shoes for elderly to prevent falls?
Well, we will show you where and how to nail the best walking shoes for elderly.
Okay?
Let's start by skimming through the best walking shoes for seniors out there- at least according to us.
1. Propet Men's Life Walker Shoes For Elderly Men.
A heel counter reinforces the heel cup in your shoe and improves support. This propet Men's life-walker shoes have a firm heel counter so it stays firmly in place to give you a perfect fit.
Then it accommodates custom orthotics and is rated as approved as one of the best shoes for old people living with diabetes
Features
Leather made
Adjustable hook-and-loop closure
Removable cushioned orthotic
Medicare/HCPCS approved diabetic shoe
Padded collar & tongue
Rubber sole
Rocker profile
EVA midsole (with superb arch support)
Pros
Cons
The stitching could be better
Verdict
Coming in various sizes and widths, very comfortable and with a perfect fit, this Medicare diabetic shoe will leave your feet smiling regardless of the terrain.
It's one of the most reputable shoes for elderly with balance problems
2. Merrell Men's Encore Slip-On Shoes For Seniors.
In most cases, seniors are comfortable with easy slip-on shoes. The Merrel Men's encore is an excellent slip-on pair but with much more.
For example, it has an antimicrobial solution so you will never worry about bad odor after a long day out.
Then, the anatomical design and footbed keep your feet fresh and comfortable all through.
Features
Full grain leather
Supportive sole & padded collar
Sticky rubber outsole
M-Select GRIP sole
Compression molded EVA footbed
Molded arch shank
Polished slip-on
Aircushion heel
Ortholite footbed
Breathable mesh lining
Pros
Cons
May feel a bit narrow for big toes
Verdict
This set is one of the best slip-on shoe thanks to added features like an anatomical design, anti-odor treatment, and a refreshing Eva footbed.
With this, your balance woes will disappear into the deep echelons of your memory.
3. Hush Puppies Women's Power Walker Sneaker.
Wearing sneakers has quite a number of benefits; the biggest being that you have the best balance as they are flat. Slips, falls, and related injuries are therefore rare complains if you stick to sneakers.
In addition to superior comfort, this full-grained leather sneaker has a moisture-wicking lining and an innovative Bounce feature, which energizes your steps while reducing impact
Features
Pros
Cons
The arch support may not be the best out there
Verdict
One of the most stable sneakers around, the hush puppies women's power sneaker features the innovative bounce technology, moisture licking liner, and a contoured removable insole.
It definitely adds a spring to your steps!
4. Propet Tour Walker Strap Shoes for Elderly Ladies.
Among the most recommended shoes for seniors are shoes with straps.
This is because your chances of slipping out of these shoes are minimal. So you can continue strutting with ease, comfortably knowing that your foot is ever secure.
With a twin-strap closure system, a cushioned EVA midsole a heavily treaded rubber outsole, these propet walker strap shoes are one of the best old people shoes, customized for women.
Features
Pros
Cons
Toe box feels a bit tight
Inside stitching too thick
Verdict
These comfortable shoes for elderly have a twin-strap closure system, a cushioned EVA midsole, and heavily treaded rubber outsoles. Plus they come in a variety of colors, sizes and width.
With them, you will still be walking even when everyone else has given up!
5. Hush Puppies Men's Shoes for Old People.
Walking is a simple but a very beneficial exercise especially for older adults.
Now, the best walking shoes for elderly men and practically everyone should not only be comfortable but also super lightweight.
The hush puppies men's shoes for old people use a 'ZeroG' sole instead of bulky innersoles and a special outsole making them one of the best walking support shoes for elderly
Features
Made of very smooth Leather
Synthetic sole
Zerog Elon midsole
Rubberlon outsole
Velcro fastener
Stroebel construction
Hook and loop closure
Moccasin-style
Pros
Cons
The insole feels a bit hard
Verdict
These moccasin-style shoes are as much as 4 times lighter than you normal Velcro shoes for seniors and will motivate you to conquer all the long-standing walking milestones.
And with the hook-and-loop closure, they remain comfortably fixed on your feet as you trudge along.
5. Propét Travelactiv Shoes for Elderly Woman.
Mary Jane is the general term associated with closed, low-cut shoes with straps crossing the instep.
Mary Janes are renowned for their unparalleled comfort.
Now, you can experience the famed comfort of Mary Janes with this propet travel active shoes for women.
And they come engineered with a highly-breathable mesh and a flexible lightweight outsole.
Features
Pros
Cons
Verdict
The propet travel active shoes for women are a Mary Jane style fabric shoes for elderly ladies which come optimized for comfort and stability.
The highly-breathable mesh and the flexible lightweight outsole delivers maximum support always.
6. Easy Spirit Women's Traveltime Mule.
Cushioning provides superior comfort by helping in absorbing the shock that makes your feet to feel sore and tired.
With a cushioned insole, the easy spirit women's traveltime mule guarantees excellent impact resistance, better feet alignment, and enhanced heel balance.
You will easily maintain a top performance as a result of the improved comfort and reduced fatigue.
Features
Pros
Cons
A bit big for narrow feet
Verdict
These are one of the very best shoes for elderly woman. With a simple comfort approach, these will make walking you favorite hobby even if you have never liked it.
And you will enjoy the compliments that flood your way!
7. Propet Women's W0001 Breeze Walker Sandal.
Sandals are perfect for walking during blazing summer as they let your feet breathe. They are also the best to wear around the beach.
Available in various sizes, these propet women's breeze walker sandals are built with your comfort and durability in mind.
From the leather uppers, 3 adjustable straps, air-cell polyurethane outsole, and built-in arch support, everything works to make your life easier each time you venture outdoors.
Features
Pros
Cons
A bit heavy
The arch support may not be sufficient
Verdict
If you want to have everything going your way even during hot summer, these breathable sandals should be part of plans.
They have everything needed to make your walks cooler and refreshing despite the weather including an air-cell polyurethane outsole and built-in arch support;
8. Silvert's Womens Open Toed Sandal Shoes.
When you have an injury, Velcro shoes for elderly may not be of much help. In fact, you are greatly limited in terms of options.
And that's where open toed shoes - like this silvert's womens open toed sandal shoes-come in.
They are so soft you may completely forget your injury. Then they are adjustable so that you can easily get your most comfy.
Plus, they can be completely opened to ease access.
Features
Made of neoprene material
Soft memory foam
Adjustable Velcro
Extra wide
diabetic friendly
Anti-microbial shield
skid resistant soles
Wedge-Heel
Cushioned Insoles
. Pros
Very durable
Extra-large and very Lightweight
strong anti-bacterial property
Great price
Super comfy
Adjust easily to different foot widths
They have skid resistant soles
Cons
The heels seem larger than normal
Verdict
Featuring Soft memory foam and a completely opening design, these are the open toed shoes to help you heal faster.
These comfortable shoes for seniors also comfortably accommodate swollen ankles and feet.
Factors To Consider When Buying The Best Shoes For Elderly With Balance Problems.
So, which are the best shoes for elderly with balance problems. In this section, we look at what makes it an ideal fit.
Ideally, it should have adjustable so that you can fit it to your feet without the risk of your shoe slipping out of position.
This goes together with sizing.
Preferably, your shoes should be low heeled. High-heels have a bigger risk of falling, plus they affect your gait, posture, and balance
Leather made old people shoes are more durable than some of the fabric
Antimicrobials kill microorganisms which could worsen an injury or induce harm.
Luckily, a number of comfortable shoes for elderly have antimicrobials.
Older people are better off wearing shoes with thin, harder soles as they improve their foot position while optimizing balance.
It's important that your feet continue to draw in fresh air from the environment as you walk.
Preferably, pick those sets made of breathable materials.
They also make sure that your feet remain dry all along
Heel tread is superb as it reduces slips and trips. Then, rubber heels having a bevel of at least 10 degrees give greater contact (with floors) and are therefore improve slip resistance.
Studies have suggested that insoles may improve proprioception and also reduce falls. Thus, products, with better shoe inserts improve your balance and help minimize falls.
Arch support help reduce any lingering foot pain especially if you have plantar fasciitis or related conditions.
Round-Up
In this article, we have seen that shoes for elderly with balance problems are an excellent guard against falls and related injuries.
We have also seen that whether you are looking for the best walking shoes for older men or just simple shoes with Velcro for the elderly, features like arch support, breathability, cushioning in insoles, comfort, and anti-microbial treatment are key.
Having also reviewed some of the top, top shoes for elderly with balance problems, I believe you are now well positioned to land the best shoes for balance problems
As you do it, share with other readers your experiences from the comments section.
Have a fall-free walking!