With the continuous increase of gas prices, many truck owners are looking for effective ways on how they can get better fuel consumption. If you own a GMC Sierra 1500, one way to get more distance for every gallon is by altering how your truck is calibrated through tuning. The process is quick and easy. You do not need to spend thousands by contacting a mechanic to achieve the much-needed result. When you purchase a programmer, you can do the modification on your own within a few minutes.
We have collated the best programmers for GMC Sierra 1500. Check out our list and let us help you save time in doing further research. We will look at each product's nook and cranny by assessing each product's functions. Rest assured that we will help you come up with a decision based on what you perceive to experience when driving your truck.
Why can you trust us? Mechanic Guides is written by experts and 100% reader-supported. We never receive anything from the product manufacturers.
Our Recommendations
Optimize the parameters of your GMC Sierra 1500 with the Edge CTS2. This small yet powerful tuner can efficiently improve your fuel consumption and speed. Apart from that, you can also monitor the performance of your truck. This will help you assess your driving habits and do changes if necessary. This will ensure that you won't be inflicting harm or increasing your miles per gallon (MPG) even after the alterations were done.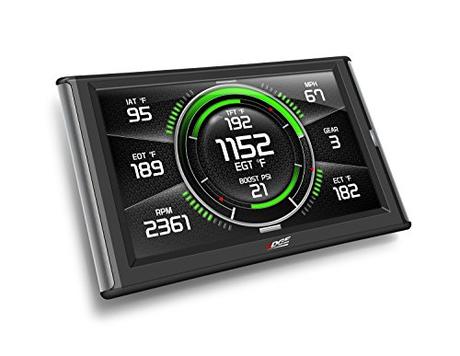 Features and Applications
The Evolution CTS2 from Edge is among their best-sellers because of the different features that you can take advantage of. The Edge CTS2 has a touch screen gesture. You need to put pressure on the screen to activate the menu or to move from one setting to another. Sit back and continue reading as it's going to be a thorough explanation of its "edge" among the other programmers for your GMC Sierra 1500.
A programmer - it gives you two programming options - the basic and the custom. When you choose the basic, you will just load the pre-set parameters that come along with the tuning level. On the other hand, the custom programming allows you to do further adjustment to achieve the maximum potential of your truck, beyond what the manufacturer has set. For starters, you can initially choose the basic and do a performance test for a couple of days. If you think you want to aggressively calibrate each parameter, then you can put it back to the stock level once again. Choose a new pre-loaded tune, and click "Custom Programs" so it will direct you to the parameters that you are allowed to change.
In case you have encountered flashing warning lights, chiming dash, or if your doors suddenly lock or unlock, don't be alarmed. These are pretty normal when you are altering the codes on your ECU. Just wait for the programming to be over. If you still experience these errors, load your stock tune once again and repeat the process.
A monitor - once you have completed the tuning, the device allows you to monitor your efficiency through its multiple gauge screen layout. This will let you assess how your truck is boosted after the tune. Such a great way to do a comparison if you have really maximized the potential!
A performance tester - to thoroughly see the improvements, you can also see how quickly you can rev up your truck from 0 to 60 MPH, or if your torque and horsepower increased.
Why should you have it?
The Edge CST2 is currently the most innovative programmer that responds quickly and does not freeze especially during the actual tuning procedure. In that way, you are guaranteed to experience uninterrupted upgrade.
It is also a 3-in-one device that will attend to all your needs. You don't need to shell out a lot of money on buying a monitor and a performance tester. It may be a bit expensive but with its packed goodies, you are surely maximizing the value of your money.
If you are on a budget yet you want to improve the drivability your GMC Sierra 1500, the Jet Performance Programmer is a good option. In spite of being the most affordable programmer, it does its job well by manually improving the parameters as you plug it on your OBDII.
Features and Applications
The Jet Performance Programmer is very handy - it is small, which reminds me of the old pager that we used to have before the mobile phones were developed. It has a 5-liner screen with up and down navigation and an okay button on the right. It looks simple yet very functional when it comes to tuning the different modes of your truck.
As you connect it on your OBDII port, the screen will prompt you to turn on your engine. It will show your ID and VIN numbers to ensure that the device is securely connected. After, you will see two options: Programming and DTC Reader.
When you choose the programming, you'll see that there's one pre-loaded tune referred to as the Jet EZ Program. If you are familiar with manual calibration, you can do it yourself. This can be helpful if you want to achieve a specific function that will match your daily driving requirements. In case you have missed a parameter or you want to change a setting, don't worry as the device will allow you to modify it once again.
The device automatically backups the stock program before it starts overwriting the saved parameters on your ECU. This is good especially if you have noticed any unwanted changes or there are some code signs on your dashboard, instead of visiting your dealership for a reprogram that will cause you hundreds (if not thousands) of dollars.
Why should you have it?
The Jet Performance Programmer is an ideal device if you have thorough experience on how to manually tune a truck. If you know how to correctly do the improvement, you can save hundreds of dollars.
Superchips Flashpaq F5 - Best Programmers for GMC Sierra 1500
Plug the Superchips Flashpaq on your GMC Sierra 1500 to improve its speed and fuel efficiency while giving you the much-needed power for casual pulling of loads. It comes with several pre-loaded tunes: for performance from 91-93 fuel octane, for towing, and for improving gas mileage.
Features and Applications
The Superchips Flashpaq F5 also allows you to monitor your truck after tuning. In this way, you can assess if it's good enough for your daily requirement. If not, you can choose a different tune or manually change the parameters to meet your preferences.
The device also lets you know if there are some troubles under the hood. If you have noticed that the engine light is turned on, you can initially check the Diagnostic Trouble Codes (DTC) through the device and clear them if you think it was just due to the ECM update. If you still see the same errors, you can go back to your stock tune once again and assess if it's going to fix the problem. If the error still exists, that's the only recommended time to visit your dealership for a thorough inspection and repair. These errors could be long existing and the tuning must have triggered the warning signs.
Why you should purchase it?
The Superchips Flashpaq F5 is certainly one of the best programmers for GMC Sierra 1500. The manufacturer has continuously upgraded its tuners to not just add a performance boost but basically to also fix the deficiencies of their older models. It also does not just improve the fuel mileage and speed, it can also be a performance monitor and an error code clearer.
Make your truck's performance stand out by using the Hypertech 2100 Max Energy 2.0. This device is ideal for users who need to pull loads because of how it effectively improves the torque power. It is one of the few programmers for GMC Sierra 1500 that help achieve the highest level of towing while retaining the exhaust gas temperature (EGT) at a safe level. With this, you are guaranteed that the engine is protected even if you will have to tow on a daily basis.
Features and Applications
The Hypertech 2100 Max Energy 2.0 may look like an old design compared to its competitors. But in spite of the simple display, it can still give you the right boost without inflicting damage on your truck's computer. It's very easy to set up and operate through its well-lit screen and straightforward navigation buttons.
The device doesn't have pre-loaded tunes so it's ideal for those who plan to do the modification by themselves. Just take note that you need to know the right settings based on your truck's tires and capabilities so as to ensure that you will achieve its optimum functionality. With manual tuning, you can also expect to really achieve the right output that you wish to experience as you drive your truck, rather than relying on a pre-loaded tune that you cannot change further.
After you have changed the parameters according to your liking, the device automatically saves your stock tunes before it starts to overwrite it. This is ideal especially if you need to bring your truck on the dealership for inspection. You can always load the chosen parameter changes after it.
Why should you purchase it?
Affordable and functional, the Hypertech 2100 Max Energy 2.0 delivers you the swiftness specifically for daily towing tasks. However, you have to take note that you need to know how to alter the parameters so you won't have to hire a mechanic.
Boost Your Truck Performance Today
Once you have experienced the boosted performance brought by one of the programmers for GMC Sierra 1500, you will surely not go back to your stock setting again. However, please take note that although these are guaranteed to give you more power, cleaner emission, and better mileage, you still need to consider your driving habits and the area where you usually drive. With these in mind, you can choose the right tune setting that will match these aspects and improve your driving style to achieve your truck's full potential.
Don't worry about your truck's warranty as it is not affected. These tuners have ensured that you won't be paying thousands for repairs in case there are problems under the hood. Just make sure that you load the stock program before you visit the dealership.