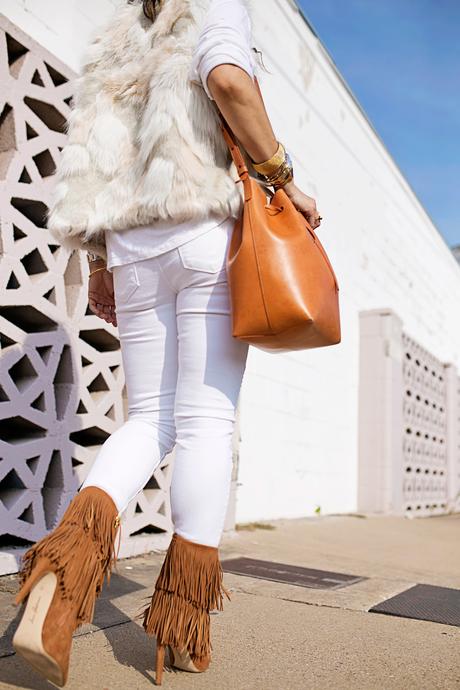 Have you had a chance to shop or peek at the Nordstrom Anniversary sale yet? If you are a cardholder, you can shop Early Access now before the public sale starts on July 22nd. Some of the items I mentioned in the Dressing Room Diaries are already sold out (like these FRAME jeans and suede moto jacket)! That's why I reopened our CC account. Today, I'm sharing my top picks from each category! The above fringe boots (in black) are one of my selections from the shoe section.
// Photography by Angie Garcia - picture from this original post //
Here we go from head to toe!
BEAUTY PRESCRIPTION //
If you aren't aware, I am OBSESSED with lashes. I've tried all kinds of mascaras, primers, and even lash extensions. Cathy told me to try Neulash, and it is AMAZING (as good as Latisse)! I even used it while I had the lash extensions. Right now, you can get two tubes for the price of one! That's Costco GOOD!!
BUTTER is a 3-free nail polish, and this set of 6 for $39 ($66 value) is so good with the neutrals, pink, and deep green. You'll be set for Fall!
I also love Deborah Lippman polishes (found them when I was looking for gold - what a surprise) and this set of 5 for $29 ($60 value) is gorgeous with all the pinks and the one neutral. It's a great set for year round.
Tom Ford lipsticks have the best pigmentation, and Indian Rose was one of my mainstays of lipstick. I was surprised to see this set with a mascara and illuminating primer!
Charlotte Tilbury is the makeup artist to the celebrities, and I love this Instant Beauty face palette for $75 ($147 value).

Turn on your JavaScript to view content
BABY PRESCRIPTION //

Turn on your JavaScript to view content
STYLE PRESCRIPTION //
I wear denim jeans year round, so this is the time to stock up on name brands that I wouldn't normally treat myself to purchasing at full price. I've wanted to try cropped flares and love these black FRAME pair ($159.90) and these raw hem Joe's pair ($116.90). These FRAME 'le skinny' jeans ($139.90) are a great basic because of the lighter color.
You already know that I own this camo and pink bomber jacket! It's fun and feminine and will be so cute with jeans and a tee or dressed up with heels.
This faux leather moto jacket ($64.90) comes in camel or oxblood will be the perfect topper for any outfit.
I adore this wrap dress ($49.90) because of the midi length and beautiful stripes (very in trend for Fall) but just note to size up and it's very low cut in front (and back). It's a great option to wear now and then later (layered or with a jacket). Another option would be this color-blocked shift dress from Alice + Olivia ($229.90), which also has all the beautiful Fall colors.
The Rebecca Minkoff Love bag is always one of my favorites, and you can get the jumbo in black or port for less than the price of a regular love bag!
This crystal choker and chandelier earrings are the stuff dreams are made of! It reminds me of 'Breakfast at Tiffanys'! Where was this choker when I needed it 3 years ago?!
The future is so bright, you gotta wear shades... So these Illesteva sunglasses are on major sale, and the frame compliments all face shapes. If you want the sunglasses of the moment, the Dior So Real mirrored glasses are included in Early Access so get them on sale! (I NEVER see them on sale!)

SHOE PRESCRIPTION //

Turn on your JavaScript to view content
INVESTMENT PRESCRIPTION //
Stuart Weitzman is known for their 50/50 boot, and it's wonderful because the elastic back will fit all calf sizes. The Soho boot (with a heel) is available at for Early Access. Think about the cost per wear, and you'll be able to justify the purchase.
A leather moto jacket ($240.90) is always a good idea! Truly, a great leather jacket is a wardrobe staple and this one is trendy but will stand the test of time.
A good wool coat will last you season after season, and this DVF double breasted coat (in camel or wine) and Trina Turk officer's coat are my two favorite picks.
Gold continues to rise in price, and it's hard to find true 14k gold pieces on sale. I LOVE this Lana Y-necklace.

Turn on your JavaScript to view content
Alrighty y'all! Let me know what damage is done, and I'll report back to you too! Signing off to deal with two crazy kiddos! Mr. S is in Canada this week, and I'm home alone! AAAAHHHHH!!