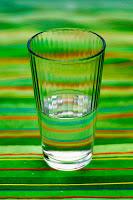 Photo by allieosmar. 
How do we respond to life challenges?  We have a myriad of choices before us.   Can we distill these choices down to a binary?  Are we all either optimists or pessimists?  
Yes, there are benefits from seeing the glass as half full. But maybe both views can be valid, considering the context? If everyone was an optimist, would we really do anything to replenish half-full glasses?  
How about  you. What is your approach? Are you an optimist or a pessimist? a visionary or a pragmatist? a cheerleader or a problem solver?  
It's great that Boomers have a diversity of viewpoints.  Here are a few for your consideration.  

meneldur
SoBabyBoomer
says some overbearing boomer parents have extended their smothering into the workplace, and despite their loving intentions –
It's backfiring.  Big time.

ex_magician
As it turns out, surprise is an important element of experiencing pleasure, especially as we age. So why not surprise yourself with your own behavior every once in a while!

rjrgmc28
In 

Waking Up from the American Dream Tom Sightings ponders a question brought up in a recent New York Magazine article. Are we doomed to a future of lower economic growth, fewer opportunities for our children, and a more spartan existence for all of us? Or . . .  are we Americans just too darn greedy for our own good?

B from NY
Is being plain looking a positive or a negative for teens? At The Generation Above Me, Karen considers how being awkward as a young person ended up working in her favor by midlife as she explains in her post "

Ugly Duckling Becoming a Silver Swan via the Gym.

" 




VPowers
On The Survive and Thrive Boomer Guide, Rita R. Robison, consumer journalist, writes about five product safety breakthroughs that have occurred in the five years since the Consumer Product Safety Improvement Act was passed in 2008. They include a product safety database consumers can use, independent testing for children's products, the reduction of lead in children's products, strong standards for cribs, and a safety standard for toys.
Related:
Best of Boomer Blogs #311: 

Food labels, female Viagra, family history & nest eggs.
Best of Boomer Blogs #316: Stock market, midlife blues, hot car safety, entitled mentality in kids