Hi everyone! Somehow 2015 is already coming to a close, and a new year awaits. The concept of a New Year has 
always perplexed me- in one way, it's positive in its ability to encourage change and improvement, however, it's also deceptive because you can
always
alter your life. It doesn't actually matter if it's January 1st or July 2nd, which is often difficult for people to recognize (me included). Nonetheless, I decided to continue the "tradition" and do my "Best of" end of year post, where I basically compile random favorite things that I think of and organize them accordingly. What were some of your favorite things this year? Leave a comment below! 
Happy New Year!! 
xoxo Isabelle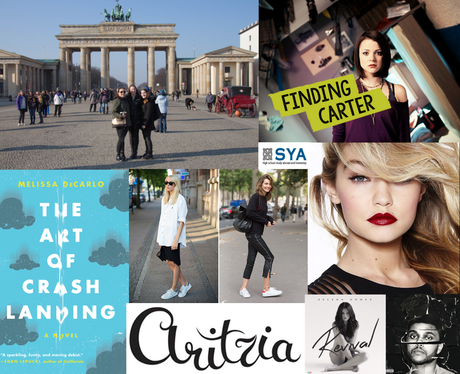 First up is my favorite trip- if you didn't know, I spent 9 months living abroad in France from September to May, so I did my fair share of traveling during my time in Europe. The beginning of my 2015 involved a lot of traveling, but my voyage in Germany was most memorable. I went from Paris to Strasbourg, then to Munich and ended in Berlin with two of my friends, Heather and Olivia. Berlin specifically was my favorite aspect of the three part trip because of the famous East Side Gallery, with a mile of beautiful murals and messages dedicated to freedom. 

It is rare that a day goes by in which my best friend Allison and I don't talk about how Gigi Hadid is quite simply perfection. Both her and Kendall Jenner have dominated the modeling and social media worlds this year. There are plenty of celebrities to look up to, like Selena Gomez and Demi Lovato, however, Gigi is noteworthy because she is only 20 years old and has already done so much, like Teen Vogue covers and Vogue spreads. 

During the school year, I rarely have time to read for pleasure, like many students. Heck, I barely finish my AP Euro reading by the end of the day. On break, though, I do as much reading as I can while I have time at my leisure. While I was on Saint Lucia for the past week, I read 2 books- "Reconstructing Amelia" and "The Art of Crash Landing", which were both my mom's suggestions. These two books both have a common "mystery" type theme, where the end reveals that the plot was even more twisted than you thought. If you liked Gone Girl, you'll love these took books! 

I don't watch too many TV shows (beside marathons of 90210), but Finding Carter on MTV remains one of my favorites that I keep up with, even during the school year. The show revolves around Carter, who was abducted as a child, and follows her new life with her real family. As the seasons have progressed, the storyline has gotten even more complex and addictive. If you watched Twisted or The Lying Game on ABC Family, you would like this show for its action packed plot. 
     {FACEBOOK}{TWITTER}{INSTAGRAM}{BLOGLOVIN'}{TUMBLR}
SHARE:
Labels: berlin , best of 2015 , blogger , end of 2015 , end of year , finding carter , gigi hadid , happy new year , isabelle nazha , lost but not found , selena gomez revival , the weeknd