Like most of the world, fitness is now stuck at home. However, thanks to an array of new exercise technologies, that does not mean your fitness needs to be put on hold. Enter the best fitness mirrors, some of the most advanced and effective pieces of home workout technology around.
How Does a Fitness Mirror Work?
Here is how fitness mirrors work: you set up what looks like a regular full-length mirror in your home, leaving enough room to move freely. You then turn on the mirror to access a fitness trainer (usually live-broadcasted, sometimes recorded). While you self-monitor in the mirror, this trainer can see your movements and provide feedback, ensuring a sweaty yet safe workout.
These futuristic devices are essentially a streamlined, high-quality fitness studio in your home. And instead of choosing a specialized studio, you get dozens of on-demand exercise options ranging from strength training to yoga to cardio. In addition, expert guidance ensures serious results without the need for solo research. These fitness mirrors also boast workout-improving features such as heart rate display, music and connection to a community.
Because fitness mirrors require a considerable financial commitment (about $1500 to $2000), we used to be a bit skeptical. However, with the future of gyms uncertain and more people opting for at-home exercise, we think fitness mirrors are one of, if not the best way to reach your fitness goals, in a socially distant yet still interactive way.
What to Know Before Buying a Fitness Mirror
There are a few things to consider when shopping for the best fitness mirror for you. Here is what to keep in mind.
Setup: Unless you have, a large space dedicated to working out, the best fitness mirror should be streamlined. Most fitness mirrors can be mounted on the wall or a stand, but some are free-standing and might take up more space. We tested out some of the mirrors in our garage, though many are (relatively) compact enough to fit in a bedroom or studio as well.
Camera: Fitness mirrors use an integrated camera to allow group instructors and personal trainers to give feedback on your performance. However, some of the best fitness mirrors use advanced motion-capture technology to monitor your movement in a more private manner.
Gear: Some fitness mirrors include workout gear such as heart rate monitors and weights. If you have the space for weights, rollers and so on, it is always better to have this added gear, as you will be able to participate in more workouts. Some of our options below have built-in shelving and compartments for the weights, so you do not need to create more room for storage.
Control: Fitness mirrors are either controlled with a touchscreen interface or through a companion app on your smartphone. Obviously, a touchscreen is easier and faster to operate.
Classes: Each fitness mirror requires a subscription to access the brand's classes and personal trainers. Ideally, these classes are as wide-ranging as possible and taught by qualified fitness professionals. This will allow you to practice your preferred workout and try out new forms of exercising.
If you are ready to dial in your home gym and step-up your workout routine, read on. We have selected some of the best fitness mirrors and broken down how to pick the right mirror for your needs.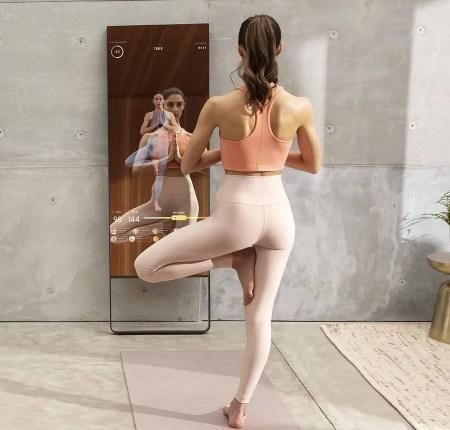 The slim, chic MIRROR —, which can be propped against or mounted on the wall — blends into any living room, but when you turn it on, it reveals an immersive studio experience powered by an iOS app. The LCD screen behind the 52-inch reflective surface streams over 70 new classes from 50 workout genres a week, all of which are stored in a massive on-demand library. (The Mirror comes with a set of resistance bands, but you will need to invest in additional equipment on your own.)
While you are working out, you will see metrics like heart rate and calorie burn pop on the screen; they are pulled via Bluetooth from the included chest strap heart rate monitor or your Apple Watch. In addition, a built-in camera can be used for one-on-one personal training sessions, or to see classmates and receive real-time guidance from the instructor.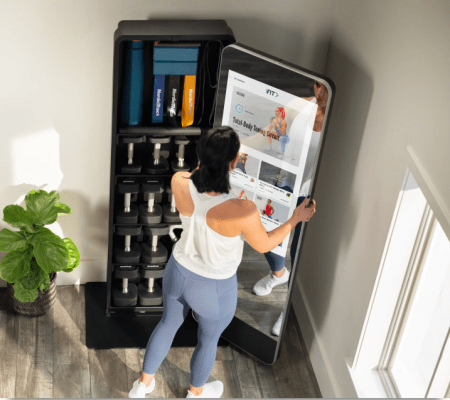 Slide open the door of NordicTrack's Vault and you will find a foam roller, mini and full-size resistance bands, yoga blocks, free weights, and kettlebells — basically, everything you need for a home gym experience in less space than a bookshelf. The mirror even rotates so you are not stuck working out in an awkward position. Use the embedded 32-inch touchscreen to navigate iFit's live and on-demand workout library — including pilates, yoga, lifting, and interval training — then watch yourself mirror the trainer's form on the oversized, 60-inch surface. Yea, it is pricy, but so is purchasing all those pieces of equipment on your own. (If you already have your own gear, you can purchase a cheaper standalone version.)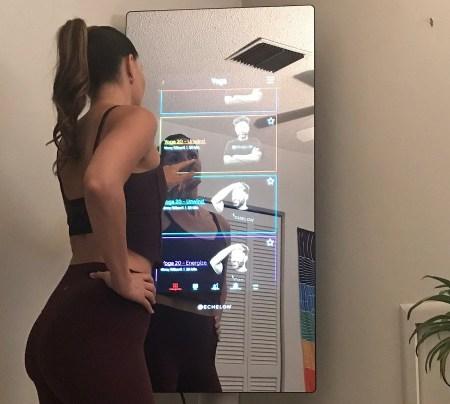 Echelon's mirror comes in two sizes: the Reflect 40″ and the Reflect 50″ Touch. Opt for the larger one — if you have the space — for a powerful, 32-inch touchscreen that lets you browse through live and on-demand cardio, yoga, strength, pilates, and boxing workouts (you can even take classes with Mario Lopez). The front-facing camera and built-in speakers will make you feel like you are in the studio instead of your living room, and the Bluetooth connectivity allows you to sync heart rate monitors for on-screen metrics. Echelon also uses a gamified, point-based system (depending on how long you spend in different heart rate zones) to stoke the competitive spirit; rankings are displayed on the leaderboard at the end of class.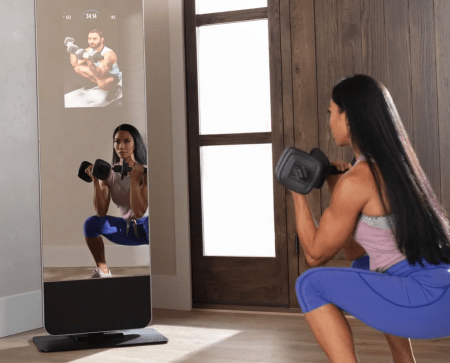 Stand Proform's pivoting mirror in a corner to turn any room into a home gym. A more affordable version of NordicTrack's Vault, the rear side of the mirror surreptitiously stores the included accessories: a 10-pound barbell, two 5-pound dumbbells, four 2.5-pound weight plates, three resistance bands, and a yoga mat. Scroll through iFit's library of live and on-demand classes using the 22-inch HD touchscreen embedded behind the 60-inch reflective surface.
You will not receive real-time feedback from instructors, but you can sync your activity tracker to the device to see your metrics on screen, and it automatically stores your workout performance and uses AI to suggest future workouts.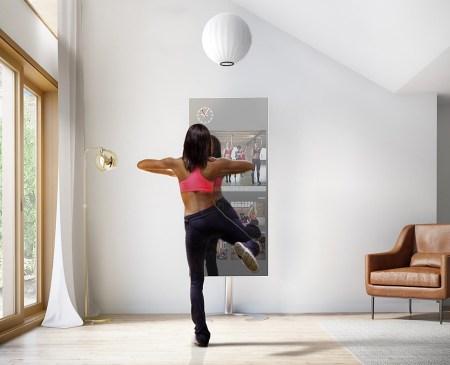 There is no space this mirror cannot fit in: It comes in three sizes (55, 65, and 85 inches) with four display options (a wall mount, a leaning mount, a standalone mount, and a ceiling mount). And while most workout mirrors require a subscription — in addition to the purchase price — to access classes, this one syncs with apps like Nike Training Club, Beach Body, Tone It Up, and more. An HD camera allows for personalized virtual coaching sessions, and, in addition to the touchscreen, the embedded microphone lets you operate the device with Google Assist Voice Control (and connects to Google Home).
Tempo Studio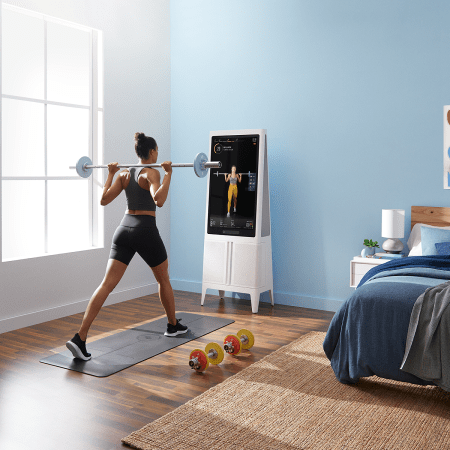 Tempo is not technically a mirror, but it uses a motion-sensor camera and pulses of infrared light create a skeletal 3-D model of your body. As you move through cardio, strength, HIIT, mobility, and recovery classes, it tracks 25 essential joints to provide real-time feedback on your form and technique that is displayed on the device's 42-inch screen; for example, it may cue you to shift your weight into your heels or go deeper in your squat. Below the screen, you will find a storage cabinet for the included weights (ranging from 1.25 to 10 pounds), and on the back are a bench press bar and two dumbbell bars. There is even space to store the included heart rate sensor, workout mat, and foam roller.
A fitness mirror is no small investment. There are pros and cons to each home gym option described here and each device caters toward a specific type of fitness enthusiast.
The post Best mirror workout review – Best 6 in 2021 first appeared on Greatofreview.