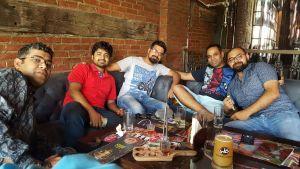 Beer Buddies, which is one of the largest Facebook group of alcohol enthusiasts did their annual Best Microbrewery Hunt 2016 and here are some features of this year's hunt.
The hunt had 8 jury members group and it was mandatory for jury member not to miss more than 3 Microbrewery evaluations otherwise their ratings would not be considered.

They visited all the 27 functional Microbreweries in Gurgaon as against 12 in year 2015.

It took them 7 weeks to cover all the Microbreweries with an average of 5 outlets a day. The total expenditure of around One Lac rupees which was equally shared by the jury members. No free beer or discounts were accepted from any outlet to maintain the uniformity of hunt.

They evaluated two types of beer – Lager Beer (42 points) and Wheat Beer (42 points) as these are universally available varieties at all Microbrewery.

The evaluation was done on basis of Glassware, Appearance & Color, Aroma, Serving Temp., Taste, After Taste and Overall Drinkability.

The evaluation criteria were designed by renowned Beer Expert Ms.Karina Aggarwal who also gave an orientation session of jury members before start of hunt.

There were separate 16 points for restaurant on basis of Ambience, Hygiene, Service & VFM

The jury members only consumed 50 to 100ml of beer at each outlet in order to be perfectly sober for evaluation of each outlet.

There was also a parallel poll on group to vote for Favourite Brewery People's choice and separate rankings are given for that
Here are the results.