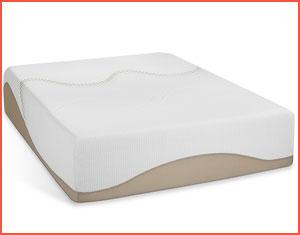 Many people ask us what the best mattresses or best beds are. There is no single answer to these questions because much depends on the person to be using it. Who is the bed for? A single person or a couple? A child, teenager or adult? Do you sleep on your side, back or stomach? Are you particularly heavy? Do you need a budget option? Check out our top mattress ratings to find the best mattress brand to meet your needs.
The answer to each of these questions will affect the type of mattress that is best for you! There is no one mattress that is suitable for all of these options. We considered all of the above factors and came up with the top mattress brand for each of these possibilities. So let's get right into it and present our best mattress brand for each purpose or preference.
Among our 15 best mattresses we shall also include our choice of best mattress brand for each of memory foam, latex, innerspring and hybrid constructions. Many people have a preference for one of these four common types of mattress. We have selected the most versatile mattress of each type, suitable for most sleeping positions.
So, to begin with, here are our 15 top rated mattresses in 2019, commencing with the best beds for various types of construction:
In each case, we have linked the title either to the Amazon listing of the individual mattress or to its page on the manufacturer's website. Where relevant, we have also included a link at the end of each description to our 'Best' list for that type of mattress, or to our full review of that mattress if we have already reviewed it. If not, then no end link means the manufacturer sells the product only on the site accessed by the top link.
Comfort Levels stated below are on a 1 - 10 scale, where 10 is firmest.
1) Best Innerspring Mattress: Aviya Mattress
Essential Information: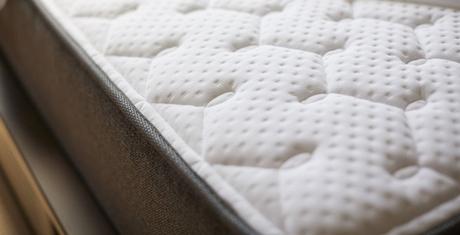 The Aviya innerspring mattress consists of 3 inches of foam wrapped around an inner support base of 800 steel springs. The coils are 8 inches tall and individually wrapped for maximum movement separation and independent support for your major pressure points such as your shoulders, hips, knees, and buttocks according to your sleeping position. The foam wrapping also improves edge support.
Purchase This Mattress on Amazon
The Aviya mattress comes in three levels of firmness: Plush, Luxury Firm and Firm. It is one of the best mattresses available if you suffer joint pain or arthritis. The construction of this mattress has been carefully designed to provide support and comfort for most people. The three comfort levels mean that you can choose the best option for your sleeping position and body weight.
2) Best Hybrid Mattress: Alexander Signature Sleep Hybrid Mattress
Essential Information:
Cotton knit top
100-Night/ Sleep Trial
Lifetime Warranty.
CertiPUR-US certified foams.
Thickness: 13"
Firmness range(On a 1 - 10 scale where 10 is softest): Plush: 7 - 75, Medium: 5 - 5.6, Luxury Firm: 2 - 2.5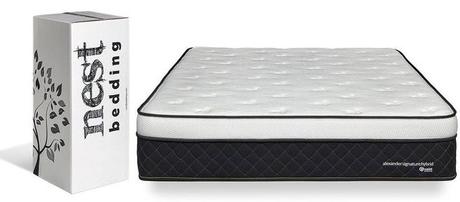 A hybrid mattress is one that combines the benefits of two different types of mattress technology. The term is generally used for a combination of foam and springs, otherwise known as coils. The Alexander Signature Sleep Hybrid mattress is extremely comfortable, regardless of your sleeping position, and also helps keep you cool at night.
Purchase This Mattress on Official Website
This is a 3-4 layer mattress depending on the comfort/firmness level you want. The top layer is memory foam, while one or two layers of cooling polyurethane foams of different types. The coils are individually pocketed to suit any sleeping position. It comes in three comfort/firmness levels: Plush, Medium and Luxury Firm to suit both lightweight and heavyweight people.
3) Best Latex Mattress: DreamFoam Elements Latex Magnolia Total Latex Mattress
Essential Information:
The DreamFoam Elements Latex Magnolia mattress is a 100% Talalay latex mattress with two layers. The top layer is 3" of soft Talalay latex and the second is 6" of a firmer form of Talalay. There are two types of latex: Talalay is softer than Dunlop latex, the other type. It is also more resilient, springy and bouncy - ideal for couples that like a bouncy mattress.

This mattress has a 1" quilted cover for an ultra-plush and breathable sleeping surface; a unique Eurotop zipper enclosure that allows you to adjust the firmness level of the 3" Talalay latex layer; and a firmer 6" Talalay latex base that provides deeps compression support.
Purchase This Mattress on Amazon
You can choose your preferred degree of firmness at checkout. ILD is the force in pounds needed for a 50 square inch circular plate to compress a slab of foam 15" x 15" square and 4" thick by 1" (25%). The higher the ILD the firmer the foam. If you like latex mattresses then this would be ideal for you.
4) Best Memory Foam Mattress: Signature Sleep Memoir 12-Inch Memory Foam Mattress
Essential Information:
10-Year Limited Warranty
CertiPUR-US Foam.
6", 8", 10 and 12" thicknesses available.
Available in three firmness levels: soft (19 ILD), medium (28 ILD) or firm (36 ILD)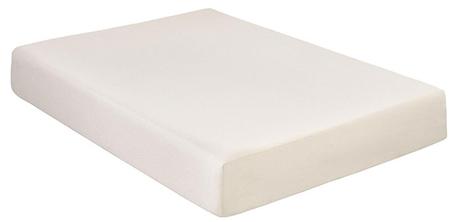 This is an environmentally-friendly memory foam mattress that meets all the requirements of comfort and support required of a high quality mattress. Below a cotton knit cover, the top layer of 4 inches of Signature Memoir foam is thick enough to enfold your body with blissful comfort. The underlying 8 inches of high density polyfoam provides the support that such a mattress needs to be truly comfortable and also great for sex! The pressure on your pressure points is comfortable absorbed from your shoulders to your feet, while your lower back remains supported and the natural shape of your spine maintained from top to bottom.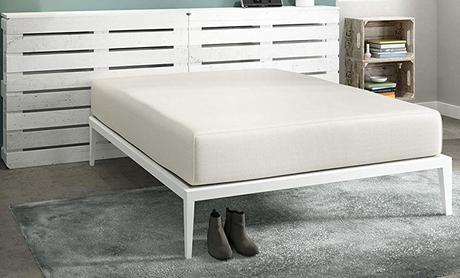 This mattress is also available in 6", 8" and 10" thicknesses, though the 12" version is best for side and back sleepers, while the others may suit lighter weight people. The 6" mattress is really firm, and possibly suitable for stomach sleepers, though we recommend the 8" for that, The 12" version reviewed is the best for back and side sleepers of medium to heavy weight, or those who need a memory foam mattress for orthopedic reasons.
Purchase This Mattress on Amazon
The memory foam is environmentally friendly and very low in VOC emissions. It is also CertiPUR-US certified free from hazardous chemicals such as heavy metals, ozone depleters, phthalates, and toxic fire retardants.
5) Most Versatile Mattress: The Casper Mattress
Essential Information: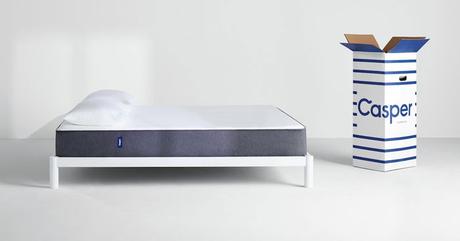 The Casper mattress is extremely versatile due partially to its thickness and partially to its construction. It is 9.5 inches thick and constructed with a top layer of a latex-like proprietary foam with both comfort and a good level of bounce. This 1.5-inch layer is enough to make this mattress good for young couples, and relieves pressure on your hips, shoulders, buttocks and other pressure points while also supporting your lower back to maintain the natural shape of your spine.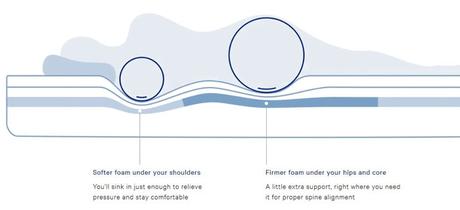 The second 1.5-inch layer is a 'contour layer' of 3.5 lb memory foam. This layer continues the pressure point relied down to the third layer, a 1.5-inch poly foam layer. This split into zones, to offer a soft layer for your shoulders and a firmer foam for your hip and lower back. The final 5- layer is a 1.8 lb poly foam support layer, 5 inches thick to provide a mattress of 9.5 inches.
Purchase This Mattress on Amazon
This construction is suitable for all types of sleeper: back, side, stomach or a combination of these during the night or between partners. It also suits light, medium and heavy weight people, and also the sexually active who prefer a bit of bounce in their mattress. It makes for an extremely versatile bed for all sleepers and sleeping positions.
6) Best Mattress For Cooling: The Brooklyn Aurora Hybrid Mattress
Essential Information:
120-Day sleep trial:
10-Year Warranty
Made in the USA
Firmness Scale: Soft (2-4), Medium (4-6), Firm (6-8) on 1-10 Scale.
Thickness: 13"
CertiPUR-US Certified Foams.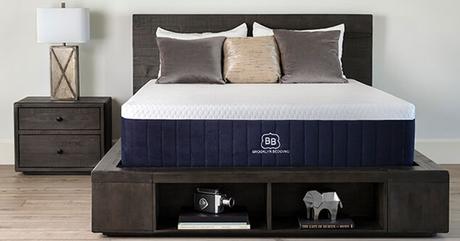 The Brooklyn Aurora mattress is an extremely cooling hybrid, and the best we have found for keeping you cool at night. It uses a lot of cooling technology and proprietary foam systems to earn it our top place as the best mattress for cooling. What are these innovations? The Brooklyn Aurora mattress consists of 6 layers, including the cover that allows your body heat to pass through it to the cooling layers below. Of the six layers three are proprietary:
TEnergexTM: This is a proprietary open-textured foam, which feels like something between latex and memory foam (without the allergens of latex). It is extremely supportive while also cushioning your pressure points, and helps keep you cool.
TitanFlexTM: TitanFlex is a hyperelastic foam that is more durable than latex, and so lasts much longer. It also has a cooling effect on your mattress and wicks moisture away from any area you are sweating it. So it keeps you cool by helping keep you dry.

TitanCoolTM: TitanCool is a proprietary phase change substance. It changes its phase from solid to liquid when it reaches a certain temperature (like ice melts to water), and that liquid can also absorb heat. It then evaporates the heat into the atmosphere, and then cools down again to a solid, ready to begin the cycle all over again.
Purchase This Mattress on Official Website
These three substances can maintain the temperature of the mattress to an optimal 88 o F. The smooth weave cover allows this temperature drop to pass through to the sleeping surface of the mattress. The bottom 3 layers are a 1-inch memory foam layer, an 8-inch layer of individually encased 8" steel coils, and a 1-inch dense support layer for the springs.
7) Most Customizable Mattress: The Helix Mattress
Essential Information: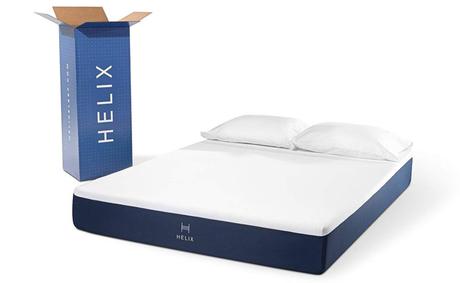 The Helix mattress is extremely customizable, with two options for each of Soft, Medium and Firm comfort levels. Each also has Standard and Luxe versions. There are also three special purpose mattresses available: Helix Nightfall for Plus sizes - large and tall, Helix Dual Balanced, with a soft feel on one side and firmer feel on the other for couples with different preferences and side sleeper support and pressure relief, and finally, Helix Dual Extra that also includes support and pressure relief for back and stomach sleepers.
Purchase This Mattress on Official Website
The comfort foam is either a latex hybrid (ILD 10-20) that is reactive and cushions your body, or memory Foam Plus, a form of memory foam (ILD 10) that conforms to the shape of your body and cushions you for an amazingly refreshing sleep. The support layer is an ILD 20-55 high grade poly foam. You go through an online quiz so that the company can recommend the most suitable mattress to suit your specific needs. That's why we deem the Helix Mattress to be the most customizable.
8) Best Mattress for Heavy People: Winkbeds Plus
Essential Information:
120-Night Sleep Trial: The mattress will be picked up free for a full refund if it doesn't suit you.
Lifetime Guarantee.
"Any Reason" 50% Lifetime Replacement (see below).
CertiPUR-US certified.
OEKO-TEX certified.
Made in the USA
Firmness Level: 8
Thickness: ~14"

If you weigh over 250 pounds then the Winkbeds Plus is one of the top rated mattresses for you. In fact, it is our best mattress 2019 for heavy people. It is a hybrid construction with a top one-inch layer of a proprietary blend of soft foam and cooling gel. Below that is a 1.5-inch layer of responsive latex that not only provides comfort and bounce, but also makes the mattress more durable for heavier weight people. Beneath that is a layer of tempered steel springs, individually pocketed for excellent motion separation and pressure point support. This is three-zone system which gives extra support in the hips and area of the mattress.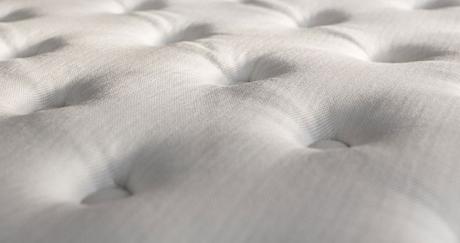 The whole mattress is wrapped in a high-density foam which provides excellent edge support. The cover is made using eucalyptus-based Tencel and is breathable. The material wicks away moisture to help keep you dry. The total thickness of this mattress is 14.5 inches. All of this isn't the only reason why the Winkbeds Plus is popular with so many heavyweight people. If you want a change at any time after your 120-day trial, for example for a firmer mattress, you can change to a new one for just 50% of the cost of a new mattress.
Purchase This Mattress on Official Website
Another reason is that you can use it with WinkBeds' optional cooling base. This is an active system using the company's coolControl TM that conditions and filters air through the mattress to maintain a regulated temperature. You can adjust the temperature each side of the mattress to suit the temperature preference of each individual. This is achieved by sending cool or warm air from the base up through the mattress. The system is controlled by an app. The 120-night trial period of this mattress allows you to try it out and find out why so many people love it - and get a full refund if you don't like it.
9) Best Budget Mattress: Dreamfoam Ipedic Sojourn 12"Gel Memory Foam Mattress
Essential Information:
120-Night Sleep Trial
10-Year Warranty
CertiPUR-US Certified
OEKO-TEX Certified
Made in the USA
Thickness: 12".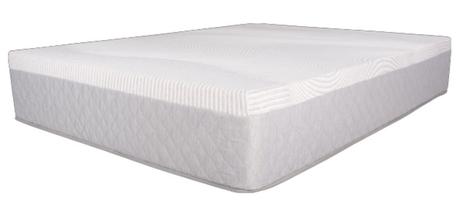 The Dreamfoam Ipedic Sojourn 12" (formerly the Ultimate Dreams Supreme 12" Gel Memory Foam mattress) is an incredible mattress for the price. The reason for this is that it is a family owned company with lower manufacturing costs than the large better-known firms. The lower price does not come with lower quality, however, and this mattress definitely deserves its accolade of the best budget mattress for 2019.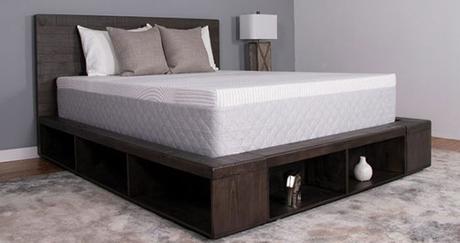 It is constructed with a top layer of 1.5 inches of copper-infused memory foam. Normally, memory foam sleeps hot, but the copper conducts the heat which is then distributed throughout this layer resulting in a much cooler sleeping surface.
The second layer is 2.5 inches of a normal memory foam which offers a good level of support along with reduced pressure on your pressure points.
The third layer is a 2" transition layer of polyfoam that transitions between the memory foams and the firm high-density polyurethane foam base layer. This prevents you from suddenly hitting the firm layer - instead, it is a gentler transition.
The fourth layer is a polyfoam (polyurethane) base layer 6 inches thick. This provides a good level of support below the total 4 inches of memory foams.
Purchase This Mattress on Official Website
The Dreamfoam Ipedic Sojourn 12" mattress contours beautifully to your body shape, while also providing the lower back support you need to maintain the natural shape of your spine. The copper-infused top layer makes sure you do not get too hot when enjoying this comfortable mattress.
10) Best Mattress for Animal Welfare: The Nolah Original Mattress
Essential Information:
120 Night Sleep Trial: Free pick-up and full refund if you don't like the mattress.
15-Year Warranty
CertiPUR-US certified
Made in the USA
Animal welfare program for each mattress sold.
5.0 comfort level.
Thickness: 10".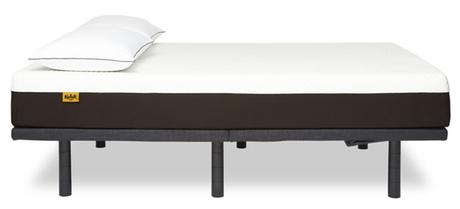 The Nolah mattress gets our Animal Welfare accolade for contributing 7% of its profits to wildlife welfare and protection. They buyer can choose their own animal to be adopted through the Defenders of Wildlife organization. There is no extra cost involved. The company offers two mattresses: the 10-inch thick Original and the more expensive 12-inch Signature 2. It is the Nolah Original mattress we are discussing here, with a firmness rating of 5.0 on a 1 - 10 scale with 10 firmest.
Layer 1: The top 2 inches of the Nolah Original mattress comprise a layer of Nolah AirFoam TM, a type of memory foam that is infused with large numbers of tiny air pockets that not only keeps you cool but also keeps you comfortable. The air pockets act like small shock absorbers, with a significant reduction in the pressure on your hips, shoulders and lower back. This foam combines the contouring and comfort of memory foam with the bounciness of latex. Couples will love it.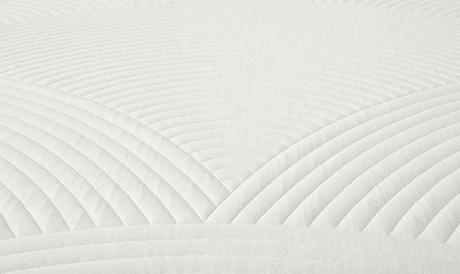 Layer 2: This is one inch of a responsive foam that is more durable than latex, and is a good transition layer between the AirFoam TM layer and the bottom support foam. This also provides a responsive bounce.
Layer 3: Seven inches of high-density polyurethane support foam which adds to the durability and long life of the mattress.
Cover: The cover is a soft, comfortable natural viscose material which wicks away moisture while you sleep, keeping you dry, cool and comfortable all night.
Animal Welfare: You can choose the animal you want adopted and supported from the 7% of profits Nolah provides to the Defenders of Wildlife organization. A list of endangered American animals has been provided by the organization, and you can choose from the list.
Purchase This Mattress on Official Website
11) Best Economical Luxury Mattress: DreamCLoud Luxury Hybrid
Essential Information: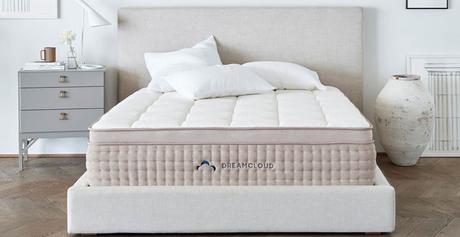 The DreamCloud Luxury Hybrid mattress is our choice of luxury mattress that is affordable and economical. It has high-ticket performance at an affordable price. This top-Rated mattress is constructed with 15 inches of 8 layers. These are, from top down:
A 2-inch layer of hand tufted quilted cashmere.
5-inch gel-infused memory foam to create a cool sleep surface.
A 1.75-inch layer of quilted memory foam for superior softness and comfort.
A 0.5-inch layer of natural latex which provides a slight bounce to the mattress, and makes moving around the bed easier.
A 0.25-inch layer of higher density memory foam to assist contouring and providing a level of support.
A 0.5-inch layer of high-density memory foam for support and maintaining your spine in its natural shape.
An 8-inch layer of steel micro-coils for support, good motion isolation and cooling. This layer is separated into 5 zones to provide support where most needed.
5 inches of high-density memory foam as a base support layer.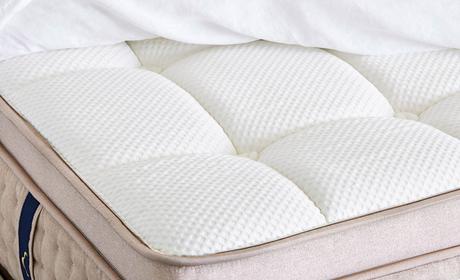 The eighth level is actually a wrapping of high-density foam all round the mattress perimeter for superior edge support.
The total thickness of the DreamCloud Luxury Hybrid mattress is 15 inches. It is suitable for all sleeping positions. The mattress is fitted with a cashmere cover that cannot be removed for cleaning. However, DreamCloud offers a complimentary cleaning service after one year, of ownership. You also have the option later of a refurbishment 'like new' after 5 years.
Purchase This Mattress on Official Website
12) Best Mattress for Teens 2019: Tuft & Needle
Essential Information:
100-Night Sleep trial
10-Year Warranty
CertiPUR-US Certified Foams.
OEKO-TEX Certified Textiles
Greenguard Gold Certified for Children
Made in the USA
Thickness: 10"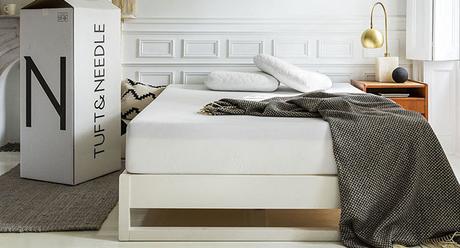 The Tuft & Needle mattress is ideal for teenagers and younger children. It comprises a top layer of proprietary adaptive foam that does not make you feel 'stuck' in the mattress as latex and memory foams do. It is cooling due to the foam's open-cell technology and offers a high level of pressure relief and support for teenagers. This helps maintain the spine in its natural shape which is important for teens who are still growing as they sleep. It has a level of localized bounce that causes minimum disturbance to a partner sharing the mattress.
Purchase This Mattress on Amazon
The T&N Adaptive ® foam is infused with conductive graphite and cooling gel that absorbs heat and distributes it throughout the mattress. This helps you remain cool when you sleep and prevents you from waking up covered in sweat during the night. The cover is very soft, providing a comfortable sleeping surface, and wicks away heat to add further to the mattress's cooling effect.
13) Best Mattress for Kids: Signature Sleep Contour 8-Inch
Essential Information:
Twin Size is 75 x 39 x 8 inches.
CertiPUR-US certified.
Antibacterial.
Flippable.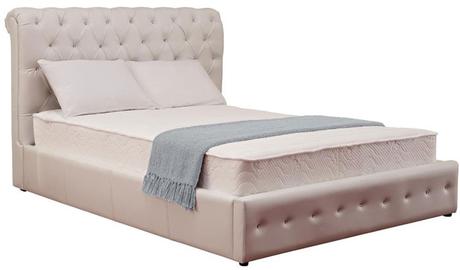 The Signature Sleep Contour 8-Inch mattress is our best mattress for kids 2019 for a number of reasons. Like the other mattresses for children that we recommend, this option properly supports a growing child and provides a comfortable sleep. The mattress comprises a layer of 480 x 7-inch individually pocketed steel coils with a 1.6-inch layer of high-density polyurethane foam above and below it.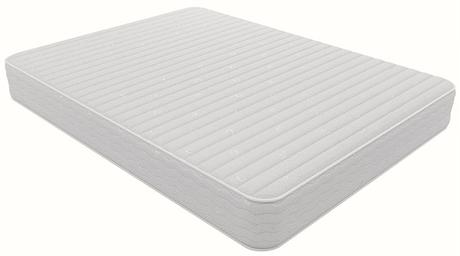 Individually pocketed steel coils are unaffected by compression of their neighboring coils, thus enabling them to contour to your child's body shape and relieve pressure on the shoulders, hips, spine and other pressure points such as the buttocks , ankles and elbows. This type of support maintains the natural shape of the spine so your child can grow with a good posture and natural spine geometry.
Purchase This Mattress on Amazon
This mattress can be used on a number of different bases including platform beds, trundle beds, box springs, and even the floor if your child wants to sleep on the floor now and again - some children do! It is also two sided, so can be flipped if one side starts to wear. It is resistant to bacteria, dust mites and bed bugs, and the foams are CertiPUR-US certified free from any substances that may harm your children, such as heavy metals, phthalates, formaldehyde, toxic flame retardants and more.
14) Best Eco-Friendly Mattress: Avocado Green Mattress
Essential Information:
100-Night Sleep Trial: Free collection and full refund. Check Here for details.
25-year Limited Warranty: Details Here.
OEKO-TEX Standard 100 Certified.
CertiPUR-US Certified
GREENGUARD Gold certified.
Suitable for Children.
Vegan version available with no animal components.
Firmness Rating: 6 and 7
Thickness: 11" or 13"
Our best eco-friendly mattress is the Avocado Green Mattress manufactured by the Avocado Mattress Company. The mattress is Hand Made in California and the company's offices are in New Jersey. The foam is compostable natural Dunlop latex tapped from sustainable trees. The company actively offsets its carbon footprint with carbonfund.org. The fire retardants are natural New Zealand wool and hydrated silica (non-crystalline.) There are no potentially toxic materials used in this mattress. It is resistant to dust mites and other allergens.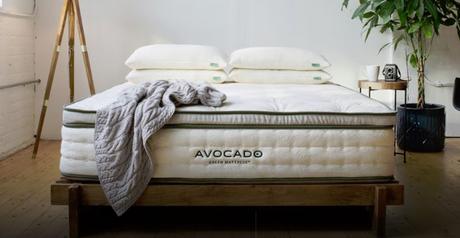 Avocado Mattress Options
There are three versions of the Avocado Green Mattress: the standard version, the pillow-top version and the Vegan mattress.
The standard is rated at 7 on a 1 - 10 scale, where 10 is very firm. It consists of 2 inches of Dunlop latex foam on top of 8 inches of up to 1,414 recycled steel springs (depending on the mattress size) with a bottom 1-inch layer of latex as support for the springs. Each coil is individually encased for maximum motion isolation. The standard version is ideal for back and stomach sleepers.
The Euro-style pillow-top has an additional 2 inches of Dunlop foam on top to make this a 4-inch layer. It has the same springs and support layer as the standard. This is softer than standard at 6 on the 1 - 10 firmness scale, and is ideal for side sleepers and others looking for pressure-relief and eco-luxury.
The Vegan mattress is similar to the pillow-top, but the wool has been replaced by GOTS certified organic cotton. None of the three Avocado options contain VOCs (volatile organic compounds), heavy metals, pesticides, phthalates, formaldehyde or toxic fire retardants. They are antimicrobial and hypoallergenic.
Features of the Avocado Green Mattress
No blended or synthetic latex is used. The 3 Avocado mattresses contain no seams to break down over time, and no chemical adhesives are used between the comfort layers. They are eco-INSTITUT® certified by our latex manufacturer. Dunlop latex is naturally antimicrobial, more durable than Talalay latex and cooler sleeping than memory foam. They Avocado mattresses are also GREENGUARD Gold certified suitable for children and the elderly.
The Avocado Green Mattress is highly durable with ergonomic joint support. The coils are set out in three zones, designed to provide maximum support where needed and to contour as close to your body shape as possible and distribute your weight evenly. The perimeter of the mattress is reinforced for excellent edge support, and to enable you to sleep comfortably right up to the edge of the mattress without feeling you are falling off.
Our manufacturer's latex is certified by the eco-INSTITUT in Cologne, Germany, to be free from volatile organic compounds (VOCs), persistent organic compounds, heavy metals, pesticides, ozone-depleters, formaldehyde and phthalates. Our ticking uses Global Organic Textile Standard (GOTS) certified cotton. Also, there are no petroleum or oil-based foams such as polyurethanes (poly foams) or memory foams, also polyurethane-based.
Purchase This Mattress on Official Website
15) Overall Best Mattress 2019: Nectar Mattress
Essential Information:
365-Night Home Trial: Nectar will pick it up for free and refund all your money.
Forever Warranty: Your mattress is guaranteed for faulty workmanship or materials forever!
Works with all bases and foundations.
CertiPUR-US certified foam.
Quilted top layer OEKO-TEX® Standard 100: certified suitable for babies and toddlers.
Comfort Level: 6.0 - 6.5
Thickness: 11"

We have chosen the Best Mattress 2019 to be the Nectar Mattress. It does not appear above, because although its mattress ratings are excellent, it is not the best mattress in any of our categories. However, it is our best for overall performance at the price.
Construction:
A 1-inch top layer of 4 lb/cubic ft (PCF) semi-open fast-recovery Lush* gel memory foam to help keep you cool. This layer is 1 inch thick before being quilted and attached to the top of the mattress. The Tencel fabric used for the quilting is milled to allow it to breathe, and so remove heat and circulate fresh air every time you move on the mattress, no matter how slight. It is removable.
A 3-inch second layer of 3.5 PCF Lush* gel memory foam: this provides contouring along with good support, medical-grade recovery and cooling properties.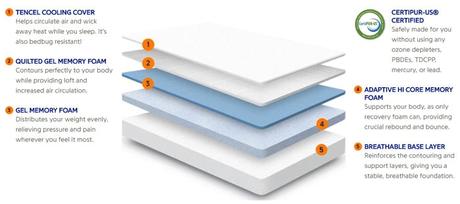 A 1.5-inch layer of dense Hi Core memory foam. This layer is adaptive and increases pressure relief, while also helps with response and recovery when you move on the mattress. It also provides a good transition between the layer above and the dense support layer below it.
A final base layer of 5.5 inches of high-density breathable support foam which provides an excellent breathable foundation for the memory foams above it.

Comments:
Users are raving about this mattress, and we believe it will be the best-selling in 2019. Certainly, for its price of under $400 for the Twin size and under $700 for the Queen, it is the best mattress available. The pillow top and excellent support go well together to create a mattress suitable for all sleeping positions, and that is particularly comfortable and supportive for side sleepers. However, this mattress is not tops for nothing: the Nectar mattress is also excellent for back sleepers and stomach sleepers.
Purchase This Mattress on Official Website with Discount
With its plush quilted sleeping surface, pressure relief, cooling properties, high-quality memory foam feel, foam certifications, lifetime guarantee, 365-night trial period, free returns and exceptional value for money, the Nectar mattress is our choice as top mattress for 2019.
Top Rated Mattresses: FAQs
Here are some questions we are frequently asked by our visitors and customers.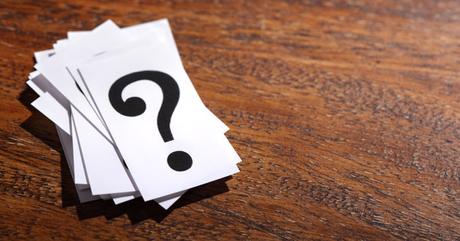 3. Is Edge Support important?
Summary
We at inside Bedroom have covered a number of alternative mattress types and discussed the best mattresses available for different needs. Our choices for the best beds have been made after careful scrutiny and testing of the mattresses we have included. If you have any comments to make or suggestions for improvement, then please tell us.
If we have failed to include your favorite mattress, then please let us know. Meantime, we shall keep our eyes open, and continue to seek out the best mattresses available for specific needs as well as hunt for that kind of mattresses: the one that suits everybody - all sleeping positions, all weights, all ages, and all needs. Meantime, thank you for visiting our site, and we hope our top mattress ratings are useful to you.