A magnetic drill press gives you lots of power and allows you to get through with your drilling work much faster. It is simple to use and comes in a few different varieties. You'll want to choose the one that best suits your needs and your worksite's resources. You can choose between electronic, hydraulic and pneumatic drills. Each of them have their own advantages and disadvantages, so you will have to take some factors into consideration before you decide which one to buy.
What to Consider Before You Buy a Magnetic Drill Press
These are complex and often expensive tools, and you want to be careful about putting your money into one that isn't going to last very long or will not suit your needs. Therefore, you should keep in mind a few factors as you shop for the best magnetic drill press:
The material- You should consider what kind of material you are going to drill before you pick a magnetic drill press. In some cases, a magnetic drill might not be right for the job, and in others, you may need a specific kind of magnetic drill.
Power- If your drill can't muster enough power to drill a hole quickly, then you may be tempted to force the drill down to get it to drill faster. This is a mistake, as that can make the drill do too much work and slow it down. So, make sure that the drill you are picking is capable of producing serious power before you take on those tough drilling jobs.
Manufacturer reputation- One of the most important aspects of buying a magnetic drill or any expensive tool for that matter, is the reputation of the company that made it. That reputation can mean the difference between good and bad customer service. A good reputation is usually a sign of a reliable, committed company that has its customers' best interests in mind. Be sure to look at what other people have to say about the company and how recognizable the brand is before you make a purchase.
Capacity- How much work is the drill able to handle? You need to take capacity into careful consideration. How much work the drill can handle and how well it works in variety of conditions will determine if it is right for you. You don't have to get a drill with a lot of capacity, if you just have simple, easy jobs, so pay attention to this before rushing off to buy one.
Cost- You probably have a budget you are working with, and you have to be willing to work within that budget. We have picked out a few different drills we want to showcase, and we have picked them in a range of pricing. This will give you several options, no matter how much or how little you plan to spend on this tool.
Top 5 Best Rated Magnetic Drill Press
Please take a look at our product reviews here to get an idea of what's available and how your options stack up to one another. Not every drill here will be suitable for your needs, so be careful about what you pick.
DEWALT DWE1622K 2-Speed Magnetic Drill Press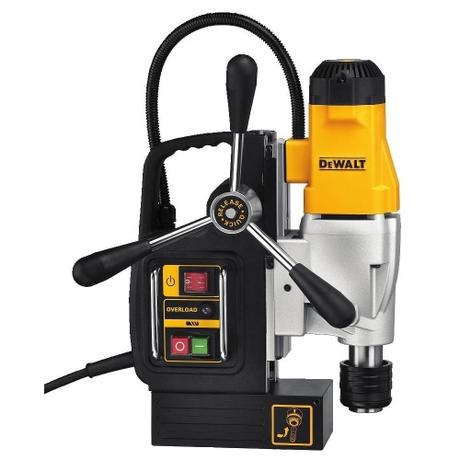 View On Amazon
With this drill you get two speed settings and a 10-amp motor. The 4 ¾ inch drill gives you superior capacity compared to many of the average drills on the market today, and it is made by a trusted brand name that pretty much guarantees quality. This drill is designed to keep the motor intact and working well for a long time to come. It implements an overload protection mechanism that keeps the motor from damaging itself with too much work. So, if you are using the drill and it just shuts off, it is probably for its own good and not a sign that it is no longer functioning like it should be.
You can quickly and easily change between the different drills, making it very useful for work on different surfaces. You can change drills smoothly and go from one job to the next at a pace that will help you get the job done faster and work more efficiently.
Pros
Efficient motor.
Easy to change drill bits.
Excellent safety features.
Cons
There have been some reports of it not drilling very accurate at times.
Hougen HMD904 115-Volt Magnetic Drill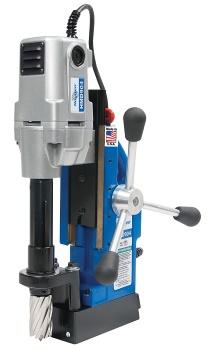 View On Amazon
This is one of the most powerful drills you can get, and it uses a new magnet system that boosts its power when compared to previous models and lot of the other drills available. It offers a 1-½x 2 drill capacity, and it comes with a quick-change feature as well. This drill is designed to be incredibly accurate and drill precise holes that give you just what you are looking for. You won't struggle to make exactly the cut you want, which makes it a dream to work with.
The downside to all this is that it costs more than your average drill. You are paying for quality and features, obviously, but once you compare it to the similar drills, you may find that the extras are not worth the additional price.
Pros
Offers tons of power.
Lots of features.
Cons
Evolution Power Tools 849713054050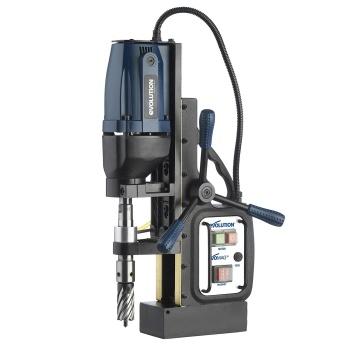 View On Amazon
This drill ensures that the motor stays protected, as it uses a built-in cooling system to keep it from overheating. It can cut up to two inches deep and be operated from the right or left sides. You can even drill with this tool sideways or upside down and still get fantastic results. It's incredibly versatile and considerably cheaper than the other options we have listed so far.
The one problem with this drill is that the magnet is not very strong. It won't hold the drill in place all the time, and that can be problematic, especially if you are drilling at an odd angle.
Pros
Can drill from any angle.
Very versatile design.
Very inexpensive, comparatively speaking.
Cons
Magnet isn't very strong and can sometimes affect drill stability when using it in odd angles.
Champion Cutting Tool RotoBrute MightiBrute AC50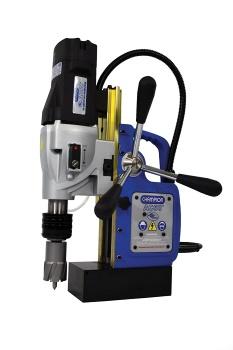 View On Amazon
You might expect that for this drill's price, it would be super heavy duty and hard to move around, but it actually weighs only 33 pounds and is lighter than most magnetic drill presses. It is a very high-quality drill, as you would expect from a price that's over $1,000. The drill bits give you up to two inches of depth, and the cutter capacity is 2-1/8 inches. The quick-change adapter lets you switch between drilling modes and work on different jobs very quickly. It's convenient and easy to change the drill parts easily when necessary.
You do get a lot of extras with this drill, such as a carrying case, hex key, different safety features, a removable handle and more.
Pros
Lightweight.
Comes with all sorts of options and added features.
Long lasting, high quality drill.
Cons
Janky JHM Series ShortSlugger Magnetic Base Drilling Unit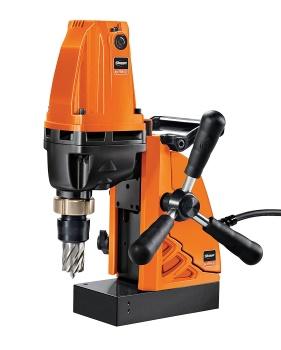 View On Amazon
With a more conservative price and a lot of features to offer, this is a drill with a ton of value for the average user. As with most magnetic drills, it will cut up to two inches deep. It has a cutting diameter of 1-3/16 inches, making it quite versatile, but be sure to compare it to the kind of work you need to do to see if it is suitable. It also offers a lot of power, giving out 680 rpms without a load and up to 430 rpms with a load.
It can handle tough loads and even be used upside down, but you will need to feed it some coolant for those tougher jobs to ensure that it doesn't overload its motor. Still, this is a good drill which will help you save some money, and still get all the great features you expect from a high-end device.
Pros
Can be used in multiple positions.
High quality design.
Reasonably priced.
Cons
Not the most powerful machine out there, if you are looking to get very rough jobs done.
Conclusion
If you are working in confined spaces, most of these options won't work very well for you. These are more heavy-duty types of magnetic drills, and if you want something sleeker and smaller that is designed to be used in tight spaces, then you need to go with a low-profile drill.
In most work areas though, the drills we have picked out here will be great options. Just calculate your budget and your needs before you settle for a certain drill. You want to ensure that your investment is a smart one, since these tools are so expensive.