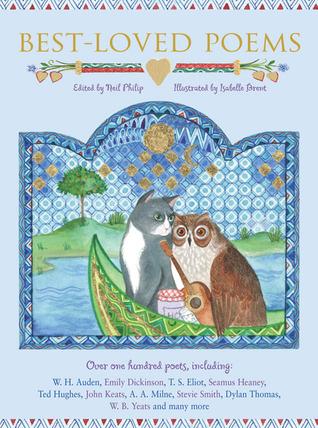 TITLE & AUTHOR: Best-Loved Poems
PUBLISHER: Little Brown
EDITION: Paperback
RELEASE DATE: 5 December 2002 (first published 2000)
PAGES: 224
SOURCE: Owned
ILLUSTRATOR'S GOOD READS PAGE
WHAT'S IT'S ABOUT
This highly accessible collection gathers together the best-loved gems of English language verse, from the deeply moving to the hilariously silly. The poems span the entire range of verse from high drama to stuff-and-nonsense and are presented in nine sections: Poems of Childhood and Youth; Poems of Love and Marriage; Poems of Life; Poems of Loss and Comfort; Poems of War and Peace; Poems to Read Aloud; Poems to Read Quietly; Poems of Animals and Nature and Poems of Magic and Mystery.
The anthology includes works by William Blake, Dylan Thomas, Seamus Heaney, Robert Burns, T S Eliot, Rudyard Kipling, W B Yeats and many, many more. The poems have all been chosen and arranged by Neil Philip and the volume is illustrated throughout with watercolour borders and decorative motifs by Isabelle Brent, glowing with her trademark gold leaf.
From Infant Joy by William Blake
I have no name
I am but two days old
What shall I call thee?
I happy am
Joy is my name
Sweet joy befall thee!
WHAT I THOUGHT
Best Loved Poems is a very enjoyable collection of poetry. Many of the poems within the collection are more traditional in format and subject including the work of William Blake, Robert Browning, Edna St Vincent Millay, A.E. Houseman and W.B Yeats. The title fits the collection well as these are poems many of us will have grown up with and heard recited by our parents or studied in school. Best Loved Poems is a gorgeous collection, fully illustrated and each page has gold edging. The collection is the perfect shape and size for reading to children at night. Some of my favourite poems include Girl, Boy, Flower, Bicycle by M.K. Joseph, A Red, Red Rose by Robert Burns, I like My Body When It Is with Your Body by E.E Cummings, This Be The Verse by Philip Larkin and Not Waving but Drowning by Stevie Smith. I'd highly recommend Best Love Poems for poetry fans.