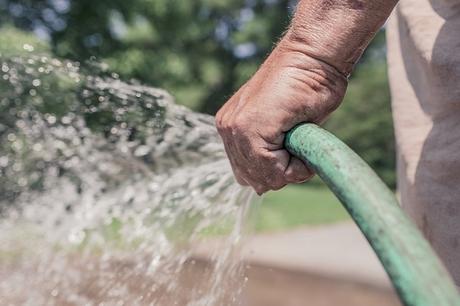 Your garden hose is something you will likely be moving around a lot. Whether you are moving it to a different location to get enough hose to water something or you just need to move it through your garden to ensure everything is watered properly, you will be toting that hose around quite a bit. You probably don't want a very heavy hose, so lightweight hoses are a good choice for avid gardeners. Doing gardening work is tough enough without having to lug around a heavy hose so you may want to look into the best lightweight garden hoses on the market.
What to Consider before You Buy a Lightweight Garden Hose
There are some great options for lightweight hoses, but there are also some that are pretty low quality that you should be avoiding. Even the good ones might not all be great options for you, so we are going to show you a few things to look out for as you try to find the right hose for you.
Flexibility- This is one of the most important factors to consider. You need something that can be moved all around your garden and snake in and out of the rows of plants without damaging them. It will have to be flexible in order to do that.
Price– The highest priced hoses are not necessarily the best, but you do need to consider price when choosing a lightweight hose. These tend to be pretty inexpensive for the most part, but you ought to have a budget in mind after you get an idea of the average price range.
Value– Alongside the price of the hose, you should also consider how long it will last you and how effective it is going to be. If you put more than $30 into a hose, then it ought to last you for a long time. Not all of them will, so pay attention to the warranties and customer reviews that discuss how long their hose lasted them.
Quality– The most important factor when choosing a lightweight garden hose is the durability and value of the hose. You want something that will hold up for a while and that does its job well without any problems.
Read the reviews- One great way to measure the quality of a garden Hose is how other people have experienced it. You can read their personal reviews to find out whether they liked or disliked it and what made them feel that particular way about it. The reviews often tell you more than the item descriptions.
Product Reviews
Now let's have a look at the best products on the market. We chose these based on how affordable they are, the kind of value they offer you and the features and functionality provided.
Flexzilla Garden Hose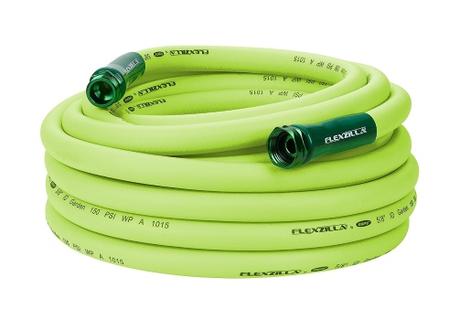 View On Amazon
This hose is one that is highly rated by a lot of reputable sources online. It offers incredible flexibility and ease of use, and it is one of the top choices for many gardening enthusiasts. This hose's flexibility is so good that even in extreme weather conditions, it still works very well, threading through your garden or work area effortlessly. The Flexzilla retails for about $35, and it is 50 feet long. It is also made to resist kinks, crushing and other problems that can lead to snagging or leaks. The super durable material it is comprised of should keep it in top working condition for a long time to come. It contains no lead, which is commonly found in many garden hoses, so you can be confident that if you are watering plants that you want to eat later, the hose doesn't contain any potentially harmful materials.
Pros
Super flexible.
Resistant to freezing.
Very durable.
Cons
There have been some reports of it attracting mold easily.
Zero-G 4001-50 Lightweight, Ultra Flexible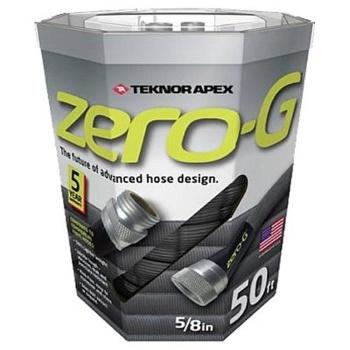 View On Amazon
This 50-foot lightweight hose is versatile and easy to use. It contains no lead, and it should not freeze easily in cold temperatures. It is made to be safe for any kind of work and even to drink directly out of if you like. Zero-G's hose is about 50% lighter than the average hose, making it perfect for toting around the garden and doing lots of work with. It's fairly flexible as well, so it should be suitable for winding around your work area without snagging or kinking too much. It's not kink free, but when it does kink, you can simply give it a jiggle and have it un-kink instantly.
There is a chance that the seams will come undone in time, especially if you are rough with the hose or use high pressure water in it very often. It can last for a while but extended rough use can leave you with a busted hose after a few months, so just make sure you know what you are planning to do with this product.
Pros
Can un-kink easily.
Very lightweight.
Versatile and safe for any use.
Cons
iZEEKER Magic Hose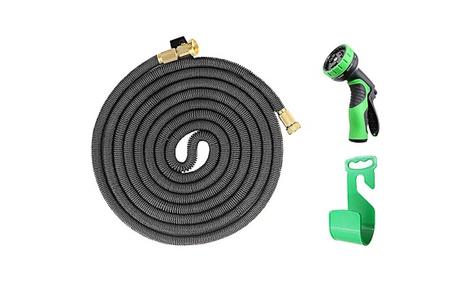 View On Amazon
The iZeeker hose is incredibly durable. That's its primary advantage, and it uses a mix of latex on the inside and rubber on the outside. It's important to use rubber as your exterior material for a garden hose, since it is the toughest and most suitable material. From the brass fittings to the triple latex core, no quality part was spared to make this an incredibly tough hose, and yet it is one of the cheaper options we have listed here. That's a testament to the value of this 50-foot hose. It also comes with a spray nozzle that has nine different spray options for ultimate versatility.
Pros
Probably the toughest hose on the market.
Made from top quality materials.
Inexpensive product.
Robust spray nozzle options.
Cons
There have been some reviews of it building up mold over time.
ELEY-Drinking Water Safe Polyurethane Garden Hose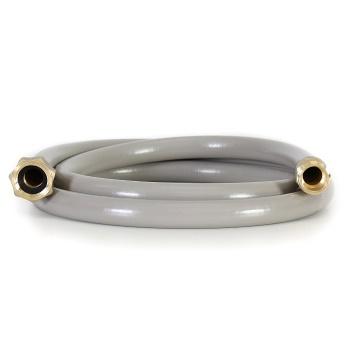 View On Amazon
For a tough, completely safe hose that will last you for years and years, you can't really choose anything better than this one by ELEY. It comes with a wonderful 10-year warranty, so you won't have to worry about buying a new hose if this one springs a leak. It is also made to be safe to use anywhere, with a lead-free design and environmentally approved materials. It is designed to never kink on you, making it super easy to use anywhere, even when you are working on a roof or winding it through the garden. It is unlikely to snag and slow you down or cause damage to whatever it is snagged on. It's a reliable hose that is a good investment, but you can expect to pay about $80 for it, so you should do your research before putting that much money into a garden hose. Make sure that you can't get similar value from a cheaper hose first, as this one is far more expensive than the average price for a lightweight garden hose.
Pros
Very durable.
Comes with a 10-year warranty.
Will almost never snags or kinks.
Cons
Black Mamba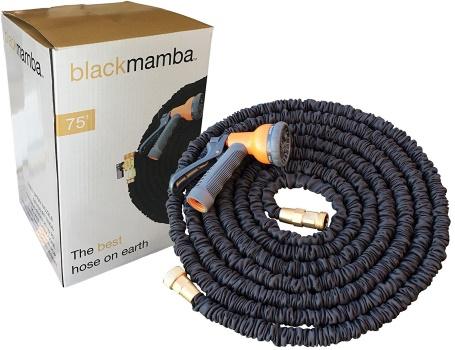 View On Amazon
Here is something much cheaper but still fairly reliable. This hose is designed to almost never kink, snag or tear, and it is made from durable materials like rubber and has brass fittings. The included spray nozzle has eight different settings, allowing for great versatility and providing you with plenty of value for your money. It retails for under $30 and stretches out to 75 feet. That's longer than the average garden hose, so make sure you need all that hose length before you put the money down for this one.
Pros
Nozzle included.
Inexpensive hose.
Fairly durable.
75 feet of hose.
Cons
Not as strong as some of the other options.
Conclusion
Please keep in mind that just because we offered a review of a hose, that does not mean it is a good choice for you. You need to pay attention to the length of the hose, the kind of features it comes with and the price to see if it fits your needs. Remember always that the best product is the one that suits your needs best and gets the job done for a fair price. Factoring in all the different features you may require in a hose, we are sure that at least one of the products we recommend will be a great choice for you.