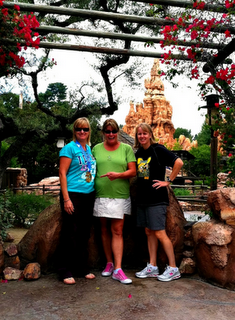 Did I mention that I ran the Disneyland Half Marathon this past weekend?
So first, let me say that I did not run the entire half marathon (I'm revealing this now because I know one of my sisters will comment on this and tell you all that I'm lying by saying I "ran" the half marathon). Because of a back injury I got playing tennis (!!!), I ended up running 5.1 miles and walking 8 miles.
That's the bad news. The good news - I was able to ride every single ride I wanted to at both the Magic Kingdom and California Adventure! Including the Tower of Terror, Space Mountain (twice!), the Matterhorn, Star Tours, and California Screamin'! All of which I wasn't sure I'd be able to do just days before.
I have to show off just a few photos from this great weekend. First, here I am with my sister on our first day at the Magic Kingdom: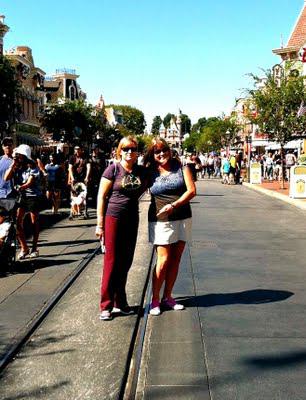 She is pointing out the very stylish and very comfortable pants I'm wearing which happen to be the Knit Athletic Pants I just got from 4allbyjofit. The pants are "Raisin" colored which is a deep maroon which I happen to think goes with everything. My sister is pointing because I kept saying, "Get a picture of the pants!" I wore them for about 18 hours that first day (Friday) and they held up great. If this pair of pants can survive Space Mountain (twice!), they can survive anything.
We also went to the race expo which was incredible - tons of vendors and great stuff. Both Jeff Galloway (famous marathon guy) and TV star Drew Carey (famous for taking up running and losing a bunch of weight) were there. I took pics of both of them but frankly, I'm not that great of a photographer. So just believe me - they were there.
Here I am the next morning with Minnie Mouse: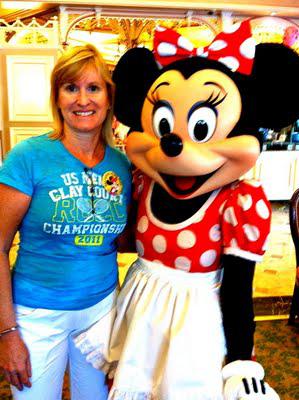 I posed with Minnie when I went to a character breakfast with my sisters and my dad and no kids and it was a blast! No one at Disneyland cares that a bunch of adults are there taking photos sans kids. Those characters are so picture-taking-friendly. And while this weekend wasn't supposed to be a 4allbyjofit fashion show, turns out I wore my white 4allbyjofit Knit Capris on Saturday because they're really cute, super comfortable and have pockets in the front (which is perfect for park tickets, fast passes, etc.).
Saturday night we went to a Pasta Party in the Park which I didn't really have that high of expectations for but, like everything else about that weekend, it was fantastic. Here is a shot of a tray of cupcakes with special little edible Disney chocolates on them: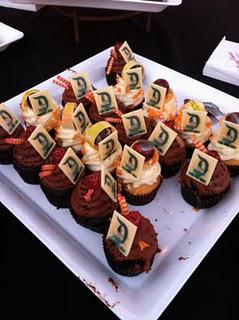 On Sunday, I just did the race in regular old running clothes. We got to run through both parks where tons of characters and parade floats were out just for the runners. We even got to run behind the scenes and see the machine shops and other facilities that keep Disneyland going.
About two-thirds of the race was outside the park and probably the best part of that was racing through Angel Stadium, home of the Los Angeles Angels MLB baseball team. We got to run around the outside of the field and here is a shot of that: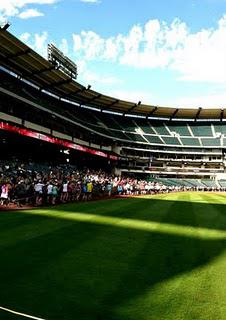 Because I wanted to get this post up right away, I don't have the photo finish of me at the end or the great photo of me with my dad and my sisters and our really big, really heavy Disneyland Half Marathon medals. Maybe I'll post those later when one of them sends it to me. My conclusion - I cannot imagine a better race to run, especially if you're a first time half marathoner (this was my second).
My Labor Day was spent back at home, laying on the couch recovering and watching the U.S. Open - my dream vacation. The cherry on the icing on the whole long weekend cake was that today (Tuesday), I got to play tennis and my back feels pretty good, my feet are not too sore and I won my match! Hopefully you had a great weekend too.


© Kim Selzman 2011 All Rights Reserved