*The list will keep adding till the end of the year.
This year again we are facing challenges like last year. This new strain is making me anxious and nervous. I am praying daily and hope you are doing it too as our country and citizens are going through a very difficult phase.
As I get anxious, I don't watch the news and avoid reading much information. My only way of escapism is watching dramas & self-pamper.
A few months back, the Korean Tourism globally had conducted the K-Friends program and I have joined it. K-friends mean people who love Korea and want to share their love with the world. There is a FB group for K-friends and we share our love for Korea. It is very exciting and informative. We get to know people from around the world and share things.
I have also been appointed as a Korea Honorary Reporter where I will be creating content and publishing it on their official site.
I was thrilled and looking forward to beginning my journey with ardour but seeing the condition of my country, I have lost all the enthusiasm. Hope things get better soon and we can focus on other priorities of life.
Now coming back to this post, here are the best Korean dramas on Netflix 2021 which you can now binge-watch.
1) Vincenzo
Genre- Action/Comedy
Episodes- 20
View this post on Instagram

A post shared by Jenifer $ayyed (@shaandaar_jenie)
Vincenzo Cassano is a Korean-Italian Mafia lawyer who visits Korea for his secret unfinished task and during his stay, he encounters a conglomerate of a corrupted corporate company- Babel.
I ignored this K-drama but thanks to my K-friends who in majority recommended this show to me. This drama has recently ended so it's available to binge-watch.
There are a lot of cliffhangers on every episode that makes waiting for the next episode seemed long. I liked the background music as it is thrilling and made the drama more entertaining.
This is one of those dramas where you will love all the characters. Everyone was phenomenal esp. the Geumga Plaza family, the lead actors, and the protagonist Taecyeon. I have never seen such an amazing performance by the protagonist. He truly deserves an award.
Don't miss this drama as it has all the elements of a good drama- Action, comedy, amazing actors, music. Vincenzo is one of the Top 10 shows running on Netflix India, so it's definitely worth a watch.
Itaewon Class was my most favorite drama of 2020 & this year it's Vincenzo. Go watch it right away.
---
2) Hello, Me!
Genre- Romantic Comedy
Episodes- 16
View this post on Instagram

A post shared by 김김김 (@aksakfn12)
Imagine you are meeting the younger you from 20 years ago, how will you react and how will you use this opportunity?
The synopsis made me excited to watch this drama as I love such kinds of stories. Hello, Me! is about a 37-year-old Ban Ha-ni trying to make ends meet and has no passion for life. She is miserable and unsuccessful; soon she gets into an accident and finds herself in a hospital. When she wakes up, she is shocked to see her younger self from 20 years ago who was charming, vivid, and full of life.
At the same time, her younger self is shocked to see herself 20 years back as she had never thought she would turn out this bad. In the process to know how that young teenage spunky girl turns into a sober woman, the older one hides the fact and soon with her younger self, she starts healing slowly and loves herself again.
The first 12 episodes are funny and entertaining. After that, the drama becomes a tad draggy and dull, but till then you get connected with the characters, and hence this will not bother you much.
I liked both the younger and older Ban Han-ni. Their camaraderie reflected on screen and it was sad to say them bye. The two male actors- Eum Moon Suk & Kim Young-Kwang were wonderful and their banter was fun to watch. I like Kim Young-Kwang because he is so handsome and cute.
So watch this family entertainer and get to learn to accept ourselves and be the best version.
---
3) Love (ft. marriage and divorce)
Genre: Melodrama, Romance
Episodes- 20 Season 1
View this post on Instagram

A post shared by Metro.Style (@metrodotstyle)
Three successful women who work in a radio show feel they are in happy marriages until things start unravelling and the marriages which they thought were 'happy & perfect' fall out eventually.
The second season is awaited. I would have skipped this drama if I would have known that there will be second season. Thankfully I watched it without knowing because this drama should not be missed.
As the story is all about married people, hence this drama is about love, sex, and betrayal. Each one of the three women has its own story to tell.  These three women are strong and independent. Then what when wrong in their marriages? Why their husband is cheating and having an extra-marital affair?. Well for that you have to keep watching the show as it starts revealing the reason but doesn't complete the whole story. So we have to wait till the next season to know the complete story.
I liked Park Joo-Min & Lee Ga-ryeong as both of them are super stylish and will inspire you to dress up like them. Also, I found Lee Ga-ryeong looks quite similar to our desi girl- Mira Rajput (Shahid Kapur's wife). Do let me what you think?
---
Looking for more K-Drama recommendations? Then check this out:
She was pretty!! The K-Drama Rom-Com you would love to watch
Best K-Drama to watch on Netflix
7 Personalities of Kill Me Heal Me
PIN THIS POST!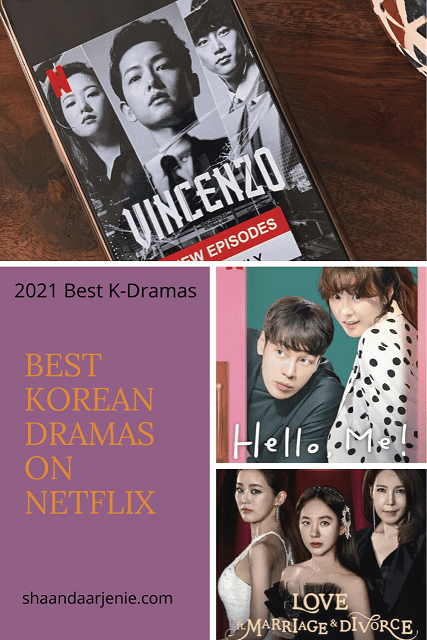 *Featured Image: tvN's Official Instagram