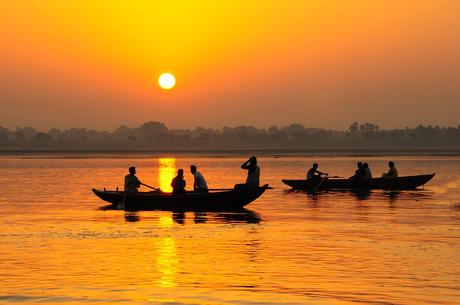 India is a rich and varied land featuring some of the most beautiful locations in the world.
Incredible India explains how the country is a 'mosaic of multicultural experiences' that offers great locations to visit and of course, wonderful food to enjoy.
Whilst the erstwhile traveler may look to take in the usual tourist spots of the Taj Mahal and perhaps the Red Fort, those who dig a little deeper can find some hidden gems that are well worth the time and effort. If you're planning a trip, there is a wealth of travel information for a visitor to India on Expatbets explaining not only where to go, but also where to live if you are moving to the country. It is those expats that will tend to know the sort of destinations that are hidden gems; places you might not have intended to visit but would make your journey richer by doing so.
Each of those locations also offers the chance to take in a different local cuisine, something we explore over four locations for you. Next time you're heading around India, be sure to factor in these great places to spend time.
Palitana
The Kutch region of Gujarat is sometimes described as India's 'wild west', Gujarat offers the knowledgeable tourist a wholly different Indian experience. Foodies might be interested in Palitana, the world's first vegetarian city. The Metro reveals it has 863 temples, but that it is also illegal to sell meat or eggs there. The local dish of Kutch region is the Khichdi and kadhi or Bajra no rotlo, guvarnu shaak. It is made from rice and lentils and is a great vegetarian dish which seems fitting for Palitana.
Spiti
Spiti is an altitude desert, not as well known as Ladakh or Leh, but no less beautiful and attractive to tourists. It is a stark landscape, peppered with temples and villages, combing alpine plains with snow-capped mountains. The Spiti Valley is a cultural center for Buddhists and as The Times of India revealed back in 2017, it is easier to access now thanks to the Rohtang Tunnel.
Tsampa is one local delicacy you would have to try whilst here; it is a roasted flour porridge but holds cultural significance as it is often used in Buddhist rituals, where pinches are thrown into the air.
Majuli
Majuli is a river island in the Brahmaputra River, Assam, is becoming more popular with tourists. It is wonderful flat landscape suits those looking to get around on a bicycle, whilst bamboo huts offer an authentic and heart-warming accommodation for the handful of westerners who decided to venture on the 24-hour journey from Calcutta.
If you do visit, be sure to try Pamnam fish and chicken, which is usually baked in banana leaf. It is a dish widely available around the world, but for the truly authentic version, you must visit this little-known corner of India.
Kannur
The southern coastal city of Kannur offers a range of experiences for those who visit, including the wonderful Payambalam beach and nearby lighthouse. The town has much more than just beautiful beaches, with plenty to keep you amused in the surrounding area. The Mutthapan temple boasts a weirdly hypnotic traditional evening dance, and is just 16km from the city.
With Kannur being a coastal town the seafood is just exquisite, and nobody should visit without sampling some kallumakkaya nirachathu, a truly superb take on mussels blended with the perfect amount of spices. If seafood is not your thing, then thalassery chicken biryani is another great option, with the rice, chicken and spices all cooked in the same dish.
For all the latest news and reviews of food and travel around India make sure you pay regular visits to our Indian Food Freak website.