The holidays are on the way! Yay! That means it's time for my "Best Holiday Gifts for Tennis Players" gift guide! Each year, I do a gift guide packed with super fun things that you can give to that extra special tennis player in your life. Whether it's your partner, your captain, your spouse, your child, or heck, even yourself (!), these are all of the awesome gifts I would love to give or get during the holidays.
So let's get going with my 2019 Best Holiday Gifts for Tennis Players gift guide!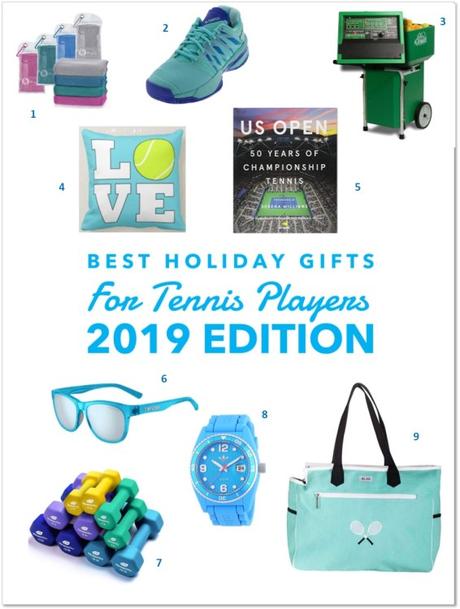 1. U-Pick Cooling Towels 4 Pack - When my tennis league started up this fall, it was SO hot and every smart player had one of these cooling towels around their neck. What a fantastic idea! You soak the microfiber towel in water and it can remain cool for up to 3 hours. Wrapped around your neck, it's a very simple way to beat the heat on court. The small plastic pouch is reusable to allow for easy storage in your tennis bag. So did I have a cooling towel around my neck in the fall? No, I did not. I think it's time I get this 4 pack for me and maybe for my tennis partner to make sure we always keep our cool when playing.
2. K-Swiss Women's UltraShot Tennis Shoe - These shoes are just the right color - Aruba Blue accented with Dazzling Blue. K-Swiss has made a big comeback in tennis wear and their shoe game is on point too.
3. Playmate iGenie Ball Machine - Now here's the dream gift for the truly tennis-obsessed player. The ultimate piece of gear. The iGenie ball machine. This sports-marvel comes with a sophisticated control panel that can simulate realistic game situations with up to 10 different shots. It can feed balls to you every 1 1/2 seconds, ensuring that you'll get a fantastic workout. When working by yourself with the iGenie, you can program any combination of shots you want to work on your wekanesses and to build up your strengths. Is it pricey? At $6,995.00 you bet it is. Is your game worth it? I'm thinking yes!
4. LOVE Tennis Throw Pillow - Looking for the perfect gift for your tennis captain who has led your team to another victorious season? How about the LOVE Tennis pillow? This is a great way to show her just how much you love her and how much you want her to keep on captaining!
5. 50th Anniversary US Open Tennis Book - For the fan of everything pro tennis, here's an incredible coffee table book. Celebrating the 50th anniversary of the US Open, this is truly beautiful. With chapters looking all the way back to the 1960's, including one about my fav Arthur Ashe, a foreword by Serena Williams helps to put it all in perspective.
6. Tifosi Swank Sunglasses Crystal Sky with Smoke Bright Blue Lenses - Okay. These are not only super cute but they are super reasonably priced! Just $25.00 on the Tennis Express website. They are light, durable, scratch resistant and shatterproof. Most important, they provide both UVA and UVB protection.
7. Fitness Alley Neoprene Dumbbell 5 Pairs Set - When you're an athlete, you can never have enough fitness equipment around. And a good dumbbell set is a must. This one come with 5 pairs of dumbbells, ranging in weight from a 4 pound set up to a 10 pound set. I think this is just about right for most female recreational players and is certainly a great place to start.
8. Adidas ADH6155 Blue Brisbane Silicone Watch - This is a super cool sports watch. Big, chunky, bright. The color is fun and would definitely go with a lot of things in my tennis wardrobe. It's not a smart watch, just the basics here. And when I'm out on the court, that's all I want.
9. Ame & Lulu Kensington Crossed Racquet Court Bag - I love the color. I love the crossed racquets. It has roomy pockets inside and out and enough room to carry both of your tennis racquets. Just perfect.
If you're looking for even more holiday gift ideas, I've got plenty! Check out these Tennis Fixation Gift Guides from past years: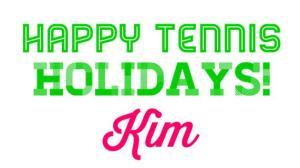 © Kim Selzman 2019-2020 All Rights Reserved
Ad Disclosure - Many of the links in this post and in all of my Holiday Gift Guides are affiliate links. I make a very small commission if you purchase any item using my affiliate links. Your cost is the same for these items whether or not you use these links. My opinion on these items is not influenced by this and I always tell the absolute truth about every item that I recommend and/or review. I usually do not review items, and I never recommend items, that I don't like.