Another holiday gift guide for tennis players is here! Happy Tennis!
So you've already seen my Best Holiday Gifts for Tennis Players – Women's Edition and my Best Holiday Gifts for Tennis Players – Fitness Edition. In this guide, I'll give you tons of ideas for stocking stuffers – little gifts that make a huge impact. These are all less than $15 and would be perfect for your favorite partner, captain or pro. And what the heck – pick up a few of these for yourself!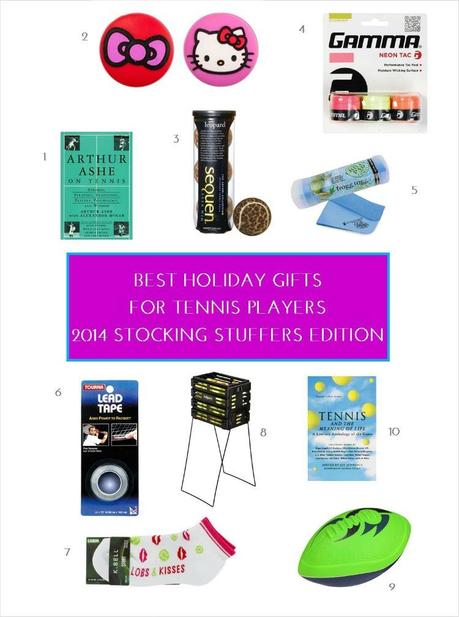 Arthur Ashe On Tennis: Strokes, Strategy, Traditions, Players, Psychology, and Wisdom: This book first published back in 1995 but continues to be one of my favorites. Arthur Ashe was an incredible tennis player, was a role model for so many players, and is still universally admired by pros at all levels. Although this book is close to 20 years old, it is packed with tips and insights that can help any player play better tennis quickly and easily.

Hello Kitty Sports Face and Bow Vibration Dampener: Do you have a favorite little girl playing tennis? Or a favorite teen girl? Or a favorite teen-wannabe (I might just fall into this category)? This Hello Kitty vibration dampener would be an awesome stocking stuff for her. It certainly makes the racquet spin more fun ("Do you want Hello Kitty or the pink bow?").

Sequen Tennis Leopard Print Balls: This pink balls are cute? Not compared to these leopard print tennis balls. If you've got a tennis diva in your life, and who among us doesn't, these are definitely the perfect balls for her.

Gamma Sports Neon Tac Overgrip: Every player needs something to cover their grip to keep their racquet from slipping. Buy why shouldn't it be useful AND pretty at the same time? I love this Gamma overgrip as it helps me achieve both of my tennis goals – play well, use neon gear.

Frogg Togg Chilly Pad: No one should be on court without a tennis towel and this one is nearly perfect. It not only works as a towel to dry off the sweat, it also keeps you fresh and cool by holding the just right amount of water. Bonus – it comes in every color imaginable (including neon and leopard print to keep the tennis divas happy).

Tourna Lead Tape: For the serious player who's looking to customize his racquet, here's the perfect roll of lead tape. Yes, even I have lead tape on my racquet (I need to do a post on that). It's not really hard to apply and makes you kinda look like a badass when you use it. At least that's what I think. Look, in my fantasy-filled mind, I'm a badass tennis player. Let me have my moment.

Women`s Lobs and Kisses Cotton Blend Socks: You can never have enough tennis socks. Especially not when they're this cute. "Lobs & Kisses" – love that!

Tourna Pete Sampras Ballport: Believe it or not, this ball hopper holds 80 balls AND costs just a little bit over $15. I've used this particular model before and it is sturdy yet lightweight. If you're doing any practice or drills on your own, this would be a great item to add to your list of required tennis gear.

Nerf Turbo Jr Football, Green/Blue: Did you know you can improve your serve by practicing throwing a football? Yeah, I should do a post and podcast on that. Anyway, this Nerf football is a great ball for practicing your football throw and can even be carried in your tennis bag so you can use it to warm up before a match.

Tennis and the Meaning of Life: A Literary Anthology of the Game: Not every great tennis book is packed with tips and tricks. This one has all kinds of stories, poems and essays focused on tennis. Such an enjoyable read for the true tennis fanatic.
Those are my favorite tennis stocking stuffers, items that any tennis player would love to get and items that are super easy (and cheap) to give. What's on your holiday tennis gift list? Let me know in the comments below. And keep checking back as I've got another Holiday Gift Guide coming out soon! Happy Holidays and Happy Tennis!

© Kim Selzman 2014 All Rights Reserved
Full disclosure – The links in this post are Amazon affiliate links. If you use these links to purchase items, your cost is the same as if you don't use these links. I make a very small commission on those purchases. This does not influence my opinion on these products and I always tell the absolute truth about every product that I review. I usually do not review products that I don't like.
650 ? 650: true);" class="ois_box_14 container-fluid"> If you enjoyed this article . . . There's plenty more! Sign up for FREE Tennis Fixation Weekly Updates and you'll receive my FREE eBook "10 Quick Fixes To Improve Your Serve: No Lessons Required!"