Lots of people are getting into the t-shirt making business, whether for their primary source of employment or as a way to boost their brand and bring in more sales on top of what they already do. That's because heat press machines are becoming affordable, so anyone can get in on the t-shirt making craze and enjoy quick and easy results. However, it is important that you buy the right machine and not overpay for a fancy machine that won't give you much value. That's why we set out to help you find the most suitable heat press machine for your needs.
What to Consider Before Buying a Heat Press Machine
If you are looking into buying a heat press machine as a business investment, then you need to get the right one. There are some of them that won't do what you want or that will break down or malfunction after a short while. Some things you should keep in mind when shopping for a heat press machine:
Know your needs- There are a few different types of heat press machines. You can pick either a clamshell, swinger, dew and sublimation press. Be sure to choose the one that fits your needs.
Durability- Not all heat presses are going to last you a long time, and if you plan on using this machine for a while, then you need to get one that has an extensive warranty behind it or that has a reputation as a high-quality machine.
Timing- You don't want your heat press to burn the shirt or other product you are pressing, and you don't want it to apply too much heat to it. Be aware of this problem and find a press with a timing device on it. Some of them will ding or otherwise let you know when they are finished. If you go with a silent timer, then you might not realize when the heat press is finished with the shirt.
Sizing- You also need a heat press that is right size for the type of shirts you will be working with. The prints you plan to use should be able to fit in the heat press, and the press needs to be able to accommodate everything you are printing on. This may seem like an obvious point, but it is one that people overlook quite often.
Price- You should have some sort of budget in mind but be willing to stretch it a bit in order to get a good quality press machine. You are not always saving money over the long term by purchasing the press machine press you can find. Many times, it is well-advised to pay more for press machines that provide you with higher value in the long run.
Our Picks for the Top 5 Best Rated Heat Press Machines
Now, lets take a look at the best heat presses on the market these days. We picked out these specific 10 presses due to their affordability, durability and the value the offer.
ePhotoInc Heat Press Machine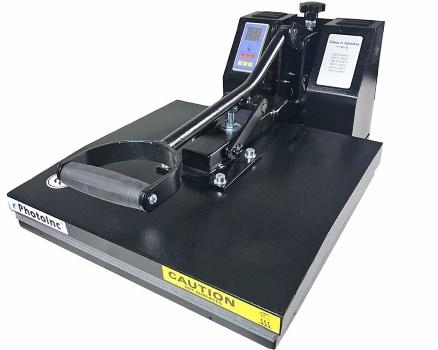 View On Amazon
This is a machine you can use in your home for hobby t-shirt making as well as in an industrial setting as part of a larger business. The display built into this machine shows you both how long the shirt has been on the heat press and at what temperature you have the machine set to. It is coated with Teflon to ensure that your materials do not stick, making it a very easy to use machine and one that should require little maintenance or cleanup. This is a 15 inch by 15-inch machine that can be used for a variety of purposes and retails for just under $200.
Pros
Versatile machine.
Temperature and time display.
Cons
Has a short cord.
Does not come with instructions.
Fancierstudio Power Heat Press Digital Heat Press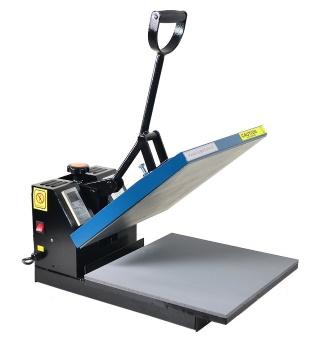 View On Amazon
This retails for about the same as the last machine- just short of $200- and it has a 15×15 inch board as well. This one from Fancierstudio, though, has a silicon-based board. It is designed to be as user-friendly as possible, letting you adjust the pressure, temperature and time it is applying pressure. That ensures that you don't accidently leave the shirt in for too long or get it too hot. This is a great machine for first time users and for those who are prone to make mistakes or forget that they are doing one thing while they work on something else. The press can become slightly lopsided, if you are not careful, with more pressure being applied on one side than the other. But this is an uncommon problem for this particular press. However, it is something you will see with many heating presses, and it is something you need to really watch out for.
Pros
Very simple to use.
Prevents accidental burning.
Great for inexperienced users.
Cons
Can apply pressure unequally at times.
Mophorn Heat Press 5 in 1 Multifunction Sublimation Heat Press Machine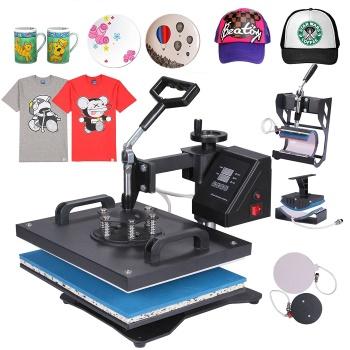 View On Amazon
This one is slightly smaller, and it comes in at a reasonable 12×15, which still makes it suitable for most shirt sizes. You can use it safely with just about any type of material, including vinyl and ceramics. This is a swing-away style of press, and it includes some presses for plates, hats and mugs. You get a lot to start with, so you can save some money by going with this press, even though it is slightly more expensive than some of its competition. It also includes a timer that you can set to let you know when to take off the pressure of whatever you are applying heat to.
Pros
Comes with extra presses for pressing different types of material.
Works on just about any material or item.
Cons
Contains only very basic instructions.
Tangkula 8 in 1 Heat Press Machine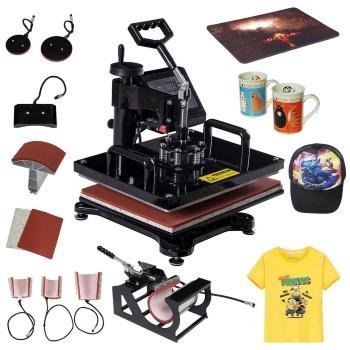 View On Amazon
This digital press is a high-tech piece of hardware. It has an LCD screen and digital controls for temperature and time. It is designed to be perfectly stable while you are using it and not to apply extra pressure unevenly. The manufacturers included a way to replace the fuse easily to prevent burnouts and overloads. The Teflon coating makes it easy to clean, and this is a very low maintenance, simple to use press machine. You will have to strain a bit to open and close it, though, as it can take some effort to operate. Other than that, it is a joy to use.
Pros
Coated with Teflon for easy cleaning.
Lots of technologically advanced options for maximum control.
Excellent at preventing accidental burning.
Cons
Cricut Easy Press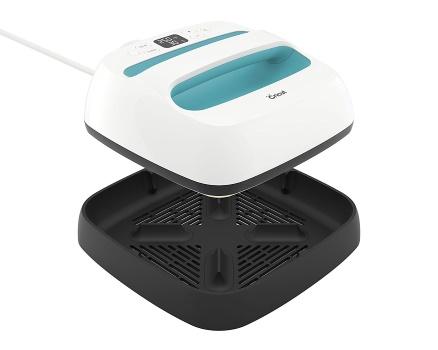 View On Amazon
If the other presses we have covered so far are too expensive for you, then this might suit your needs. It is designed to be portable and lightweight. It's a small machine, though, and you need to be aware of that. It is only 9×9, which is 25% less than what you get with most other presses. This machine is designed to distribute heat evenly and to provide you with properly pressed shirts in about 60 seconds. This is great for when you need to make a bunch of shirts in a short amount of time. The heating plate is made of ceramic.
Pros
Heats quickly.
Heats is distributed evenly.
Small and portable.
Inexpensive, comparatively speaking.
Cons
Kind of small, won't fit larger size items as will other products.
Fancierstudio Heat Press Swing Away Heat Press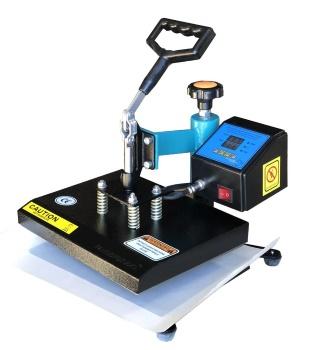 View On Amazon
Here is another one from Fancierstudio, but it is of the smaller, lighter and less expensive variety. It's a 9×12 heat press made with a quality Teflon coating, and it offers both temperature and time control. This is a very good press for those who don't have any experience with this kind of machine, as it is easy to use and difficult to make mistakes with. It's not very durable, though, and the handle and other parts may not last as long as the heating pad will.
Pros
Simple to use.
Affordably priced.
Light and portable design.
Cons
F2C 5 in 1 Professional Digital Heat Press Machine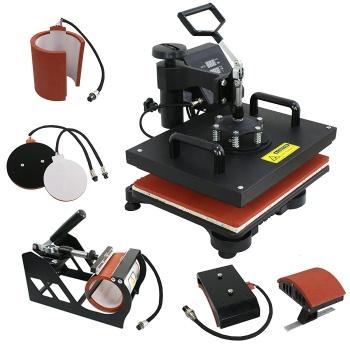 View On Amazon
This press is a bit on the expensive side, but it does come fully featured. It offers printing plates for mugs and hats, as well as the base plate for printing t-shirts and other materials. It is coated with a nonstick substance that makes cleanup easy and often unnecessary, and it contains an aluminum alloy cradle that allows it to heat press a variety of unconventional objects. This is also a decent-sized press, coming in at 12×15 and weighing nearly 60 pounds.
Pros
Can be used to print just about anything.
Large press plate means you can press larger items.
Comes with multiple attachments.
Cons
Super Deal 15″ X 15″ Digital Heat Press Clamshell Transfer Machine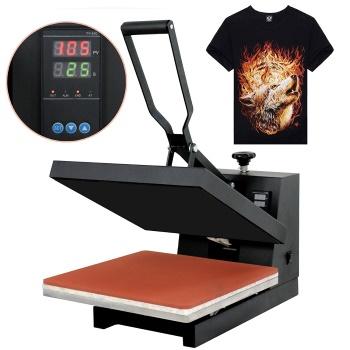 View On Amazon
This one from Super Deal is expensive as well, and it will cost you about $145. But it is also very large, offering a massive 15×15 space on which to press shirts and other materials. The clamshell design cuts down the space the machine uses when compared to similar presses. The heating board is Teflon coated, and the machine is designed to conserve energy as much as possible. It does this by reaching optimum heating temperature quickly and reducing the amount of power you need to use. The glass fiber materials used for parts of the device are heat resistant to ensure that they last a long time.
Pros
Huge press plate area.
Digital readout.
Energy-saving design.
Cons
More expensive than most of the competition.
Limited printing options compared to other machines.
Dulytek DM1005 Manual Heat Press for Solventless Rosin Oil Extraction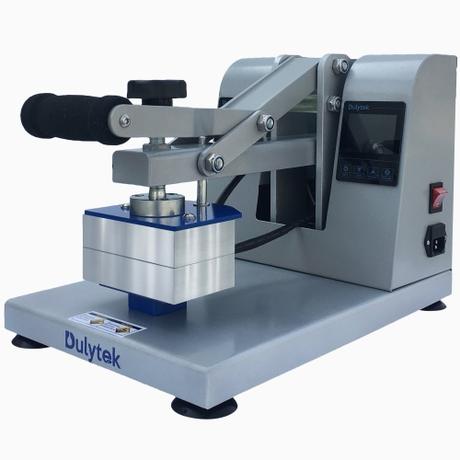 View On Amazon
This lightweight press is designed to be very easy to use. One of the reasons we chose a lot of these presses is due to how simple they are to operate, since many people will be using this kind of machine for the first time. This press by Dulytek comes with a locking mechanism so that you can apply maximum pressure for a clean, permanent heat transfer. This also speeds up the transfer process. You should be aware that this is only for small printing jobs, as the press plates are 3×5 inches. It's a great machine for little items, but not ideal for many people. Make sure you know what size you need before you make the purchase.
Pros
Easy to operate.
Lightweight design.
Includes locking mechanism.
Cons
ShareProfit Adjustable Multi-spring Balancer Heat Press Machine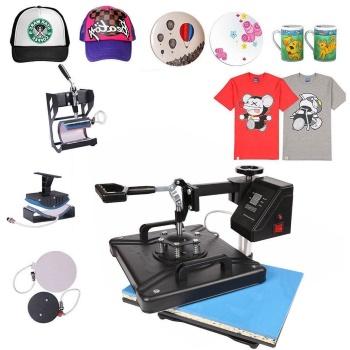 View On Amazon
For $200, you can get this press machine by ShareProfit that comes with multiple press plates. The standard plate is 12×15, and it has smaller plates for hats and mugs, so you will be able to easily print just about anything you want to. It comes with a timer and temperature controls, and the handles have comfortable grips that make long pressing sessions a pleasant experience.
Pros
Very comfortable to use.
Lots of printing options.
Numerous features that make for easy operation.
Cons
Conclusion
Now that you have seen our top choices for heat presses, it's time to pick yours out and begin making t-shirts and other items with printed designs. Just be careful about how you treat the finished product. You have to exercise special care with newly printed shirts to ensure that the printing job sticks.
The biggest hurdle is finding the right press, though, so be sure to factor in your needs – whether you need it for commercial or home use, whether you just need to press shirts or a variety of other stuff, etc. Whatever your requirements may be, you will surely find one heat press machine in our recommended list that will get the job done.