I received an email about Longaberger stating that it was the Best Golf Club in Ohio. After reading their note as to why, I would love to hear comments from Golf for Beginners readers to let me know if you have ever played golf there and if you agree or disagree, along with any comments you may have.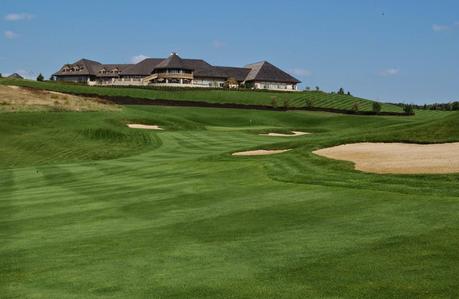 Located in Nashport, Ohio, about forty miles from downtown Columbus, the Longaberger Golf Club maintains that they have a reputation as the top rated public golf course in the state.
More accolades are listed below but GolfWorld has rated Longaberger the fourth top Public Course in America, they are number fifty-one in the US Top 100 Courses You Can Play from GOLF Magazine and have a four-and-a-half star rating from Golf Digest.
Longaberger doesn't seem to need to toot it's own horn - some of the largest magazines have already done that for them!
The Golf Course:
The Longaberger Company commissioned renowned golf course architect Arthur Mills to build the par-72, 7,243-yard parkland-style course, which opened in 1999. The course is notable for its combination of natural creeks and lakes with a varied terrain, all of which is framed by majestically tall trees. There are multiple tees on each hole, thus making the Longaberger Golf Course more accessible to less experienced players in terms of play-ability.
Amenities:
Longaberger golf course is known for its vast array of luxurious amenities, serene setting and unique course design, outstanding dining options and a varied collection of player development programs.
Featured prominently at the Longaberger Golf Club is a 60,000 square-foot clubhouse which provides a great place for dining and socializing, a golf pro shop where visitors can purchase top-tier golf equipment and merchandise and upscale locker rooms nestled within to complete the experience.
The Club, however, is much more than just a place to play golf. Inside the clubhouse is a full-service restaurant with a soothing aura of rich wood paneling, bay windows that stretch from the floor to the ceiling, an expansive outdoor verandah,and panoramic views of the 18th hole.
Events:
The unique multipurpose feel of the Longaberger Golf Club make it an ideal place for various events. The huge clubhouse, for instance, can accommodate elaborate wedding ceremonies and receptions, corporate events, anniversaries, fundraisers and more.
Accolades:
Within its first year of existence, the Longaberger Golf Club was the recipient of Golf Digest's Best New Upscale Public Course award for 2000. Also, Golf Week Magazine has rated the club the number one public-play course in Ohio for thirteen consecutive years, from 2002 to 2014. Other honors include being in Golf Digest's "Top 100 Public Golf Courses in America for 2013-2014" list (at #51) and Golf Magazine's "Top 100 Courses You Can Play" list (at #55).
Planning to visit Nashport, OH? Want to play golf at Longaberger? Book a tee time and enjoy the experience.
So now, what do you think? Voice your opinion on Twitter @Golf4Beginners!