Ina Garten showed off her best gazpacho recipe on Food Network.  So I made it.  Don't know about being the "best", but it was good, easy, and was said to take only 20 minutes to make.   I don't know about the 20 minute time frame, but the recipe was definitely worth whipping up again.  In process: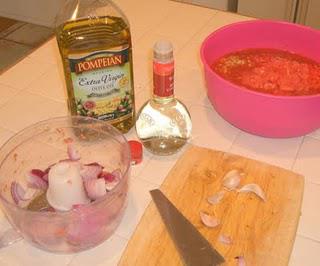 And apricots are finally in season.  We bought five pounds at a local farmers' market and dehydrated 3 pounds. After 12 hours in the drying unit, they still are not ready to bag.  But they are sweet and delicious!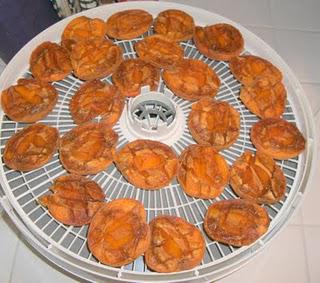 Two pounds of the apricots were used immediately for an apricot cobbler with rolled dumplings.  Here is the recipe:OLD FASHIONED COBBLER
(modified from
Cooks
)
8 or 9 peaches or apricots, peeled and sliced
1/2 c. water
1 1/2 c. sugar2 tbsp. self-rising flour
Pinch of salt
1/2 c. butter, melted
Cook fruit in water until tender. Mix flour, salt and sugar. Add to peaches. Mix. Add melted butter.

PASTRY FOR COBBLER:
1 c. self-rising flour

1/2 tsp. salt

1/3 c. shortening

4 tbsp. sweet milk, or enough to make a stiff dough
Blend flour, salt, and shortening to coarse meal texture. Add milk. Roll on floured surface. Pour half of fruit in 9x13 inch pan. Cut some dumplings and push dumplings down into the peach juice. Pour remaining peaches in and top with more cut pastry. Bake in a 350 degree oven 35 to 40 minutes, or until top is golden brown. I like to sprinkle a little sugar on top before baking. This should be juicy cobbler.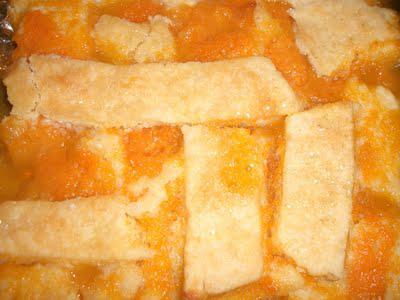 Several days ago, I got out the tried and true Better Homes & Gardens Cookbook and made some vanilla ice cream, so home made ice cream was topping for the cobbler.  It was the first time I had gotten the electric ice cream freezer from its shelf in the garage, and it was not even "cranky" after having been neglected for a number of summers.
The ice cream recipe called for only four ingredients - no infusion of vanilla bean, etc.- just 2 Tbsp of vanilla extract, and no eggs.  Some things don't have to be difficult to be tasty.
Last, apricot freezer jam was a hit.  We only made five cups, but that will be enough for a while.  A previous post about freezer jam can be found here.  And the recipe for freezer apricot jam?  This is it:
3 and 1/3 cup pureed apricots
1 and 1/3 cup sugar
4 Tbsp. freezer pectin
Stir sugar and pectin together.  Add apricots and stir for 2 minutes.  Let it stand for 30 minutes and then ladle into plastic containers and freeze.  Excellent!