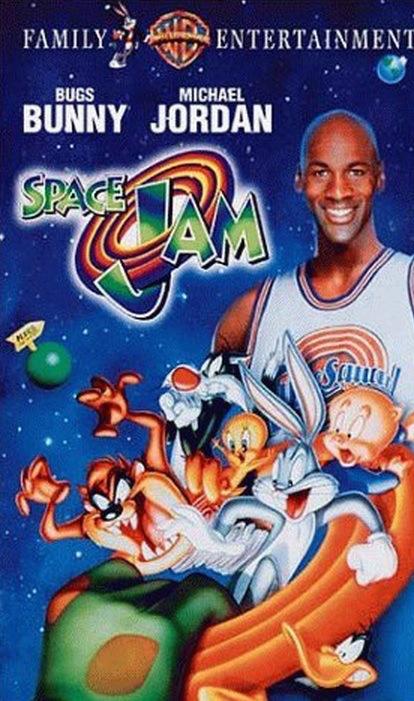 Director: Joe Pytka
Writer: Leo Benvenuti, Steve Rudnick, Timothy Harris, Herschel Weingrod (Screenplay)
Starring: Michael Jordan, Wayne Knight, Theresa Randle, Danny DeVito
Plot: Michael Jordan agrees to help the Looney Toons play a basketball game vs. alien slavers to determine their freedom.
There may be spoilers the rest of the review
Verdict: Classic Animation
Story: Space Jam starts in 1973 with young Michael Jordan shooting hoops well past midnight with his father talking about his dreams of becoming a basketball legend. Skip through the credits and Jordan's (playing himself) career we see him retire to take up baseball. When Swackhammer (Voiced by Danny DeVito) wants something new for his planets people he wants to take the Looney Toons back to his planet.
We see how Michael Jordan's baseball career isn't going smoothly and he gets a new publicist Stan Podolak (Knight) before the Nerdlucks fly over the real world stadium entering into the Looney Toons world meeting Bugs Bunny. The Looney Toons challenge the Nerdlucks to a game of basketball, where if the Nerdlucks were to win they would take the Looney Toons back to their home planet. The Nerdlucks decide to play dirty and take the talent from basketball stars leaving disabled.
When the Nerdlucks reveal their new look as Monstars the Looney Toons decide they need help and look to recruit Michael Jordan the best in the business.  What followers in training for the match that will decide whether the Looney Toons will stay free or have to return with the Monstars.
Space Jam is one that will always be loved by the kids, the Looney Toons are huge well big not as popular as the release of this film, Michael Jordan is and will forever be known as an icon of basketball. Mixing these together works very well because we get a sports movie and an animated movie, that teaches the ideas of working as a team and overcoming your own fears. Sure I might be looking too deeply into this film but the big word about this film would be 'FUN'. (7/10)
Actor Review
Michael Jordan: Michael Jordan playing himself as the retiring basketball star who decides to take up baseball but is struggling to make an impact. Michael has to play with the Looney Toons for their freedom in the most difficult game of his life. Michael goes into acting and does what you would expect from a sports star, but don't forget this is a basketball film so he fits in very well. (7/10)
Wayne Knight: Stan Podolak is the publicist that is hired to look after Michael Jordan in his baseball career and ends up becoming part of the team. Wayne shows he is the actor in this film with good comic timing. (7/10)
Animated Characters: Space Jam has all the Looney Toons that have good comical moments and the villains are all very well created through out.
Director Review: Joe Pytka – Joe does a good job directing a family fun film that is still enjoyable after nearly 20 years. (7/10)
Animation: Space Jam has a good mix of animation and real world which still looks good today. (8/10)
Comedy: Space Jam has good comical moments all the way through the film which helps the enjoyment. (8/10)
Family: Space Jam is one the whole family can enjoy. (10/10)
Sports: Space Jam has to go down as one of the best basketball films of all time. (9/10)
Settings: Space Jam creates the settings used for the basketball game very well even though it is in an animated world. (8/10)
Special Effects: Space Jam uses great effects to keep the mix of real and animated world together. (9/10)
Suggestion: Space Jam is one that everyone could sit down and enjoy with their family. (Family Film)
Best Part: The Game.
Worst Part: I don't know the basketball players who lost their skills showing me that it has dated.
Funniest Scene: Lola's entrance.
Believability: No (0/10)
Chances of Tears: No (0/10)
Chances of Sequel: No
Post Credits Scene: No
Oscar Chances: No
Box Office: $230 Million
Budget: $80 Million
Runtime: 1 Hour 28 Minutes
Tagline: Get ready to jam
Overall: Fun Family Film that is still one for all to watch.
Rating