You need the right tool for each job, and that's why it is important not to settle for anything less than the best you can afford when it comes to a tool like the floor press drill. Many work-sites need their drill to be a precision instrument capable of making perfect cuts every time and able to cut through a variety of materials. We want to show you how you can find the right drill press for your needs and recommend some of the best ones on the market today.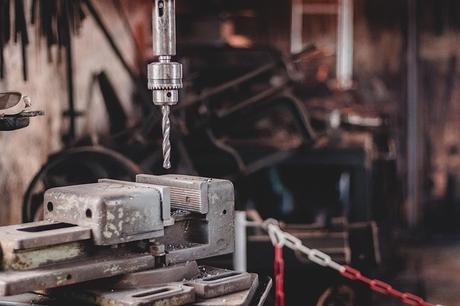 What to Consider Before Buying a Floor Drill Press
You should be careful about how you spend your money on a floor drill press. These can get really expensive, and you might end up paying a lot of money for something you are not happy with. Take your time and read through our tips on how to find the right kind of drill before you move onto product reviews. That way, you'll know what to look for.
Price- You should have some sort of budget in mind but be willing to stretch it a bit in order to get a good quality drill. You are not always saving money over the long term by purchasing the cheapest drill press you can find. Many times, it is well-advised to pay more for presses that give you more control.
Purpose- You need to know what you are going to use the drill press for precisely, because not all of them can drill through all materials. You should research what the drill is capable of drilling through and what materials are going to be too rough on it before you buy it. Of course, you should also know what materials you are going to be drilling to ensure you are picking the most suitable drill.
Size- The size and weight of the drill is important as well. For heavy duty jobs, you don't want to use a flimsy drill that will not produce enough power or that won't be able to handle the materials you are working with. Even when the manufacturer says that their drill can cut through specific materials, you need to ensure that you are getting a quality drill with a good reputation, and a quick way to tell how suitable the drill is would be to look at its size. The heavier duty drills tend to have a sturdy build and work better for heavy duty jobs.
Heavy Duty or Not- Is the floor drill you are getting made for heavy duty jobs? If not, then you need to find a different drill. If the drill cannot handle what it is supposed to be designed for, then it is a waste of money. On the other hand, if you buy an expensive heavy-duty drill for a once-in-a-time casual job around the house, you might be wasting valuable money.
Product Reviews
Here are 10 of the top drill presses out there for you to pick from. We are confident that one of these will fit both your needs and your budget.
WEN 4214 12-Inch Variable Speed Drill Press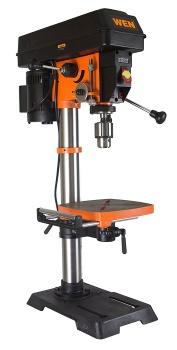 View On Amazon
Even though this drill press retails for over $200, it is one of the cheaper options we have listed here. These drills can get real pricey real fast, and you need to know how to find a decent drill that keeps you on budget. This may very well be that drill. It offers a lot of different drilling options, as you can change the speed from 580 to 3200 RPMs. It has LED readout as well for easy reference, and it allows for height adjustment and extensions that permit you to set it up the way that is most comfortable for you.
Pros
Very inexpensive, comparatively speaking.

LED display.

Wide range of variable speeds.
Cons
Not built to last as long as the other options.
Powermatic PM2800B 1792800B Drill Press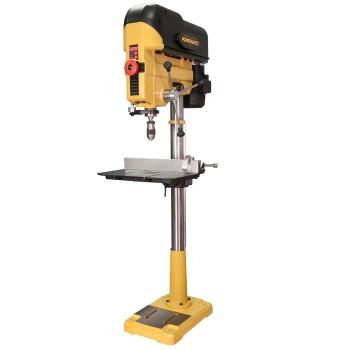 View On Amazon
One of the great features about this pricey drill is that it can change speeds quickly without needing a belt change. One revolution of the handle gives you up to six inches of quill travel, and the built-in fence allows you to place and adjust material in the drill quickly and simply for faster and more efficient drilling. If you are doing repetitive drilling, then this machine is perfect for getting through large workloads very quickly. A digital readout is provided to allow you to adjust the speed precisely to what you want.
Pros
Lots of options.

Digital readout for added convenience.

Very efficient machine.
Cons
Delta 18-900L 18-Inch Laser Drill Press

View On Amazon
With this drill by Delta, you can change speeds quickly and easily without overtaxing the transmission. It is very easy to change the depth of the drilling so that you can set the machine to drill precise holes to the exact depth you want every time. This speeds up the work process and cuts you work time down considerably, so it is great for huge drilling jobs, especially when you need to make the same cut again and again. You can do so without jeopardizing the integrity of the material you are drilling in and you can ensure that each hole is drilled accurately. This drill also comes with a five-year warranty.
Pros
Precise drilling options.

Very easy to use.

Long-lasting design.
Cons
SHOP FOX W1670 1/2-Horsepower Floor Radial Drill Press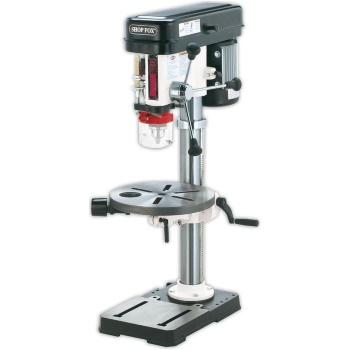 View On Amazon
If you are looking for a more stripped down and simple floor drill press, then this one might be right for you. It has only five speeds and a spindle travel distance of 3-1/4 inches. That's going to work just fine for most jobs, both commercial and domestic. If you don't have a budget for a heavy-duty, fully-featured drill press, then this can be a good pick for you.
This versatile drill can be used in just about any capacity you can think of. The drill can tilt to give you angled hole, and it handles heavy duty work very well. It isn't designed for light work, though, even if it has been built with a cheap base. Be advised that you are getting a drill press that's about half the price of the best ones, so you are getting some inferior materials and design to go with this lower price.
Pros
Competitively priced.

Versatile tool.

Lots to offer for a budget priced drill press.
Cons
Cheap base.

May not last very long compared to the higher-quality options.
WEN 4208 8 in. 5-Speed Drill Press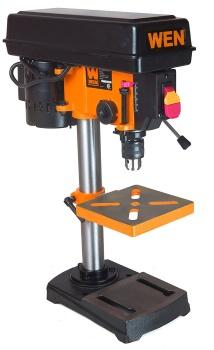 View On Amazon
If even the Shop Fox is too expensive for you, then you could settle for this lighter and cheaper drill press. It gives you five speeds as well, and it tilts to allow for angled drilling too. It comes with most of the features you would expect from a floor drill press, but it is simply not able to hold up to the high standards of some of the other drills on this list. The difference is in the number of functions, the range of materials it can be used with and the durability of the materials. All of these aspects are limited here, which makes it better suited for a personal workshop as opposed to a commercial worksite.
Pros
Super cheap.

Can drill angled holes.
Cons
Made from relatively lower-quality materials.

Limited functionality.
JET J-2500 Floor Model Drill Press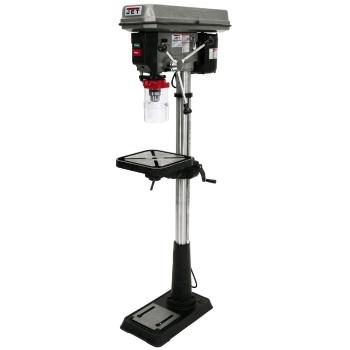 View On Amazon
This drill is listed as one of the top floor drill presses available by many happy customers. It features a 15-inch swing and a ¾ horsepower motor that offers up to 16 different speeds. That's a ton of functionality in one drill press, so you are getting your money's worth. The range of speeds is incredible on this thing, and it can even swivel all the way around, making it super convenient. On top of all that, you can tilt it 45 degrees in either direction, which allows you to make angled holes easily. It's a very versatile tool, and even though it costs a lot, you are getting some serious value with it.
Pros
Great versatility and functionality.

High quality design.
Cons
Quite expensive.

Only a two-year warranty.
Klutch 17in. Floor Mount Drill Press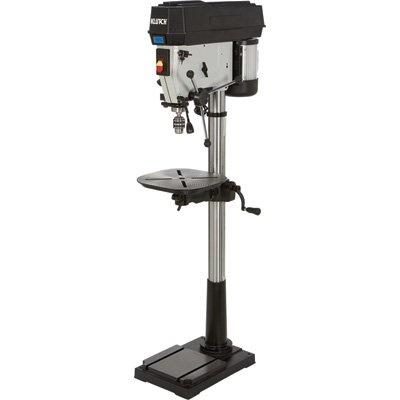 View On Amazon
You get a 17-inch swing with this drill press and the standard 45 degrees of tilting functionality. That gives you a lot of drilling options. You can create angled holes and work with a lot of different materials. You can also set up the drill press to make the same hole depth multiple times by using the adjustable knobs. That lets you work through a huge workload very quickly, if you are just making the same cuts each time. You can use this on either metal or wood, and it comes with a powerful motor that can help you pierce through the toughest materials easily and without overburdening the machine.
Pros
Works quickly and efficiently.

Can be set up for automatic drilling.

Can create angled holes.
Cons
There have been some reports of some weak components in the drill's build.
Genesis GDP1005A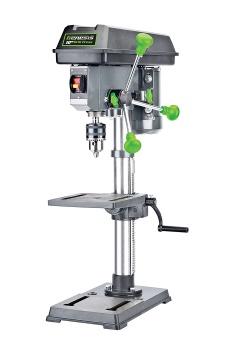 View On Amazon
Here is another inexpensive item that is still worth the price. Just don't buy it expecting it to do a lot for you or to last under strenuous working conditions for very long. You'll get five speeds out of it and an easily rotatable table for added convenience. That makes working with this tool a breeze. This Genesis drill also boasts a quiet running motor, which makes it ideal for use at home or in a small shop where noise levels need to be kept to a minimum.
Pros
Works quietly.

Very cheap.

Comes with five speeds.
Cons
Some parts are not going to last you very long.

Very basic design that may limit your working options.
Grizzly G7948 12 Speed Floor Drill Press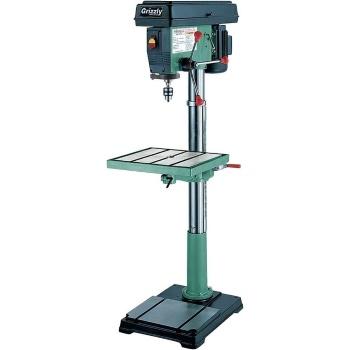 View On Amazon
This is a robust drill that offers up to 12 different speeds, which makes it a precision instrument that is ideal for construction worksites and other commercial work areas. The table is made from cast iron, and this is overall a heavy-duty machine that is designed for industrial use. It's really too big and bulky to be suitable for personal use at your own home, but it performs very well under strenuous working conditions for hours on end. This is a machine that will last you for a long time to come and work well during that time. It can also be complicated to use and is not as user friendly as some of the other options here, but those with some experience with floor drill presses will know what to do. Once you figure it out, it can be a rewarding machine to use, and it should serve you well for many years.
Pros
Heavy duty machine.

Lots of functionality.

Built for industrial use.
Cons
Can be complicated to use.

Kind of expensive.
Lukcase Floor Drill Press Stand Table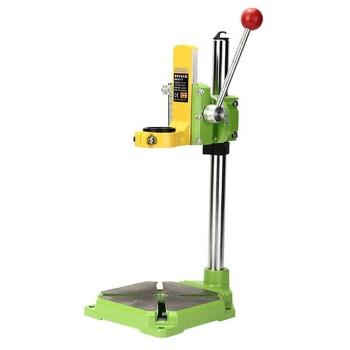 View On Amazon
This last one is very cheap, both in price and design. If you just want something simple for your home workshop, then this will do the trick. Just don't expect it to be able to handle heavy duty work or to last you for very long under tough working conditions. The slant hole can be rotated, and this drill press gives you a 60mm working stroke, as well as a 60mm down stroke.
Pros
Incredibly cheap.

Ideal for small projects and home workshops.
Cons
Rather flimsy.

Very basic functionality.
Conclusion
Those were our top picks for floor drill presses, and we hope that one of them will be a good fit for you. Just take your time in picking out the right one, as you want to ensure that you make a wise choice that will be suitable for whatever work you want to do. Remember, there is no point in buying a heavy-duty machine if all you need is the occasional drilling in your garage workshop. On the other hand, don't expect to save money and buy the cheapest model, and keep using it forever in tough industrial conditions. Always determine what you will be using the drill press for before setting out to buy one. Once you do, picking one out of our recommended list will be fairly easy.