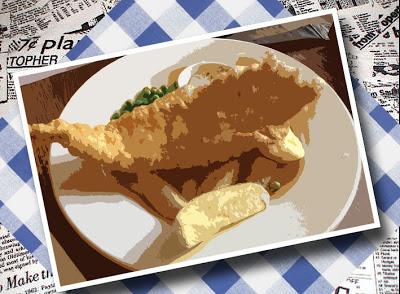 We're dedicating the rest of February to finding the best fish and chip shop in London. 
The London Walks guides have cogitated and debated, and here are their recommendations…
Please feel free to get your own vinegary fingerprints all over the debate.  Email us at the usual address, leave a comment below or Tweet us @londonwalks.
In the meantime, for more Foodie London stuff go to www.foodieslondon.com. Today both Brian and Richard II are, er, chipping in…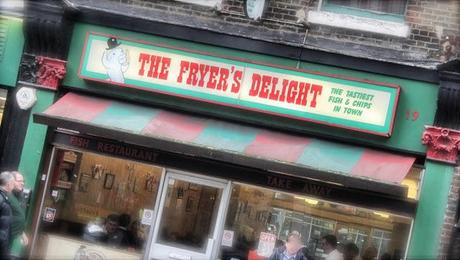 The Fryer's Delight at 19 Theobalds Road
Brian says…
Fryers delight on Theobalds Road excellent and recommended by my friends in the medical profession from the nearby hospitals!
Thanks Brian – doctor's orders, no less!
Richard III adds…
The Fryer's Delight is fantastic. Not expensive. You see the white flesh of the fish go in to the wet batter. No, fish don't swim in the sea with batter already on, contrary to popular (English) belief. It is a translucent white (for fish and chips) fleshy thing with scales when it is "eau" natural.  
Here at the Fryer's Delight which I have been patronising for twenty five years, the batter is slightly moist. Take your f and c out (steady, it only stands for fish and chips) and sit in the gardens of Grays Inn with the barristers and legal clerks or down the cut -through past The Dolphin (not another fish...why?) and sit in Red Lion Square where Harrison struggled with his clocks. The ghosts of Cromwell, Ireton and Bradshaw may nick some of your chips as they plot the downfall of the house of Windsor. I wonder if Elizabeth R likes fish and chips. 
Walk diagonally through Red Lion Square to arrive at Holborn on a Wednesday evening at 7.30pm in time for Ghosts, Gaslight and Guinness.
Brian Brian, a professionally qualified Blue Badge Guide, won the London Tourist Board's Guide of the Year Award in 1994. His career has embraced the law, surveying, catering, dispatch riding and art - and the stage may be beckoning.
Richard III Richard III, scion of a Lord Mayor of London,  is a writer, actor, director and stand-up comic. And the only London Walks guide to have addressed the United Nations!  
A London Walk costs £9 – £7 concession. To join a London Walk, simply meet your guide at the designated tube station at the appointed time. Details of all London Walks can be found at www.walks.com.