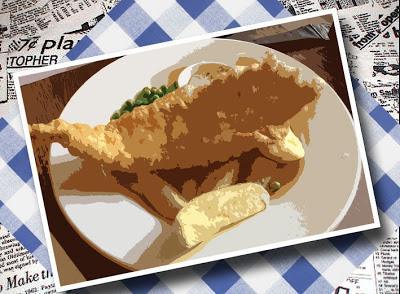 We're dedicating the rest of February to finding the best fish and chip shop in London. 
The London Walks guides have cogitated and debated, and here are their recommendations…


Please feel free to get your own vinegary fingerprints all over the debate. 

Email us at the usual address, leave a comment below or Tweet us @londonwalks.
In the meantime, for more Foodie London stuff go to www.foodieslondon.com. In deepest, darkest North London, here's Adam and Andy…
Adam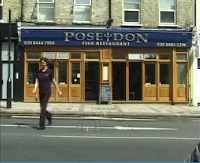 My favorite central London chippie has already been covered – Fryer's Delight on the Theobalds Road. I have been patronizing it for only four years fewer than Richard III (the Fryers Delight and me have been together now for 21 years and it don't seem a day too long). How Richard keeps the weight off, however, is a secret I've yet to crack.
Locally, up here in North London it's Poseidon for me. Situated on the East Finchley High Road, the freshness of the fish, the crispness and color of the batter and the fact that they don't mind taking the skin off my fish (I am picky) before battering keeps me loyal. Nice "sitting in bit" too – 20 different types of fish, no less!
Poseidon
100 - 102 High Road
East Finchley, London
N2 9EB
Andy adds…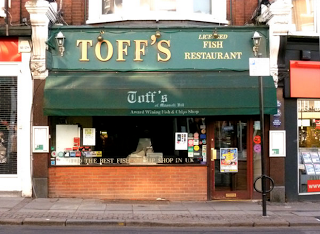 My favorite chipper is the award-winning Toffs in Muswell Hill – that's my "flash" choice. 
For your excellent regular fish and chips, Joe's Fish Bar at Alexandra Palace (for your regular). When in town, the best is also the most famous:  The Golden Hind, 73 Marylebone Lane north of Oxford Street.
Toffs
38 Muswell Hill Broadway,
London
N10 3RT
Andy and Adam are currently working on the first  London Walks podcast – more news soon.
A London Walk costs £9 – £7 concession. To join a London Walk, simply meet your guide at the designated tube station at the appointed time. Details of all London Walks can be found at
www.walks.com
.