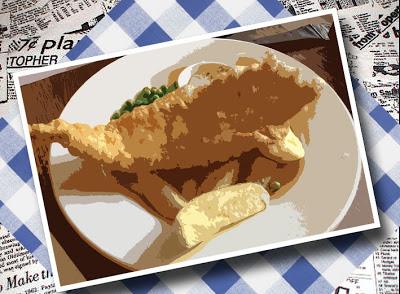 We're dedicating the rest of February to finding the best fish and chip shop in London. 
The London Walks guides have cogitated and debated, and here are their recommendations…
Please feel free to get your own vinegary fingerprints all over the debate.  Email us at the usual address, leave a comment below or Tweet us @londonwalks.
In the meantime, for more Foodie London stuff go to www.foodieslondon.com.
Centre stage on Friday goes to Kevin…
Fish Central, Central Street is not only a great chippie but also a great fish restaurant.
Rick Stein* adds… "Good Fish and Chips and a simple, clean, Cypriot way with Fish" * Rick Stein is not a London Walks guide. Yet.  Fish Central 149-155 Central Street,  King Square,  London EC1V 8AP 
Kevin
Kevin Flude is a former Museum of London archaeologist, who is now the Director of the Old Operating Theatre Museum. He has enjoyed leading Guided Walks since the late 1970's.