Best Earphones under 500
If you are looking for best headphones under Rs 500 you have landed at right place. Selecting the best earphones out of hundred is quite confusing thus we are here to help you to shorten the list. We have done the thorough testing and researched top earphones in your budget.
We have tested manually most of them and based on that we created this below list to help you buy best headphones in this range in case if you have a higher budget you can read Best earphones in Market under 1000.
This list was created by keeping important factors in mind like Sound Quality, Durability, Company Service, Performance etc. This list also contains the best earphones with mic under 500.
Philips SHE1405BK/94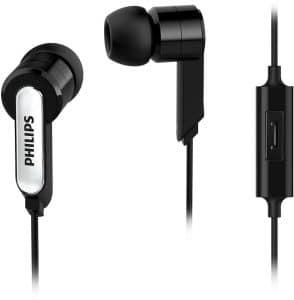 Design :
Philips SHE1405BK/94 is in-ear lightweight headphones, which comes with the built-in mike and pick up call button.
The cable length is 1.2 meters in size which makes it ideal for outdoor use. The earphones come with three pairs of interchangeable caps to provide good in-ear comfort
SHE1405BK/94 is having chrome plated universal 3.5 mm jack and weights only 18.1 gm.
Sound Quality :
The 8.5mm size speakers provide a good bass and sound quality, the sealed in-ear blocks out external noise and provide noise isolation.SHE1405BK/94 is very budget friendly in earphones, it comes only in a price range of 300-500. So at this very cheap price, these earphones are not a bad deal.
HP H1000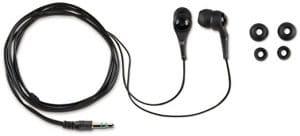 Design :
HP H100 is a stylish in-ear headphone that is available in black color, it weighs only 14gms which means it can be used for a long time without discomfort.
It has universal 3.5mm jack which means it supports all major mobiles and devices.
Sound Quality :
These earphones run on the frequency range of 20-20000Hz, on these earphones you can enjoy crystal clear stereo sound with boom bass.These earphones come at very good and affordable price of Rs 300 which makes it good value for money. If you are a student and looking for good earphones in a low budget you can go for them.
Sound One 616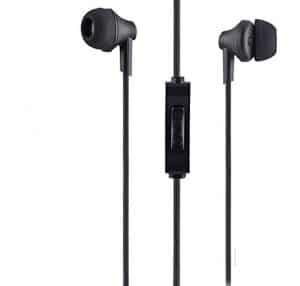 Design :
Sound One 616 is an in-ear headphone with mic. These earphones weight 200 gm and available in blue color only.
These earphones come with the carrying case which makes it convenient to use.
You may not be aware of the company but this product is really good to use.
Sound Quality :
The 10mm drivers provide good bass with awesome sound clarity. The overall sound quality is balanced which makes audio more crystal clear.
These earphones are a complete package in best earphones under 500 as it comes with case, mic and provides good sound quality. Thus for this price, it is a really good deal.
boAt BassHeads 225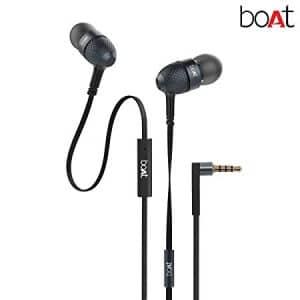 Design:
boAt BassHeads 225 is an in-ear headphone with mic.It comes in a premium metal body. which gives it sturdy look.
This item weights 18gms. It is provided with an inline switch to change, play pause tracks and pick up calls. bassHeads 225 runs of the Frequency 20Hz - 20KHz.
Sound Quality :
With Powerful The 10mm drivers are speaker resistance of 16 ohms, It gives you the Super extra bass and HD clear sound.
The Sensitivity 98db ±3db gives you wonderful passive noise isolation.
These are no doubt one of the best earphones in this segment. if you love extra bass then boAt BassHeads 225 won't disappoint you.
Skullcandy JIB S2DUDZ-003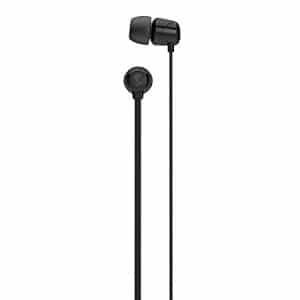 Design :
This Is an in-ear model without the mic. The cable length is 1.2 Meters which means it can be used doing extra activities like jogging, exercising. It comes in multiple colors like Black, Blue, Pink, Purple.
The earphones look very sturdy and cool. The earbuds are very comfortable and cut out noise completely.
Sound Quality :
These earphones give the crisp clear sound with super bass. If you are bass lover then you will definitely gonna love them.
These earphones are very good in this price range, and one more good thing about Skullcandy is they provide full replacement warranty.
Panasonic RP-HJE125-K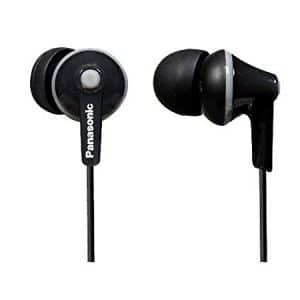 Design :
Panasonic RP-HJE125-K is another in-ear canal model with and without the mic. These are extream lightweight earphones weights only 5gms.
The earbuds are so comfortable and fit easily which means they can be used for hours without any discomfort. The wire length is 1.1 mts with nickel coated 3.5 mm jack.
Sound Quality :
These earphones give overall awesome sound quality with balanced bass, treble and crisp clear sound.
These are overall really good buy but only cons is the wire is very thin which tangles easily.
SoundMagic ES11S Headphones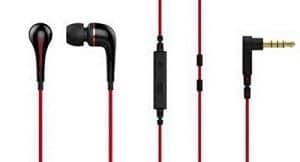 Design :
This one is my personal favorite. In-ear headphone with mic. It comes with one button call answering, pause, and play.
Earbuds fit in ear completely and provide good noise cancellation.
Sound Quality :
The 10mm driver with the frequency range of 15Hz - 22kHz gives the music you would love to hear. If you are a bass addict then these are not for you. If you love balanced music then you can go for it. The sound quality is so clear that you can hear every single melody.
Sennheiser MX 170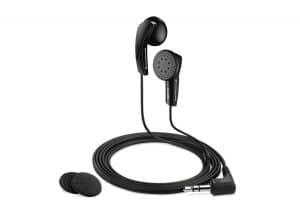 Design :
The only non-in-ear item in the list. The Ergonomic design gives you the comfortable fit. Item includes ear-pads which provide more comfort to the ears.
Sennheiser MX 170 comes with the symmetric wire length of 1.2 mts and 3.5 universal jack.
Sound Quality :
The sound quality is unmatched and provides good bass quality in this price range. one best thing about these earphones is their sound clarity these earphones give you really awesome sound clarity.
These earphones are good in this price range but only cons are they might not fit for everyone especially with small ears and long hour usage may be little painful.
That Ends our list of Top earphones under 500. We hope this will help you in buying the best out of hundreds. We would like to hear from you, you can provide feedback in the comment section. This will help us to improve more.