With the summer season officially here, we look forward to daytime fun at the beach, long summer nights and of course wedding season! Checking those RSVP cards seemed so long ago, but now those far off wedding dates are vastly approaching and it's time to figure out what to wear. Here are some options to ensure your are best dressed at every wedding no matter where the big day takes you.
Garden Weddings: One of my absolute favorite weddings I attended was at a brilliant Botanical Garden venue. Pretty petals of red, purple and yellow swayed in the breeze as the sweet floral fragrance filled the air. Beautifully decorated picnic tables served up mint juleps and tea sandwich appetizers and lawn games like crochet and bocce ball offered up some competitive entertainment. It was a truly magical backdrop for a gorgeous outdoor wedding and seems to growing in popularity as I am invited to another one this year! So if you are wondering what to wear to such an event, here are a few helpful fashion tips!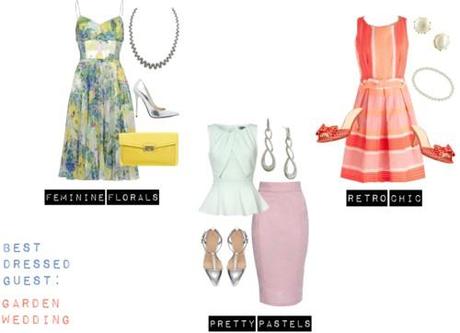 1. Pretty Prints: This is the year of all-over-prints so naturally a garden wedding is a great place to take inspiration from your surroundings and try out a feminine floral or watercolor print.  If you are wanting a more subdued look, all-over-lace is another a way to add some texture and dimension to a simple silhouette.
2. Lady like Silhouettes:You can't go wrong with a classic feminine shape. Think pleated A-line skirts, sheath silhouettes, tea length hems and high necklines. If you are feeling a little nostalgic, be bold and try out a full on retro look with a classic tea length frock in a fun polka dot, floral or stripe. A low kitten heel is an authentic way to complete your vintage look, and keep you dancing all night long!
3. Classic Jewelry: Simplicity is elegance, so a classic pearl strand necklace or effortless metallic earrings will be all that you need. Check out our Vintage Pearl and Chic Metal Collections for these timeless styling options.
4. Mix and Match: If you are looking to spice up your wedding guest wardrobe, try separates out for a spin. A classic pastel pencil skirt and mint blouse will look just as elegant as a dress but will offer you an option to wear these items as separates with your everyday wardrobe.
5. Modern Update: Metallic accessories are a simple way to keep your look fresh and current. Throw on a pair of silver pumps or pair with a gold clutch. Not only will they update your look, but their neutral nature will make them easy to pair with any outfit you choose to wear.