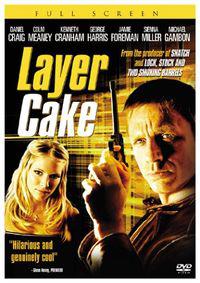 This side of the pond may know Daniel Craig as 007, but our British cousins have had the good fortune of seeing him in a variety of great roles that show a softer/more vulnerable/much more ironic side of the actor. 
I'd read some fairly great reviews of his 2004 movie Layer Cake, so I decided to check it out. It did not disappoint. Craig plays a bean-counting cocaine middleman who wants to retire from the dirty biz, but gets suckered into doing one last "favor" for the drug kingpin running him. 
Lots of plot twists: not everyone is whom they portend to be. Great cinematography, too, and a superlative sound track. The bad guys are complex characters. If it reminds one of Lock, Stock and Two Smoking Barrels, that's because the movies share the same producers.
'Flix it. You won't be disappointed. Daniel Craig is more than eye candy. He's just desserts, too.
-- Josie