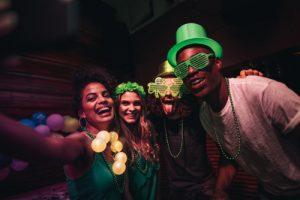 With great music, food, and drink, Dallas Irish pubs are a great place to celebrate St. Patricks' day, even if you're only Irish just for the day!
Where to Celebrate St. Patrick's Day in Dallas?
Finding a great place to celebrate St. Patrick's Day this year can almost be as hard as finding cheap Dallas electricity rates. You want to choose a reputable pub that offers for great memories that last a lifetime. If you're looking for a good crowd, great music, and incredible food (not to mention drinks), then you need to choose one of these pubs for your St. Patty's Day celebrations.
The Old Monk
2847 N Henderson Ave, Dallas, TX 75206, Lower Greenville  
Try a pub that offers you the power to choose 70 bottled beers and drafts beers from England, Germany, Belgium, and of course, Ireland. Located on the historic Henderson Avenue, the Old Monk has the antiques necessary to take you back to origins of St. Patty's day itself. Grab some Whiskey Cheddar-Bacon Sliders or the hearty Guinness Beef Stew to pair with a draft of the cold stuff as you celebrate St. Patrick's day.
Join them on St. Patty's with a full menu from 11 am to 11 pm and Live Music without any cover. They're running a brunch until 2 pm, where you can grab Corned Beef & Cabbage, Fish & Chips, and other classic Irish dishes.
Dubliner
2818 Greenville Ave, Dallas, TX 75206, Lower Greenville
You can't go wrong with a name like the Dubliner.  If you're looking for upbeat traditional Irish music, you'll find it at the Dubliner. Reel Treble will be live at noon, followed by Irish Dancers and Bag Pipers. Aside from the entertainment, you'll find their kitchen stocked and ready to handle the masses with Shepherd's Pie and Guinness Beef Stew. And if you fancy a drink, they're ready with Cider, Draught Beer, and Irish Whiskey standing by.
One tip that goes without saying: Don't forget to wear green. Now that most of the new Texas generator interconnections are green, you don't want to find yourself forgetting to wear the appropriate colors.
Trinity Hall Irish Pub
5321 E Mockingbird Ln, Fl 2, Dallas, TX 75206, Upper Greenville
At Trinity Hall Irish Pub, finding a variety of beverages is as easy as finding a reputable Texas energy company. The pub offers over 200 beers and Ciders and 300 whiskeys for your St. Patty's Day. Choice isn't the only amenity waiting for you here. This pub is known for its family-friendly service. There you'll find a crowd familiar with soccer and rugby as they host sporting events regularly. And this St. Patty's day they're offering live music and incredible food. The main event? Irish Rogues will lead the way with Family-Friendly Irish SingAlongs.
The Crafty Irishman
1800 Main St, Dallas, TX 75201, Downtown
The Craft Irishman Public House stands ready to offer you a traditional Irish experience. This downtown pub is right in the center of all the action. The pub itself rests on the ground floor of the historic Mercantile Building. Scoot in for one of their 60 beers and over 200 whiskeys. Yes. 200 Whiskeys. If only they had something like the Plan Picker 3000 to help make choosing one easier.
If you're hungry, try some of the traditional staples off their menu like the beer broth cooked Drunken Mussels or the Howth Beer Battered Fish and chips. Flavorful Irish dishes fill their menu, and so you'd be mistaken not to wrap up your meal with one of their desserts like a traditional Irish bread pudding.
The Ginger Man
2718 Boll St, Dallas, TX 75204, Uptown
The Ginger Man Pub offers an incredible atmosphere for your St. Patrick's Day festivities. Most of all, their beer garden in the back stands ready to welcome visitors eager to celebrate the holiday. They have live music ready to take the stage and plenty of drinks to offer guests.
They offer all the bells and whistles as well: Bagpipes. Traditional Irish food. Shamrocks. But perhaps most strange, the blessing of the beer at this favorite neighborhood pub.
Don't Let High Energy Bills Interfere with Your Celebrations
If you're looking for the cheapest energy rates in Texas, then you need to shop for plans while rates are low in Dallas. But don't get frustrated. Check out www.TexasElectricityRatings.com for everything you need to switch energy providers.
From all of us at TER, have a safe, great, especially green St. Patty's Day.