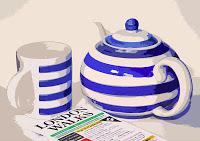 More coffee, vicar? Here's LW's Donna…
For coffee, Bacari in Basinghall Street, EC2 is best.  It's my friend's cafe but it's not just me that likes it, everyone I have sent there tells me it's the best coffee in London. 
Thanks Donna!
We'd like to hear your tea and coffee suggestions, too. Drop us a line at the usual address.