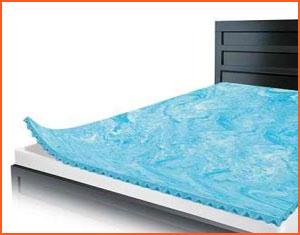 Our best cooling mattress topper reviews include both mattresses toppers and mattress pads. Although the two terms are frequently used for the same thing, there is a fundamental difference between mattress toppers and mattress pads.
Toppers are intended to change the feel of the mattress (hardness/softness/comfort level) or to refresh an old, worn mattress. Mattress pads are primarily used for the protection of a mattress from contamination, dirt, spills, accidents and so on. Here are our top 7 cooling mattress toppers/pads that are intended to keep you cool while in bed.
NOTE: We provide more information on cooling mattress toppers/pads in our Buyer's Guide below details of our top choices.
* Check out the Buyer's Guide for details of Outlast® technology.
Sizes: T: Twin; TXL: Twin XL; F: Full; FXL: Full XL; Q: Queen; OQ: Olympic Queen; K: King; CK: California King
1. ExceptionalSheets Bamboo Rayon Cooling Mattress Topper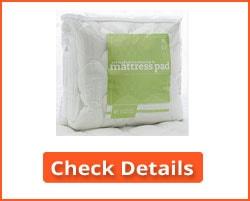 The ExceptionalSheets cooling mattress pad or topper is filled with a proprietary hypoallergenic fiber fill that feels much like goose down and feathers, but without the hard ends poking into you. The plush top is covered with a bamboo-derived rayon that has a wonderful satin feel to it. The backing is of 70% polyester and 30% cotton, while the elasticized skirt is made using 76% polyester, 16% nylon and 8% spandex . This can be stretched to hold the mattress topper firmly to your mattress.
Together, these features result in a high quality, breathable mattress topper that keeps you cool at night. The fiber used is not only very comfortable to lie and sleep on, but also allows a good flow of air that prevents the filling from overheating. It also actively helps cool you down on these hot summer nights.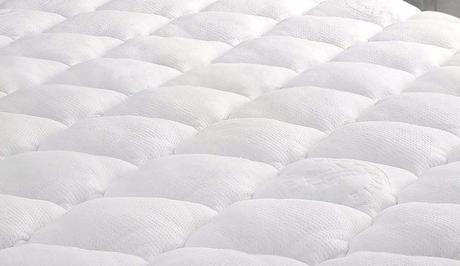 Cross section view: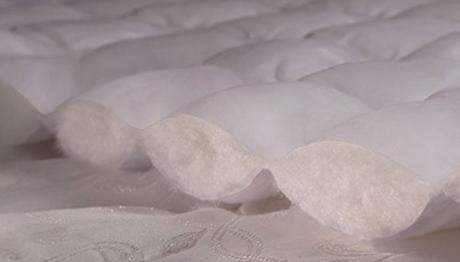 Editor's Notes: This is the best cooling mattress topper we were able to find. The 160 thread count cover is also supported by a double needle baffle box stitch which keeps the filling secure and prevents it from clumping or moving about. You will find it difficult to find a better cooling mattress pad than this. The fiber fill is of a high quality and helps to promote a really comfortable sleeping surface.
Purchase This Product on Amazon
2. ExceptionalSheets Pillowtop Mattress Pad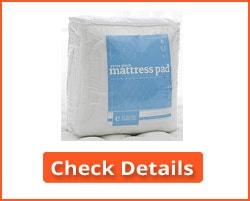 This ExceptionalSheets Pillowtop mattress pad can be found in many Marriot hotels. It is filled with the same proprietary RevoLoft Cluster fiber as is used in our top pick above. This mattress topper appears in our cooling mattress topper reviews because of its hypoallergenic properties and the superb comfort it provides. It is an excellent choice if you have an old mattress you want to revive. Mattress toppers are ideal alternatives to buying a new mattress.
If your mattress is starting to lose its smoothness and forms small lumps you can feel when lying on it, then you can purchase a new mattress - or use a mattress topper. A topper would not only give the mattress a new lease of life, but would also help keep you cool. If you are beginning to feel a bit warm or hot at night, then the ExceptionalSheets Pillowtop mattress pad is a relatively inexpensive solution - and it also provides a good level of comfort.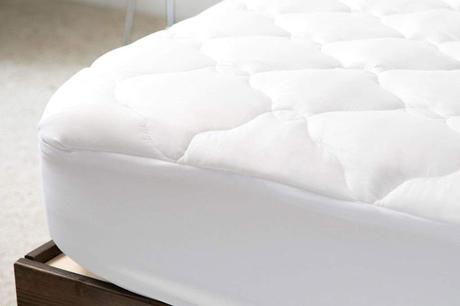 Editor's Notes: This mattress topper is similar to the same company's top choice which we rated at #1. The construction and stitching is of excellent quality, and the majority of external reviewers rate it very highly. This certainly deserves its #2 slot in our Best Cooling Mattress Topper (Pad) Reviews. Being made in the USA helps give us confidence in the quality of this product.
Purchase This Product on Amazon
3. Pure Green 100% Latex Mattress Topper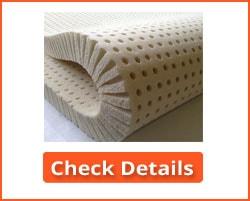 Manufactured by 'Sleep On Latex' the pure green 100% latex cooling mattress topper is available in three thicknesses: 1″, 2″ and 3″. They are all Dunlop latex which is bouncy, but not as bouncy as Talalay latex, manufactured using a different process. The foam is produced in the company's Sri Lankan foam factory. The latex used is 100% natural, with no synthetic latex used and no fillers added. This form of moulded latex is superior to 'poured latex' in every way. It is an open-structure latex mattress topper that absorbs heat while you sleep.
If you prefer the feel of a top layer of latex foam to a fiber filled mattress, then this would be your best solution. The fiber filled toppers above are excellent mattress toppers, but this is our best pick if you prefer foam. Particularly latex foam which provides more of a bounce than other foam types. Dunlop latex is preferred to Talalay latex for bounce due to the way it is made.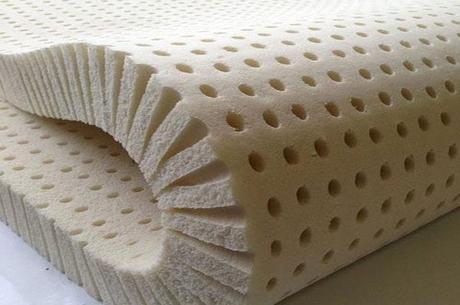 Editor's Notes: If you want to experience the full cooling effect of this type of latex foam cooling mattress topper, then go for the thickest - the 3-inch topper. Thinner foams have less of an effect, and while they may offer slight improvements in comfort, their cooling effect will reduce with thickness.
Purchase This Product on Amazon
4. SleepBetter Iso-Cool Memory Foam Mattress Topper
The SleepBetter Iso-Cool memory foam mattress topper consists of three inches of visco-elastic memory foam with a 100% 300 thread count cotton cover. The cotton is quilted with polyester fiberfill of 11 ounces per square yard. The company's Outlast® Adaptive Technology is used to keep your body temperature stable for a more comfortable sleep. This technology was developed for NASA and is explained in the Editor's Notes, and it fundamentally absorbs your body heat to cool you down, and then releases it to warm you up if you get too cold.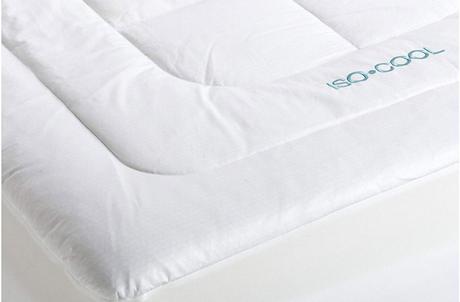 The 300 thread cotton cover is very smooth and comfortable without being too heavy. The 300 refers to the number of threads per square inch. 300 is optimum for cooling and protecting the mattress topper or mattress pad from accidental spillages or contamination. Thread counts for mattress covers generally vary from 100 to 300 thread counts. Another benefit of the SleepBetter Iso-Cool memory foam mattress topper is its deep skirt. It can fit mattresses of thickness up to 20 inches.
Editor's Notes: Outlast® Adaptive Comfort was developed for the US government and NASA to handle the extreme temperature variations of astronaut space suits. It reduces sweating and overheating in bed to help you get a more comfortable and restful sleep. This is an excellent cooling mattress topper that many will find works for them.
Purchase This Product on Amazon
5. Advanced Sleep Solutions Gel Memory Foam Cooling Mattress Topper/Pad
The Advanced Sleep Solutions gel memory foam cooling mattress topper gives the experience of memory foam but without the heat often associated with memory foam mattresses. This cooling pad can improve the comfort of your mattress by relieving the pressure on your pressure points such as shoulders, hips and other joints. It also helps you sleep with a more natural alignment of your spine and helps to reduce the transfer of motion between sleeping partners, including pets.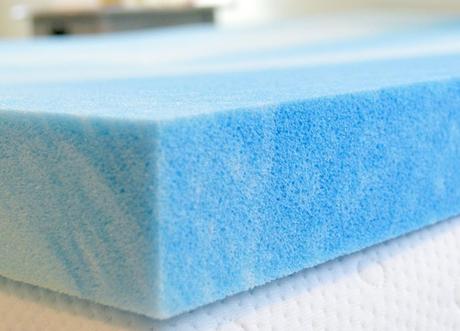 Actual Look: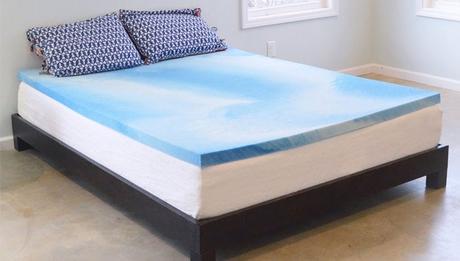 Editor's Notes: This appears in our best cooling mattress pad list because it is a gel memory foam mattress topper/pad, a combination with proven cooling properties. If you wake up hot during the night, your mattress may be to blame. You may resolve this problem by using this mattress topper over your existing mattress. If you don't like it you can return it within 60 days for a full refund.
Purchase This Product on Amazon
6. Milliard Gel Memory Foam Mattress Topper
This Milliard gel memory foam cooling mattress topper works in the same way as the Advanced Sleep Solutions topper above. It helps to prevent you from heating up at night, and waking up hot and sweating. It is 2 inches thick, and absorbs the pressure of your body, providing your joints and pressure points with good support. This cooling mattress topper/pad helps to maintain a natural shape to your spine and so helps prevent lower back pain and hip pain.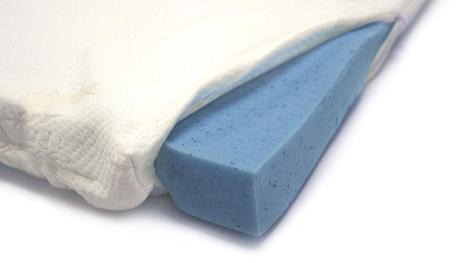 Construction: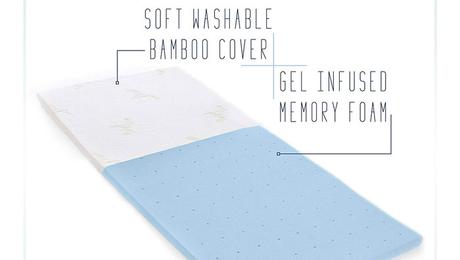 Editor's Notes: This is a good gel memory foam mattress topper. It does keep you cool at night, though make sure you test the mattress pad properly during the first 60 days (testing period during which it can be returned for full refund.) This is an excellent product if you want any existing over-soft mattress made firmer, or if you tend to wake up too hot at night.
Purchase This Product on Amazon
7. BedJet V2 Climate Comfort Cooling Fan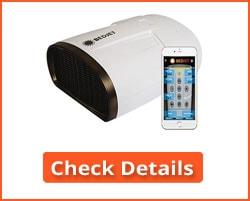 The Bedjet V2 Climate Comfort Fan is not a mattress topper but is a solution to cooling down a mattress that is too hot. It comes in a Sometimes a mattress topper doesn't do the job, and you remain hot regardless of what cooling mattress pad or topper you use. This where the Bedjet V2 climate comfort cooling fan comes in useful. Powered cooling rapidly removes heat from your mattress and your body. If you sweat at night or get hot flashes, and a traditional cooling mattress topper doesn't work for you, then this is an ideal remedy.
The Bedjet comes with an alternative heating mode, which provides dry heat similar to a sauna. This warms up cold feet and legs in seconds. The V2 model reviewed also features an aromatherapy kit. The essential oils provided are diffused through your bedding, providing the soothing benefits that such treatment can provide. There is also an optional dual temperature zone upgrade available. This provides independent heating and control to each side of the bed. You and your partner can set your own preferred temperatures.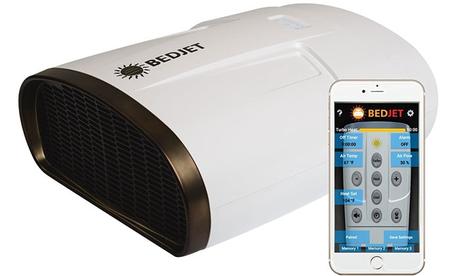 The system comes with a remote control device. There is also a free Bluetooth app that enables you to control the Bedjet from your iPhone, iPad or Android device. Controllable factors include temperature, auto shut-off, wake-up alarm and biorhythm cycle settings for maximum sleep efficiency.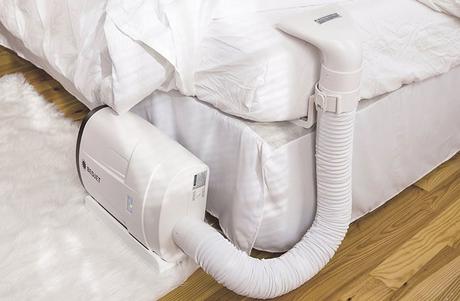 Editor's Notes: This is an effective alternative which users believe is more effective than even the best cooling mattress topper. The same is true of pads: the best cooling mattress pad is nowhere near as effective as the Bedjet V2. However, the Bedjet system is more expensive, but well worth the cost if you are willing to pay it. Those who suffer significantly from night sweats, hot flashes and suffer from poor quality or insufficient sleep because of this problem will benefit significantly. The aromatherapy kit is an added bonus, provided relaxation that no mattress topper or pads can provide, and also helps you get to sleep quickly - another issue with which many have a problem.
Purchase This Product on Amazon
Buyer's Guide to the Best Cooling Mattress Pads and Toppers
This guide to the best cooling mattress pads and toppers makes little reference to the difference between mattress toppers and mattress pads. Today, the two terms are practically used synonymously, and there are few differences to be found between them. It is their cooling effect with which we are mainly concerned in our cooling mattress topper reviews, and how they can be used to keep you cool at night and help reduce night sweating.
Many people overheat at night for a variety of reasons. Some find that using a memory foam mattress tends to heat their body too much for their liking. Memory foam reacts to heat by softening and conforming to your body shape. This can lead to overheating and night sweats. Others suffer from hot flashes, and others simply have a high metabolic rate that heats them up when sleeping.
What to Look For in a Cooling Mattress Pad or Topper
That said, what should you be looking for when you buy a cooling mattress topper or a cooling pad? Then construction of the cooling pad or mattress topper is an important aspect of its ability to absorb heat. Here are the more important aspects of the best cooling mattress Toppers that make them so effective.
The Cover
First, check out the cover. A bamboo-derived rayon cover offers a sleek sleeping surface that helps to keep you cool. Cotton covers can also be cooling, particularly if the thread count is not too high.
The Filling
Fiber Fillings: Then check the filling. It is no coincidence that our two best cooling mattress topper reviews are filled with a proprietary fiber with similar properties to those of goose down and feathers. Such fillings contain a lot of space, or air, between the fibers. This makes it easier for heat to be drawn from the mattress, sheets, and your body and spread throughout the entire volume of the topper. Some fillings form clusters, allowing even more airflow and more effecting cooling.
Latex Fillings: After that comes a latex topper, made using a Dunlop latex which has a more open pore structure than Talalay latex - hence more effective heat withdrawal.
Memory Foam Fillings: Cooling memory foam toppers have either been designed to draw off heat or contain gel particles that absorb heat while you sleep. Standard memory foams often create heat by cradling your body and absorbing its heat but being unable to dissipate that heat. You simply create your own 'hot box'.
Outlast® Adaptive Technology
Outlast® technology is used in our #4 choice. Just like memory foam, Outlast® adaptive technology was originally developed for NASA. It is based upon phase change materials that absorb heat and then release it to keep you cool. These materials are microencapsulated in a polymer shell. It works in much the same way as ice cubes cool down a drink. The ice absorbs heat from the drink, cooling it down, and changing phase from solid to liquid as it does so.
These microcapsules, known as Thermocules™, help to maintain your bed or mattress at an optimum temperature for sleeping. As your body heats up, that body heat is absorbed by the Thermocules™ and then the heat released back into your skin once it cools down - then the cycle begins again, keeping you cool throughout the night.
Check out the Outlast bedding videos here for more details of how it works.
FAQs: Cooling Mattress Toppers and Pads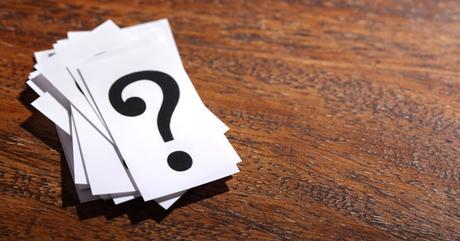 Here are some of the questions we have been asked about cooling mattress toppers and cooling mattress pads along with our answers.

Summary