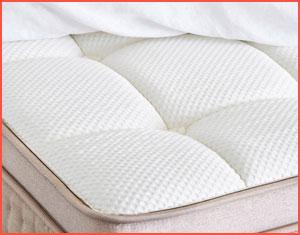 Our best cooling mattress reviews give you the opportunity to select one of the best mattresses for night sweats. Do you wake up feeling hot and sweaty during the night? If so you are just one of many, which is why mattress manufacturers have developed foams and mattresses to cool you down - or at least take away the heat from where you are lying.
The following eight mattresses are the best cooling mattresses for night sweats that we have come across in our research. The order they are listed in is our interpretation, although you may not find our best cooling mattress to be the most suitable for you.
*Phase Change Materials.
In each case we are reviewing the Queen Size mattress, and that with a medium comfort level if there is a choice.
CertiPUR-US: In order to avoid repetition, the term CertiPUR-US certifies means that the foams used in the mattress under review have been tested by independent analytical labs in the US, and certified free from phthalates, heavy metals, ozone depleters, CFCs, toxic fire retardants and other substances hazardous to health.
Warranty: Unless otherwise stated any warranty we mention in the 'Pros' list involves warranty against faulty workmanship or materials. This usually involves you paying return transport, but get that refunded if the fault is confirmed. See our Buyer's Guide at the end of these best cooling mattress reviews for more details.
Sleep Trial: This involves you having a stated period of time during which you can return the mattress if you don't like it for a quibble-free, no questions asked refund. This will usually be free of return transport charge, though we will state if this is not the case.
1. Brooklyn Aurora Hybrid Mattress - Our best overall cooling mattress for night sweats
The Brooklyn Aurora hybrid mattress is one of the best cooling mattresses on the market, if not the best. Its hybrid design involves a combination of patented trade-marked foams with a strong foundation of steel coils. Here is how this mattress is constructed to keep you cool at night while also offering you a high degree of comfort and support.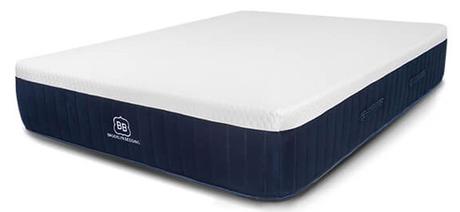 The Brooklyn Aurora mattress is constructed in six layers. The company uses patented foams in the construction, which are:
TEnergexTM : An open structured cooling foam that possesses excellent pressure-relief properties while also helping keep you cool. It is designed to be an alternative to latex foam, lying somewhere between viscoelastic foams such as memory foam and latex. It offers a high level of support, and cushioning for your pressure points, while also lacking the allergens of latex.
TitanFlexTM: TitanFlex is hyperelastic, meaning it is similar to memory foam and latex, but outperforms latex in its durability. It lasts much longer than latex when used in cooling mattresses. It also wicks moisture away from the area you're dampening with your sweat.
TitanCoolTM: TitanCool is a phase-change substance that absorbs heat. This is somewhat like the way ice absorbs heat to change its phase from solid to liquid, and liquids can absorb heat to evaporate it into the atmosphere. The science behind TitanCool is solid, and it very efficiently absorbs heat from your body while you sleep.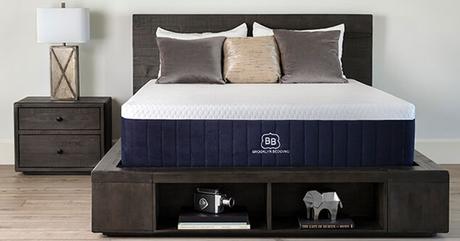 Brooklyn Aurora Cooling Mattress Construction
As stated, this mattress is constructed in six layers, designed not only for comfort but also to keep you cool while you sleep. The six layers are, from the top of this cooling mattress down:
A luxury, the smooth woven cover allows your body heat to pass through it into the foam beneath which is designed to wick it away from and into the body of the mattress.
1.5 inches of EnergexTM foam along with TitanCoolTM to keep you cool at night. This layer is infused with copper for its heat conduction and antimicrobial properties.
2 inches of TitanFlex to help support your main pressure points (shoulders, hips, buttocks, knees) according to your sleeping position.
A 1-inch layer of memory foam to help add support to the layers above.
An 8-inch layer comprising steel 1,189 individually encased coils that provides good core strength, and also help separate the motion of two partners from each other.
A 1-inch layer of high density poly foam that supports the compression of the springs while also helping to increase the durability and lifetime of the mattress.

Editor's Notes: This is a high quality mattress at the cusp of being a budget and a luxury mattress. The construction has taken cooling as one of its central properties and is the best cooling mattress we could find at a realistic price. You should not regret purchasing this mattress, particularly if you tend to wake up hot in the middle of the night and find it difficult to get back to sleep. This cooling mattress does not sacrifice comfort for cooling but marries the two into one well-designed mattress suitable for all sleeping positions.
Purchase This Mattress
2. Dreamcloud Hybrid Mattress - Best hybrid mattress for value and bounce
The Dreamcloud hybrid mattress combines memory foam, natural latex, and coils to create a superb sleeping surface that keeps you cool in bed. This is another 8-layer mattress that uses more traditional memory foams along with individually encased steel coils. This mattress scores a 6 for firmness on a 1 - 10 scale where 10 is firmest. So it is slightly firm of the medium. Its eight layers are (from the top down):
2" Tufted Euro top cashmere cover. This is designed to promote the good, clear flow of air to help keep you cool.
0.5" of gel-infused memory foam that conforms to your body shape and helps keep you cool.
1.75" layer of quilted memory foam that makes you feel as you are sleeping on clouds - it adds a great deal of comfort to the mattress.
0.5" of hypoallergenic natural latex, which introduces a level of bounce to the mattress.
0.25" of high density memory foam to a small level of support.
0.5" of 5 PCF (Lb/Cubic ft) memory foam to add even more support.
8" of five-zoned individually encased steel Microcoils that provide excellent core support, and contributes to motion isolation between partners.
1.5" of 5 PCF dense memory foam which adds to the sound base support of this mattress.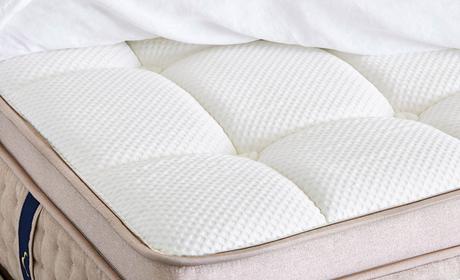 Together, this construction is one which is designed not only to provide an ideal surface for all sleeping positions, but to do so with great comfort allied to support, and also to keep you cool while you sleep. Whether you sleep on your side, back or stomach, you will find the Dreamcloud hybrid mattress a dream to sleep on.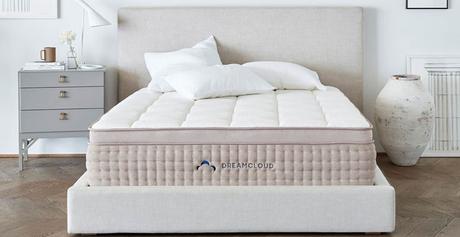 Editor's Notes: The Dreamcloud Hybrid mattress is of very high quality, and expertly combines comfort, support and its ability to keep you cool during the night. It says a lot when the only genuine weakness we could find was the edge support - which is a bit disappointing for an innerspring hybrid mattress. The cooling properties are excellent, and it is difficult to say which is the better, the Dreamcloud Hybrid or the Brooklyn Aurora Hybrid.
Purchase This Mattress
3. Winkbeds Luxury Hybrid Mattress - Best cooling mattress for back sleepers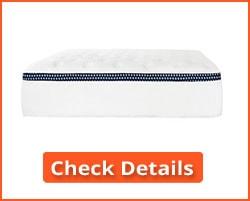 The Winkbeds Luxury Hybrid mattress is another hybrid, with foam top layers and an innerspring core. It helps to align your spine correctly by means of a number of targeted levels of back support which also helps release tension in your back muscles. It also removes heat away from your body by means of its proprietary Triple Layer Heat DisperseTM technology. It also provides good edge support with its proprietary Extra-EdgeTM anti-sag support system. You can sit on the edge of this mattress without feeling you are falling off.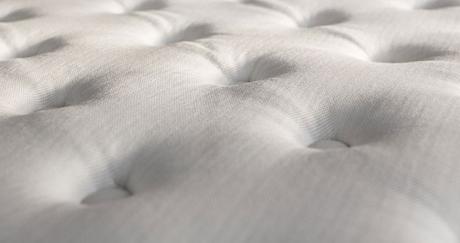 The Winkbeds Luxury Hybrid mattress is available in four comfort levels: Soft (4.5), Luxury Firm (6.5), Firm (7.4) and Plus (8). The figures indicate the firmness levels on a 1 - 10 scale where 10 is firmest. We are reviewing the most popular of these options: the Luxury Firm model. It is constructed in four layers, namely:
A cover woven from Tencel©, a natural fabric based on eucalyptus fiber that is softer than silk and very cooling. The cover tends to wick away the immediate heat from your body before it sinks into the next layer.
A two-layered Euro pillow-top to provide a comfortable and cool sleeping surface, and support your shoulders, back, and hips.
A layer of breathable micro air-springs that provide motion separation and good air circulation for extra cooling.
A layer of wrapped coils, individually wrapped for superior motion isolation with 7 support zones that support your pressure points while easing tension in your muscles by taking pressure away from them.

Taken together, these layers keep you cool while supporting the weight of most sleepers, particularly those that sleep on their back or side. If you sleep on your stomach, you have four levels of comfort to choose from, ranging from a soft sleeping surface to a firm one.
Editor's Notes: The Winkbeds Luxury Hybrid mattress possesses the properties that a good cooling mattress should have. We have placed it at #3 because the two above it possess slightly better cooling properties in our opinion. In other aspects, this mattress would beat them, but this review is for cooling mattresses. The four comfort levels is a good feature, as is its support for your lower back. If you have lower back (lumbar) pain and are looking for the best cooling mattress that will also be kind to your back, then this is for you.
Purchase This Mattress
4. The Purple Mattress
The Purple mattress is an innovation in the mattress market. It has been designed to provide total pressure relief when you are sleeping, and its construction also keeps you cool. Airflow is made very easy throughout the mattress, and the company understands that memory foam is not cooling - in fact, it can keep you sleeping hot unless it has been treated or designed to cool you down.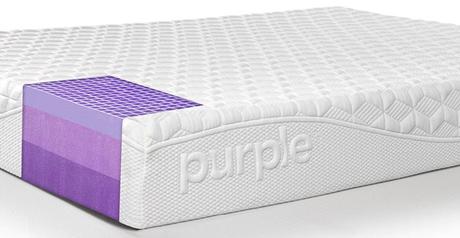 The Purple Mattress is not only colored purple, but it tends to avoid the properties of other mattresses that are unable to cool you down on hot nights. The mattress is constructed in three layers with a breathable stretch cover to provide a cool and comfortable sleeping surface.
2" of Hyper-Elastic PolymerTM molded into a square box grid structure that allows free flow of air throughout the grid.
3.5" of polyurethane foam (polyfoam) with a density of 1.8 pcf: lb/cub.ft).
4" base layer of 2 pcf polyurethane foam.
It also has a 100% polyester non-slip bottom to help keep the mattress solid on the base or foundation.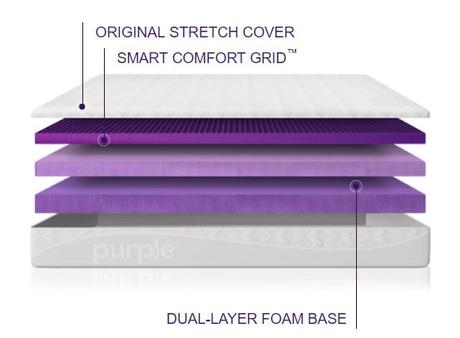 Editor's Notes: The Purple mattress is 100% foam, with a hyper-elastic memory-type foam at the top. Hyper-elastic foam is a type of memory foam that conforms to your body shape to support your pressure points. Beneath that are two layers of polyurethane, each with a different density for comfort and support. The box grid structure of the top foam layer absorbs your body heat and distributes it throughout the whole area of the mattress. This is a novel approach to cooling, and it seems to work very well.
Purchase This Mattress on Amazon
5. The Muse Mattress by MuseSleep
The Muse mattress is a gel memory foam mattress with a unique phase-change fabric cover. Each of these features work to absorb the heat you emit during the night and keep you cool. MuseSleep set out to deliberately create a mattress that helps you to avoid waking up hot and sweaty during the night, and it made a thoroughly excellent job of doing so. Here is the Muse cooling mattress layer by layer:
The Muse mattress deserves its place in our best cooling mattress reviews due largely to its innovative approach and use of modern cooling technology. Muse employs Cold Wire yarn weaving plus modern phase change cooling technology in a patented washable Diamond Breeze fabric that provides a very cool and soft sleeping surface. This has resulted in a highly breathable fabric that can keep you cool on hot summer nights.

The second layer is 2" of a cooling gel-permeated memory foam.
The third layer is 2" of responsive pressure-relieving comfort foam. The Muse comes in Soft, Medium and Firm levels, and it is this layer that changes for each of these - it is either softer or harder than the medium level.
The fourth and bottom layer is 8" of high density support foam. Some buyers feel that four inches of comfort foam is insufficient with eight inches of high density foams, while others disagree.
However, you have 120 nights to test it out, and you can return it free for a full refund if you don't like it. This bottom layer is enclosed in woven Chenille fabric.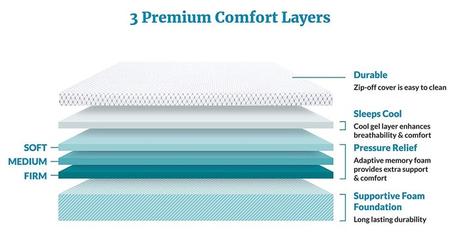 Overall, the Muse mattress is an excellent cooling mattress that would likely have taken the top spot were it not for some people finding it too hard for them. If you lie on your stomach you will find the firm version ideal for you, while the medium version is good for back sleepers and that switch around during the night. Soft is generally preferred by side sleepers.
Editor's Notes: This is a significantly sized mattress, weighing 83 Lb (17 Kg). It is a very effective cooling mattress, suitable for the hottest summer nights. The choice of comfort levels covers all sleeping positions. We believe this to be an excellent mattress, and well worth trying if other cooling mattresses don't cool you enough. With the 120 night sleep trial you can't go wrong!
Purchase This Mattress on Amazon
6. Zenhaven Talalay Latex Mattress - Best for Sex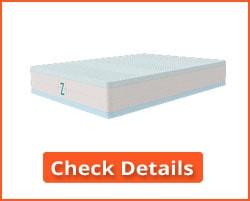 The latex used in this mattress is Talalay latex. The more open structure of Talalay latex mattress generally makes it lighter, less dense, and more breathable than a Dunlop latex equivalent. Heat from your body is trapped within the structure, and dissipated throughout the whole mattress. Talalay latex mattresses have a degree of elasticity and are not as springy as Dunlop mattresses. However, if you need a cooling mattress, and you prefer latex, the Zenhaven mattress should be your first choice.
It is resilient, and it conforms to your body shape for a very comfortable and cool sleep. It offers excellent support, and you have two comfort levels included, one on each side:
Luxury Plush: Comfort range 4-5 on a 1-10 scale where 10 is hardest. It supports your body with very luxurious, soft, plush feel.
Gentle Firm: If you prefer a firmer sleeping surface, then the Zenhaven 'Gentle, Firm' option is 18% firmer than the Luxury Plush option and lies at 7-8 on the 1-10 scale.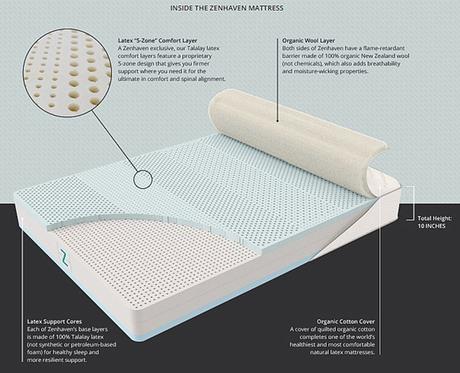 If you want to change the firmness of the mattress, simply flip it over.
Editor's Notes: The Zenhaven Talalay Latex Mattress deserves its position in our review of cooling mattresses due to the superb open structure of the Talalay latex. It is far in advance of Dunlop Latex for this property. If you prefer a natural latex mattress to a synthetic polyfoam or memory foam, then Talalay is best, and the Zenhaven mattress offers some very interesting and useful features.
Purchase This Mattress
7. Ghostbed Luxe Cooling Mattress
The Ghostbed Luxe cooling mattress is one of the top cooling mattresses in the world. It uses some of the coolest techniques available to keep you cool in bed. Among these is phase change technology, gel memory foam and a unique proprietary cooling fabric cover. Here are some more details of how the 5 layers of this mattress work.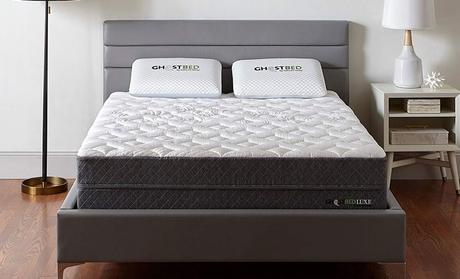 From the top layer down:
'Ghost Hug' proprietary quilted cover. This is made using ) a 0.5-inch layer of cooling fiber which is woven into the structure and 1" of memory foam. This is then covered with a cool-to-touch fabric - the company's Ghost Ice fabric. This structure provides a cool sleeping surface all night long.
A layer of Ghost Ice, made using a phase change material that removes any body heat that reaches it.
A 2" layer of cooling gel memory foam.
A 2" layer of Ghost Bounce foam: a viscoelastic that bounces like latex, but also conforms like memory foam.
A 7.5" layer of high density support foam that provides an excellent base for this mattress.

The result is a highly cooling 13" mattress this is possibly the best mattress that uses the most modern cooling technology available. Its Comfort Rating is 5.5 - 6.5
Editor's Notes: If you 'high tech' stuff then this mattress might well be your best choice. The technology it incorporates is valid and the company's phase transfer cooling material is also contained deep in the 7.5-inch base of the mattress. This absorbs and dissipates any heat transferred from the higher layers of the mattress.
Purchase This Mattress on Amazon
8. Elements Latex Mattress by Dreamfoam: Aspen - Our Budget Choice.
The Aspen mattress consists of Talalay latex that is the softer of the two commonly used (Talalay and Dunlop). It offers excellent pressure point relief and is a soft mattress with a good bounce to it. It has a quilted top and a convoluted foam base that adds to the comfort - and may make it too soft for some.

Perhaps for that reason, Dreamfoam Bedding is offering three levels of firmness in the Aspen mattress: Firm, Medium and Soft. If you are unsure which is best for you, you get a 120-night sleep trial to give it a good testing.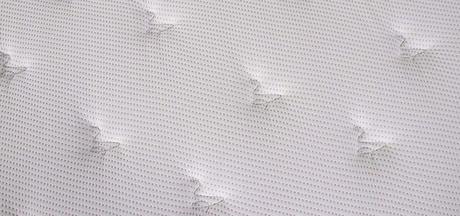 Editor's Notes: The Dreamfoam Aspen Latex Mattress is made using Talalay latex which is of a more open, porous structure then Dunlop latex, and therefore the more cooling. It can't match the cooling powers of the Ghostbed or Brooklyn Aurora but is excellent for cooling budget mattress on the market - but check the firmness and use your trial period to its low price. It is, without doubt, the best make sure you get the one best for you.
Purchase This Mattress on Amazon
Buyer's Guide to Cooling Mattresses
What is a cooling mattress? It is fundamentally one that helps to keep you cool in bed. Not all cooling mattresses will find ice cold to lie on until you heat it up, but some are. Most use a means of aerating the mattress while they sleep, such as the Talalay latex process which uses a vacuum to create lots of small air bubbles and passages in the body of the foam. Others use more cutting edge technology, such as the cooling fiber and phase change material used in the Ghostbed Luxe mattress.
In most cases, it is difficult to assess which of these is best. So let's discuss each of the different cooling technologies and how they work. First, why do foam mattresses heat up? Simple - when you lie on the mattress, your body heat is transferred to the mattress and it warms up. Eventually, it warms to the extent that you begin to feel sweaty and uncomfortable. Because you are lying still under covers, this body heat does not dissipate into the air as it does when you are out and about.
Foams are generally poor conductors of heat, particularly the denser foams. For that reason, cooling mattress manufacturers use certain methods of improving heat conduction and dissipation away from the sleeper. Here are some of the more common methods used.
Gel Memory Foam
Memory foam is a fairly dense foam that is structured to conform to your body shape, so offering excellent comfortable support for pressure points such as shoulders and hips. Once you move in bed the foam returns to its original flat shape. Your movement does not disturb your partner because only the portion of foam you are lying on moves. The trouble is, memory foam absorbs heat rapidly and quickly heats itself up.
Some manufacturers try to slow this heating down by incorporating a gel into the structure of the foam. This can be added in the form of lots of tiny encapsulated gel particles or as a continuous layer on top of the mattress. The way it works is that gel is semi-liquid. Liquids can be cooling, but the gel can't evaporate out of its encasement. It just heats up more slowly than the foam, so makes the mattress feel cool initially, buy eventually reaches the same temperature.
That's why a gel foam mattress can feel cool to start with, but on a hot night, the user can still wake up a later covered in sweat. If graphite/carbon is added to the foam, the graphite absorbs and conducts heat rapidly, then moves it into the whole body of the foam, not just where you are sleeping. Ultimately, however, even this will result in a gradual, but slower, increase in temperature of the entire mattress.
Air Breathability
If you can make a mattress more breathable, with more air spaces, it should heat up much more slowly than a solid foam and also be able to expel hot air into the room. Latex is a natural material, and natural materials keep you cool better than synthetic foams such as polyurethane (polyfoam and memory foam). Not only that but the Talalay process provides Talalay latex with an open cell structure and lots of breathing spaces where heat can escape into the body of the room. That's why all the latex mattress manufacturers in this best cooling mattress review use Talalay latex.
Another way of achieving air breathability is to form at least one layer of the mattress into a convoluted shape or egg crate shape. There is a lot of air in such structures to absorb heat and ultimately pass it into the room., keeping you cooler than you would be without it.
Finally, we have included three types of spring/coil mattresses. Innerspring areas generally have a lot of space between the springs that can hold heat and keep you cool. If the coils are steel, they can also conduct heat away from you. That's why night sweats was never the same problem back in the day before foams were developed.
High-Tech Materials
A lot of work has been carried out on ways of cooling mattresses and other items. Phase change materials (PCMs) are one of these. They work in the same way as putting ice in a drink. The ice absorbs heat from the drink and changes phase as it does so (i.e. solid-liquid phase). It does so slowly and keeps your drink cool for a long time. The same happens when you use phase change materials in a mattress.
PCMs are microencapsulated and absorb your body heat. When you cool down, the phase change material then releases heat to keep you comfortably warm, cooling itself, and the cycle starts again. You can also have PCMs incorporated into threads that are used as covers for your mattress, keeping you cool in a more intimate way.
Summary: These are the more common methods manufacturers use to help keep their foam mattresses cooler. You will find examples of them all in our best cooling mattresses review.
The Best Cooling Mattresses: Questions and Answers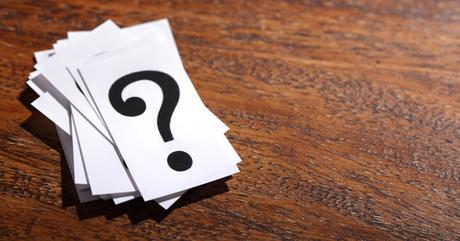 Here are questions we have been asked about cooling mattresses.

Summary