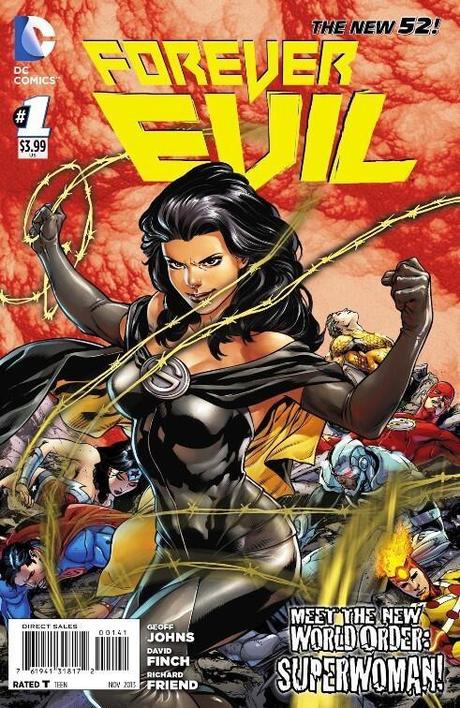 I'm slightly embarrassed and scared to admit how much I LOVED this issue.  It's so over the top that it just works for me. I loved the fold out page with all the villains gathered for the meeting. I loved the revealed identity of the superhero. This issue was bold. Something that sometimes comics promise…then don't deliver on..*cough**cough*death of a family*cough**cough*
How freaking creepy and evil was Lex Luthor at the start of the comic? That was just so fantastic and got me super excited for his upcoming appearance in Batman vs Superman. Sometimes Lex just turns into a snobby, bored, spoiled brat. These first couple pages proved that this Lex is straight up evil. Bad to the bone.
I loved the jumping to all of the random villain "groups" and how the initially responded to this invitation by the crime syndicate. They were surprisingly funny. I loved how all of them were so paranoid that it was a trap. Really just fantastic writing.
I look forward to this book and the ride it will take the reader on. This was a great decision by DC comics. I'm glad they took this risk and I hope it pays off.
You May Also Enjoy:
Best Comics of the Week: Poison Ivy #1

Best Comics of the Week: Trinity War Chapter 6

Best Comics of the Week: Batman/Superman #3

Batman Incorporated 13 Review

Trinity War Chapters 1,2 and 3 Review

Batman '66 #1 Review

Best Comics of the Week: Justice League Dark #23

Batgirl #23 Review