Is it the coffee? The atmosphere? Or both?  Glasgow has the best coffee shops around so venture out and try out some of these.
A good blast of a coffee in here, from affogatos to cold brewed with frequent changes to their beans – keep an eye in their social media for the latest news.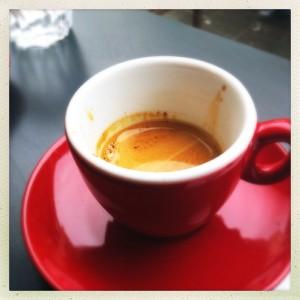 Laboratorio Espresso
Papercup Coffee and Roasting Company
Delicious coffee and food in this cosy west end joint.  Check out their omelettes.
Bell & Felix
Illy coffee served here with all the favourites such as flat white, cappuccino and more.  Relaxed atmosphere, friendly staff and very tempting cakes.
McCune Smith
This bright and welcoming cafe is a highlight east of the city center.  Again, good choice of cakes here as well as lunch options.  Dear Green Coffee on sale both to drink and to make at home.
The Glad Cafe
Creative southside venue with a varying menu.  The Glad Cafe serves its coffees and teas in a laid back atmosphere, an easy place to spend a few hours with a coffee and a laptop.
Tinderbox and Tinderbox
2 locations, one east, one west. Personally I find it a bitter coffee, however I have friends who rave about it. One of the original coffee houses of Glasgow with cakes, lunches, and drinks from local producers.  The Merchant City location is located where the original Glasgow School of Art stood.
Jelly Hill Cafe
Can be mobbed at the weekend but this is the place to be in Hyndland for people watching as well as cake eating and sipping coffee.   The wooden seating adds another layer of – I could safely sit here all day feel.
Gordon Street Coffee
With a standard roast and a "Glasgow Roast", Gordon Street Coffee are proud of their on-site roasting.  You can visit them on a Wednesday evening to see the roasting in action – see here for our visit.  Handy for picking up a coffee on the go.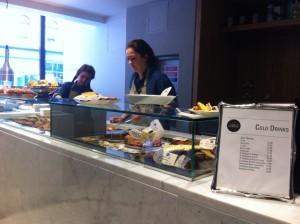 Inside Gordon Street coffee
Offshore Cafe
Popular student hang out ,it's laptops and coffee abound here.  Competition from. Artisan Roast nearby – which is good but Offshore edges a bit ahead due to the relaxed atmosphere.
Riverhill Coffee Bar
The only downside here is the shortage of space for a decent sit down to enjoy their coffee and amazing cakes.
Drygate
Food by The  Vintage of Leith fame with light, creamy coffee.  We haven't tried their espressos, however their flat whites weren't bitter at all.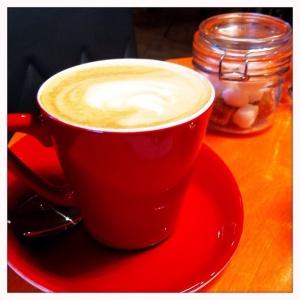 Drygate Coffee
Smile Cafe
This is a great little Italian-run cafe.  Kimbo coffee with perfect crema, doorstep sandwiches and friendly staff. It's a dinky place but well worth finding.
Tapa organic bakery
Two locations, one in Duke st, Dennistoun and the other at 721 Pollokshaws Road just at Queens Park. The beans are roasted on site and the cafe is proud of their organic roots.  Vegans and vegetarians catered for too!
Biscuit
Larger than it looks with lunches served as well as coffee, teas and cakes.  Free WIFI and family friendly.