Orange and Chocolate are an unexpected but fantastic combination in these Chocolate Chip Blondies with Orange Zest.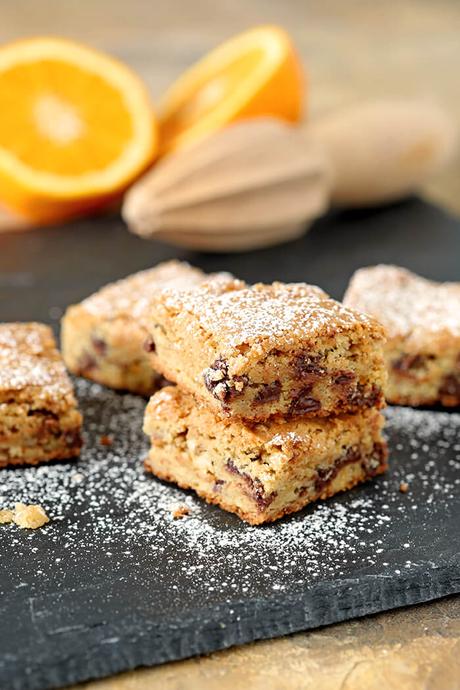 I am bombarded with images of food all day long. I'm not complaining, not at all, but it means I am sort of immune to trying to grab something through the screen to eat. It all looks nice but seldom gets me excited enough to have to stop and make something like NOW!
Not so with these Chocolate Chip Blondies with Orange Zest. I simply love that combination. I have no doubt that my familiarity is due to a holiday treat I used to stick into my girls Christmas Stockings; these Terry's Milk and Dark Chocolate Oranges ( affiliate link). I used to steal a bite or two every year...now why didn't Santa just put one into MY stocking?
This recipe is from my friend Jamie Schler. Jamie and I met over Twitter and we're still over their chatting almost twelve years later; she posted about these blondies on that platform and I was smitten.
Jamie is a sometimes blogger, full time hotelier, operating the charming Hotel Diderot in Chinon, France, and always a writer. She has written a beautiful cookbook extolling everything orange, titled, ' Orange Appeal' ( affiliate link).
If you love oranges like I do...you have to snap it up. I'm amazed at the different recipes, all using orange, and how successful each and every one I've tried has been. There are main courses, salad, drinks, and of course, desserts (clearly my favorite!).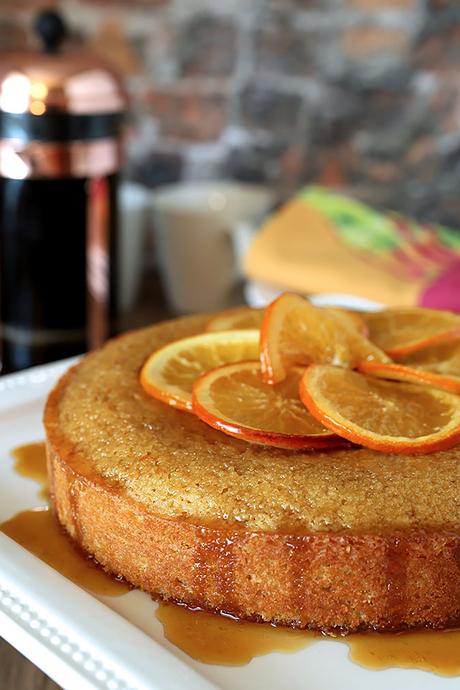 I've featured a recipe from the book previously, and it's another sweet...but also not to be missed. Isabella's Orange Cake is sweet and sticky from orange flavored syrup and makes a simple but beautiful presentation.
I really need a specific method for judging the success of the recipes I make but my very un-scientific method involves letting some neighbors know I've got a sweet to indulge them with, and then counting the text messages I get raving about the latest. This was a three star winner...meaning all three of my friends sent me a quick message extolling their love; that's high praise indeed!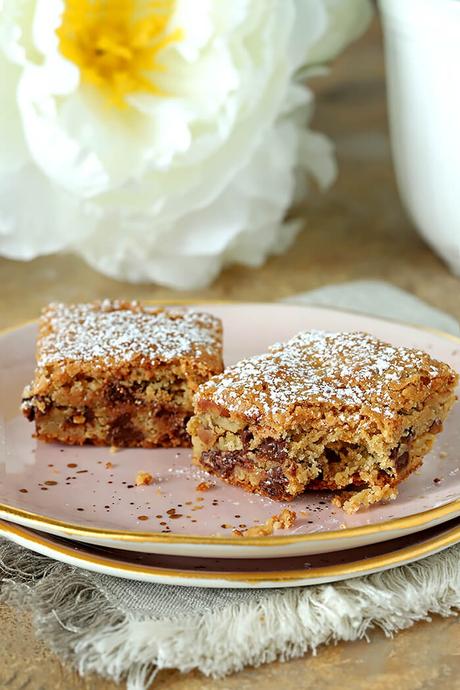 This was a simple recipe too but it's that one twist, that little bit of orange, that elevates a blondie into a different realm. The ingredients won't require hours of sourcing either, they include ( full recipe at bottom of post):
1 ½ cups flour
1 teaspoon baking powder
¼ teaspoon salt
12 tablespoons unsalted butter, melted and cooled
1 ½ cups packed light brown sugar
1 rounded teaspoon fine orange zest
Juice from one orange, approximately 1-2 Tablespoons
2 eggs, lightly beaten
1 - 2 teaspoons vanilla extract
¾ cups chocolate chips or coarsely chopped chocolate (more, if desired)
½ cup coarsely chopped pecans or walnuts (more, if desired)
The only changes I made were born of years of practicality; I put the juice of the orange I zested into the mix as well. A bit more liquid won't hurt, as a matter of fact, in Denver where I live at high altitude, it's prerogative and I'm sure it did lend a bit more of an orange punch to the blondie. Still subtle though and I thought perfect.
Jamie also indicated that the orange element was optional. Sure, leave it out if you want, BUT DON'T! It truly is what makes these blondies special, that 'orange appeal.' Without it, they're 'just' a blondie, a dime a dozen. It's the orange that elevates them to the realm of special; so please do it. For you, for your kids. For your country. OK, maybe I got carried away a bit. 🙂
While I think these would be fabulous any time of the year, I always think of oranges as a holiday treat and I'm certain this one would be well received by anyone who enjoys holiday treats with a bit of citrus punch; I know they're going in my goody basket for neighbors; I already know they like them. You must try them too!
PIN IT! 'Best Chocolate Chip Blondies with Orange Zest'