Last night my family and I were in desperate need of a treat, so I rummaged through my pantry and had some supplies to make these little goodies.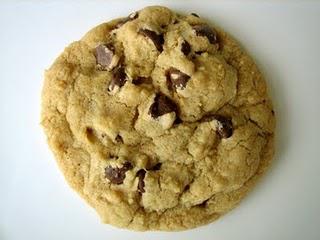 I forgot to take a picture so I borrowed one that resembles them the most  from here.

This recipe makes a HUGE batch so we always eat a few and give the rest away to neighbors.  You might as well make your neighbors fat too, right?
Here's what you'll need:
1 1//2 cup REAL butter
1 1/4 cup sugar
1 1/4 cup brown sugar
2 tsp vanilla
2 eggs
4 cups flour
2 tsp baking soda
1 tsp salt
1 bag choc. chips (I like to use 1/2 bag milk chocolate and 1/2 bag white)
Preheat oven to 350 degrees.  Cream butter, sugars, vanilla and eggs together.  In a separate bowl mix dry ingredients.  Next add the dry to the wet and mix together.  Now stir in your favorite chocolate chips.  Drop onto cookie sheet and bake for 9-11 minutes.
Now get yourself a huge glass of milk and enjoy!