If you're an avid gamer, one of the most satisfying ways to up your gaming level is with a gaming keyboard. If you've never used one before you must try one now, it's a big change from your classic low-profile laptop keys or the traditional no-brand keyboards that came with your systems. Among the long list of tools required, you can't just overlook gaming keyboards as they are much more than just an equipment.
When playing for long hours, you definitely need the extra level of comfort with the tool. Fine and smooth gaming experience are guaranteed with it for the user. Selecting the right keyboard is a vital task, if you don't do it right you are going to die most probably - meaning if you don't do it right, you're most probably be killed in any of the online multiplayer game.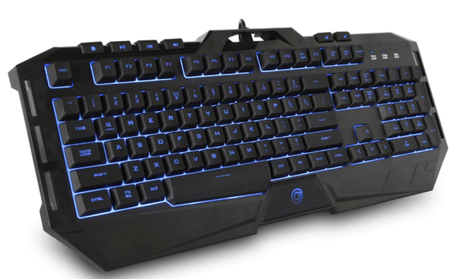 If you have just a little knowledge about gaming, you very well know the importance of a good keyboard, what differentiates one from another, and what's latest in the market nowadays. With mechanical gaming keyboards, personal preference is just as important as the performance aspect.
We have summarised the 10 best budget gaming keyboards 2017 you can buy, along with a brief description to help you find the keyboard that's right for you according to your needs and budget.
List of BEST Budget Gaming Keyboards Under 50-100$ Amazon Top Picks 2017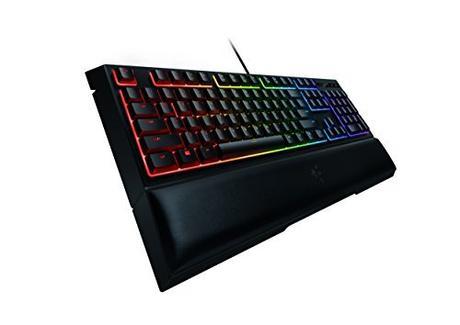 For too long there has been a division between mechanical and membrane keys but now Razer has finally got the two of them together with its "Mecha-Membrane" (the technology it uses) which works as there is a membrane under the keys that allows for longer life and low-profile typing, but there are still mechanical parts in it which gives it that rough click.

In the base of the keyboard there are rubber domes used, just as in a membrane keyboard.
It has mid-sized keys between the shape of a big bulky keyboard and Mac chiclets that feel like you don't have to press down the key way to far. Razer's Chroma technology allows for 16.8 million color combinations with the help of Synapse program which is included. There aren't many traditional extra features present, like USB pass-throughs and media keys, but you won't definitely get a feeling that something is missing. It's way too satisfying and easy to use.
PROS
Attractively priced.
Fine typing experience for any application.
CONS
Limited features.
Some adjustment may be required.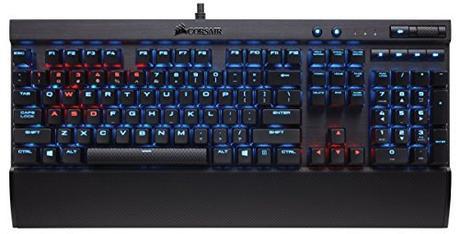 The K70 RGB RAPIDFIRE, the keyboard came in the gaming world from another exclusive deal that Corsair has had with Cherry's new mechanical key switch, the "RAPIDFIRE". It is a switch designed specifically for gaming by combining light actuation with higher actuation speed. 'Corsair's K70 RGB Rapidfire keyboard is all about it's speed'.
It has a pretty simple key selection of 107 keys, though there are a few media buttons designed on the upper right along with a roll bar for adjusting the volume also. The aluminum board it has makes it solid and also is heavier than the average keyboard. The visual treat is combined with the crisp, light typing makes the Rapidfire K70 RGB a sensory delight for the users.
PROS
Immaculate build quality
Sleek, elegant design
Comfortable wrist rest
RGB Lighting
CONS
Cherry MX RGB lighting is kind of dull and cannot display white effectively.
No USB or Audio passthrough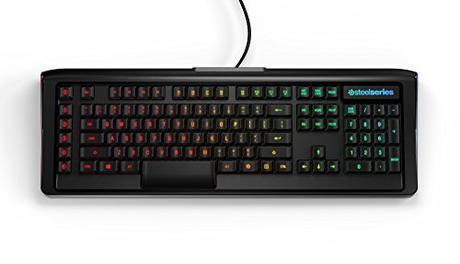 The Apex M800's mechanical switches set in this keyboard stands this out from the rest of the market. It's a collaboration between SteelSeries and Chinese firm Kailh, and its design for low-profile operation that is fast as well as quiet.
The keys use a square plunger and a small spring attached with enough space in the middle to embed an LED. The result is an impressively even backlight in the keyboard and a smaller, more compact design.
Like most of the high-end gaming keyboards available out there, the Apex too has full RGB backlighting. That means access to 16.7 million colours , LEDs behind every key embedded and the full gamut of patterns could be formed and other features available for use too.
The Apex is still missing a few minor and traditional features. There isn't a tool included to remove keys, which makes cleaning a bit trickier than others. There are also no dedicated media keys present.
PROS
CONS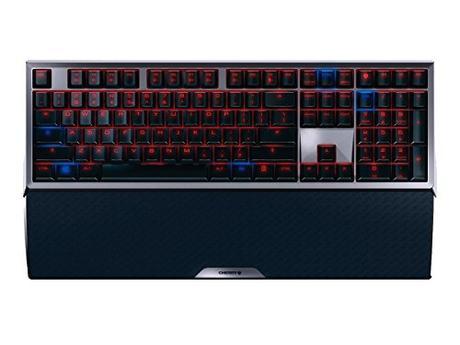 Cherry's MX Red switches present under the keys gives the MX Board 6.0 fast response times when compared with others, but because the keys are positioned fairly close together they're excellent for typing too. The world's fastest keyboard claims by cherry.
It has an Aluminum housing with sanded finish and grease resistant coating as well. Works on CHERRY's RealKey technology which is fully analog signal processing. A mechanical keyboard that's also perfect for the office as it is fairly good for typing purposes too.
PROS
Mechanical keyboard
Cherry MX Red key switches
Solid aluminum faceplate
Detachable magnetic wrist rest
Red backlighting
CONS
Very expensive given feature set
Some counter-intuitive layout choices
No macro or key-reassignment software
No repeatkey interval adjustment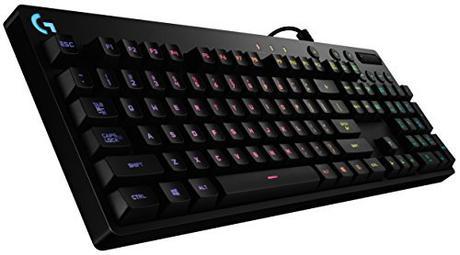 Termed as a minimalist gaming weapon for the gamers out there. The Logitech G810 Orion Spectrum is a pleasing RGB mechanical keyboard that makes you feel great whether you're encountering foes in Counter-Strike or typing the Great American Novel.
The keys which has been included in this set are not their best feature, the Orion Spectrum is an attractive, versatile peripheral with an amazing interface and yet sensible extra features. It runs on the Logitech Gaming Software, which still continues to be one of the leading gaming peripheral management programs in the market.
The software included will automatically scan your system for games and create your profiles for them, so all you have to do is pick a color scheme and assign any extra commands to the function keys, if you want to. Featuring smart media keys that works comfortably on both Windows and OS X.
PROS
Elegant design
Excellent performance
Comfortable set of keys
Gorgeous backlighting
CONS
Some software oddities present.
Not the fastest option for typing.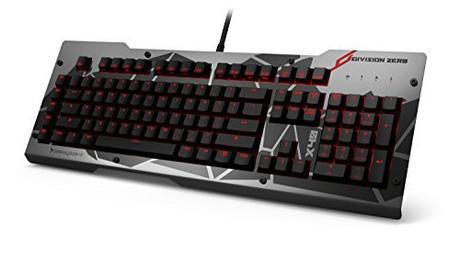 The X40 Pro uses a new proprietary key switch design called Alpha-Zulu that boasts an actuation point of 1.7mm which previously was of typical 2mm, which according to Metadot provides enhanced performance during particularly intense gaming situations.
The X40 comes with thick aluminum panels in the structure which makes it one of the strongest and most rigid keyboards around in the market. The X40 Pro comes in two styles basically one is Alpha-Zulu switches: Linear, which is both non-tactile and non-clicky and Tactile, which is tactile and non-click.
A plastic key cap puller is an extra feature included in this keyboard if you want to remove and replace any of the caps for cleaning or other purposes.
PROS
Sturdy construction.
Includes USB, audio pass-through connections.
Utilizes full n-key rollover.
Removable top plate allows for unique visual customization.
CONS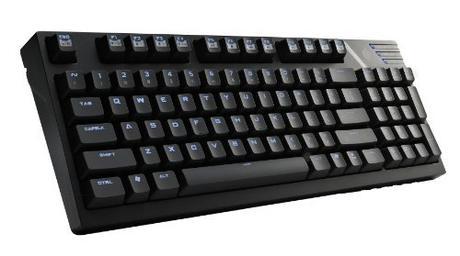 For those who desire a small compact mechanical keyboard, CM Storm has released the gaming-orientated QuickFire TK to fulfill the purpose. CM Storm releases the Quick Fire TK, a more compact version of the Quick Fire Pro that fits in your backpack too.
The model is also recommended for those who don't have a lot of desktop space as it the most compact of them all. There are three types of switch options: Cherry MX Red, Brown or Blue available in this.
It's one of the best mechanical keyboards by Coolermaster till date. You have the options to choose from both partial as well as complete illumination.
The only things it lacks are macro recording and key configuring, other than that this keyboard has score really well in all aspects.
PROS
The compact dimensions make it easy to use.
Three backlight modes along with five brightness levels creating a pleasant image.
CONS
Switching options is not that easy to understand.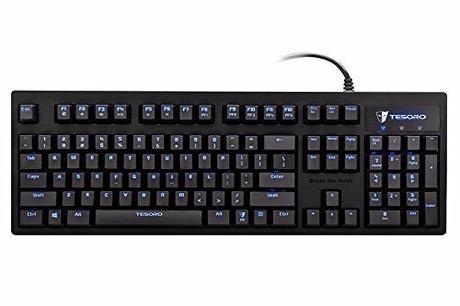 Let us look at the Tesoro Excalibur features and specifications found in Tesoro's which does have some pretty good features as expected from a keyboard of this range, totally worth the money. One thing which is noticeable quite easily is the absence of Cherry MX switches, Excalibur is still using mechanical switches from Kailh which are cheaper than their cherry variants used before.
It does include 4 level LED backlighting with dimming capability as well. Plus, it has 5 level LED key lighting with single key illumination mode. The switches hold excellent when it comes to intense tapping rate during the gameplay. Gaming modes and macros keys do what is to be done.
The option of switching between more than two LED modes is there. With a basic rectangular design, and the touch that makes this keyboard distinctly Tesoro, we feel that sometimes simplicity is best. Tesoro Excalibur is the keyboard to have your hands on, especially if you are looking for the features we have seen before, just in a sleeker look than before and an elegant packaging.
PROS
CONS
Build Quality isn't that much great
USB Pass-through ports are missing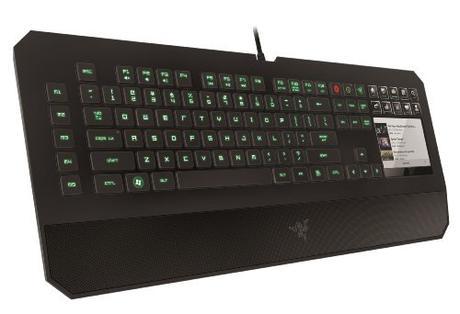 As cool as its name is, especially designed for gamers. The Switchblade interface which has been added recently adds a new element to gameplay, with game data and macro recording available on too, and without interfering with your game.
The DeathStalker Ultimate uses keys with scissor switches-the same style used on the Razer Blade laptop. The DeathStalker Ultimate also uses Razer's cloud-based technology and syncing tool incorporated, Razer Synapse 2.0. Downloaded for free from Razer's website.
For gamers who want to experiment with Razer's Switchblade interface without having to pay the extra bucks for a Razer Blade laptop, the DeathStalker Ultimate is the way to go.

CONS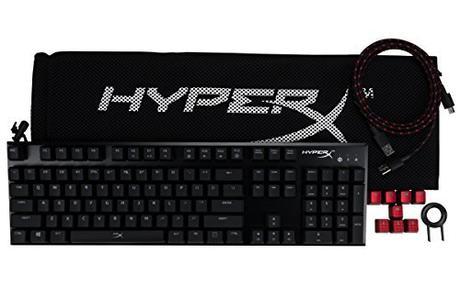 The HyperX Alloy FPS Gaming Keyboard has a clear gamer profile someone who knows about the stuff and values the performance, portability, and simplicity over jam-packed features and customizability.
It has some convenient options, such as USB pass-through and charging, but the lack of customization software means the Alloy FPS won't appeal to gamers who like to personalize the look and function of each key. There's no palm rest, rows of macro keys, or dedicated media controls, so the Alloy FPS doesn't leave much of a footprint-this gives you lots of extra room space.
This is about as compact as a full-size keyboard with a number of pad gets. And with the alloy it does like many keyboards by supporting USB pass-through and featuring a USB charging port in the upper-right corner of the keyboard. Without lighting, this is like your typical office keyboard.
The default key caps are black. There is per-key backlighting available, but the lighting effects are not as visually appealing as on other keyboards in the market.
PROS
CONS
No macro keys or dedicated media controls.
Limited color options.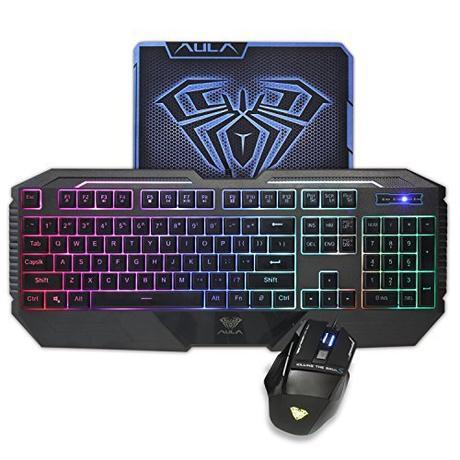 The AULA 2016-S Rainbow is best for both the purposes gaming and typing, selling for a good price. The rubber feet at the bottom don't offer much resistance but the keyboard moves forward with pressure on the wrist rest. The gaming and the typing purpose for a user on this keyboard is satisfactory since it is present right in the middle of the keyboard.
It has 6 multimedia keys. It also has passed through more than 30 stringent reliability testing. It also includes Intelligent independent lock, Windows Independent lock and does is covered with a Advanced waterproof conductive film.
The enlarged water outflow holes accelerate the speed of liquid to flow out of the keyboard and ensures that the keyboard can normal work in the high humidity environment and slight water inlet condition too. You don't have to worry about coffee and tea accidents, your keyboard is protected safely.
PROS
Satisfactory customer reviews.
Easy to use.
CONS
Not to advance or has the latest features that other keyboards available.
Over To You : Which is Your Favorite Best Gaming Keyboards 2017 ?
And now we are concluding are discussion of the best gaming keyboards 2017 available in the market for die hard gamers out there. Concluding this discussion, we have come on the conclusion that the Corsair K70 RGB Rapidfireis the most reliable, efficient and gets a thumbs up on the performance basis.
This is just our perspective, one can choose any one listed above or any other according to their needs and keeping these factors in mind and let us know in the comment section about the one you chose or you already are using.😊