In October 2013, GQ was ahead of the game and released a divulging directory of the Best Watches for Men in 2014, giving the industry's most anticipated luxury watch brands a timely prologue to their new product stories. Included in the exclusive index were the likes of the Heritage Pilot Chronograph for Alpina's 130th anniversary (over $4,000), the new Diver Watch by Audemars Piguet (over $25,000), and the striking all-black Fathoms Bathyscaphe by Blancpain (over $11,000).
Key watch trends seen within this hotlist included trending colors such as all black, blue hues and greens, and the use of chronograph faces, nano straps
and vintage revivals.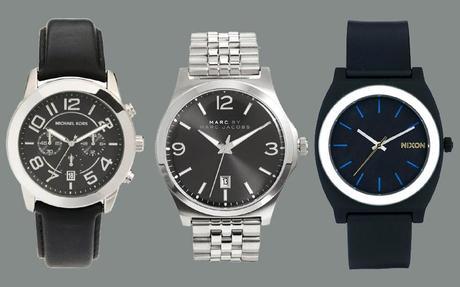 Whilst these releases were much celebrated at international trade shows such as Baselworld 2014, the hefty price tags don't articulate as smoothly with the
general public. Luckily, The Telegraph released its own, more affordable, much more accessible version of a 2014 Affordable Watches list. Here are
some key pieces to look out for in 2014/15…
Braun Chronograph All Black Watch
The slick and stylish Braun All Black Chronograph brings together the contemporary look of the 'Complete Blackout' trend, whilst still empowering a sporty
and masculine look. It features a leather strap and an on-trend chronograph watch face, as well as being water resistant for the outdoor man. Under $300,
it's an absolute steal. To view this watch and to discover all of its features, visit Watches 2 U.
Marc by Marc Jacobs Danny Watch
This classically stylish watch is available in various finishes, including stainless steel or black/brown leather strap. Retailing at around $200, Marc
Jacob fans can have a different watch for every occasion. This watch series is nothing short of a timeless classic; aptly named the "Danny" Watch, this
2014 frontrunner is easily styled and is accessible to men from all walks of life. The Danny series can also be viewed over on the Watches2U website.
3. Casio Digital Bracelet Watch
Vintage revival has been a big trend in the luxury watch industry, with Rolex leading the way in bringing back the famous Pepsi GMT Watch, a design which
became an iconic collection piece in the mid 50s. At over $41,000, it's something that the majority of us can only admire from a distance. For something more affordable, try Casio's Gold Digital Bracelet watch, which has a fantastic retro look to it (and also listed in the Telegraph's 2014 list).