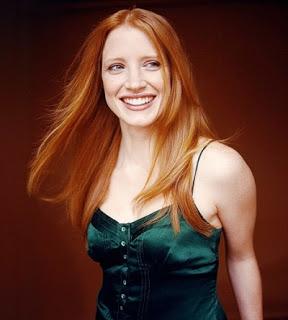 In May of 2006, I sat down with actress Jessica Chastain, then an unknown and untested 29 year-old who was on the precipice of her first big break after being tapped by Al Pacino to co-star in his stage production of Oscar Wilde's "Salome" at the Wadsworth Theater. Then as now, Chastain's fresh-faced beauty made every passerby do a double-take as we spoke. Her ambition to succeed as a performer was palpable, and paid off in 2011 with Chastain appearing in six high-profile films: "Take Shelter," "The Tree of Life," "Coriolanus," "The Debt," "Texas Killing Fields," and "The Help," for which she received a Best Supporting Actress nomination. This year, Chastain received a nod in the Best Actress category for Katherine Bigelow's "Zero Dark Thirty" and is the undisputed front-runner to take a statuette home. 
JESSICA CHASTAIN TRIPS THE LIGHT FANTASTIC AS SALOME 
By Alex Simon 
Jessica Chastain is living the dream that most young actresses never get to touch: co-starring with the legendary Al Pacino in the eponymous role of Oscar Wilde's Salome. Jessica, a Julliard graduate, has been working steadily on stage and television since graduation several years ago, but her latest foray on the boards, currently running at The Wadsworth Theater through May 14, marks the arrival of a major new talent. Directed by renowned actress Estelle Parsons (Best Supporting Actress, 1967 for Bonnie & Clyde), the production also co-stars Kevin Anderson and Roxanne Hart, and is presented as a "staged reading," with no sets and many of the actors reading their lines directly from the script. A riveting, challenging theatrical experience, Salome is an evening that most discerning theater-goers will not soon forget. The lovely Miss Chastain sat down with us poolside at a local hotel recently.

When did you know you were an actor? 
Jessica Chastain: When I was five, my grandmother took me to see a production of Joseph and the Amazing Technicolor Dreamcoat, with David Cassidy. And I remember saying to myself, 'I want to do this!' (laughs)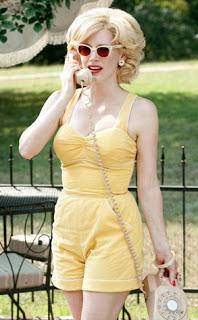 Chastain as Celia Foote in The Help.
So that was the catalyst? 
Yeah, my mom teases me and says that ever since I was a little kid I always wanted to crawl inside the TV, and play all the time. When my grandmother took me to that show, I realized that was my calling. So my play turned into make believe, and from then on, everyone knew that I was going to be an actor.
After high school, you went to Julliard. What was that like? 
It was great, because I showed up, and I didn't know anything about Shakespeare, or any of the other great playwrights. I spoke with my voice in a really high register, and I was just untrained. Plus, I was in New York, and I'd never really left the Bay Area in my life. I was surrounded by all these amazing musicians, dancers, actors and artists, the cream of the crop, and it was just amazing. But it was also difficult, because we all showed up thinking we were hot. I was with 22 other people in this program, and you realized very quickly the things that you were doing to avoid the work. (laughs) I remember at one point after we'd done a Shakespeare play, the instructors had us all in a group, and asked us what we'd learned. I raised my hand and said, not trying to be funny, 'I learned that it's important to know what you're saying when doing Shakespeare.' And of course, that got a huge laugh. But before, I just would do it, speak the words, without knowing what it meant. It was just one of the most important lessons I ever learned. The fours years there was very difficult, I'm not going to lie, but that said, those four years were also invaluable.
Plus you were so far from your family. 
Yeah, that was very hard, and then I was there for 9/11, and the next year there was that blackout in New York, so I really had to grow up. It was baptism by fire. But I got to do Chekov, Strinberg, and so many other playwrights I'd never been exposed to before. I'd never been to a classical music concert or a dance concert before. My family was really not into art. The closest we got was David Cassidy. (laughs)
You started working on stage and in TV soon after graduation, but Salome must make you feel like you've arrived at a whole different level. It's the role of a lifetime. 
It's just amazing! Working with Al Pacino, first of all, that's great, because he's one of the most amazing artists I've ever met. Even if I was doing it in my basement, it would still be the best role I've ever had.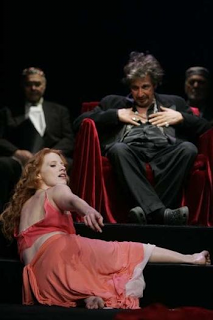 Chastain with Al Pacino in his stage production of Salome, 2006.


Tell us about Salome herself. She's a very complicated character. 
She's so complicated, and many people have different takes on her. What I got from her, and from Oscar Wilde's play, was that she's this 14 year-old girl who's grown up in this household with everyone drinking and partying, with a very promiscuous mother, with a step-father who's lusting after her, and she's just becoming a woman through all this. She decides that she's going to be pure. She's going to be a virgin, and she won't be sullied by all that's going on around her. Then she meets John the Baptist, who is all that she aspires to be: this chaste, beautiful man who is condemning her mother, and this awakens this very pure love in her. But she's so young and naïve and used to getting what she wants that by the end of the play she loves him so much that she doesn't understand the difference between selfish love and selfless love, so she needs to possess him. She needed to own him. Once she gets his head, she realizes that she wanted that intangible thing that you can never have, which is that you can't possess someone else. So she destroys the only tangible thing she ever loved. It breaks my heart, because I realized that when I was doing research on Oscar Wilde, he wrote this as a love poem to Lord Darlington, knowing it was a doomed relationship.
Tell us some more about Al Pacino. Were you intimidated before meeting him?
I actually met Estelle first, which was really intimidating, because she's such a brilliant artist. Plus, she doesn't sugarcoat anything. She'll tell you like it is. She doesn't play games. When I met Al, I was auditioning again at the call-back. I was so nervous, knowing that I was going to meet Al Pacino, I was afraid I was going to blow my audition. So I said to myself 'Okay Jessica, you know Al Pacino. You've seen all his movies. He's been in your living room during those movies. You've seen his most vulnerable, personable moments. You should be more nervous meeting a stranger than you should with Al, because you know him. There's not going to be anything that's going to surprise you.' So I went to meet him, and he couldn't have been nicer. Since then, he's never made me feel like he is "Al Pacino, the icon." He's always approached him as an artist who wants to create good work. I've never felt like he's pulling rank with me.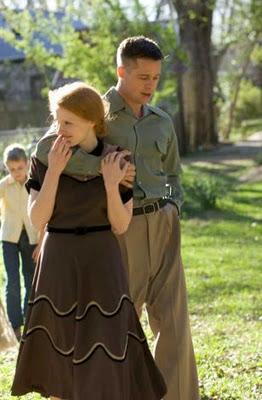 Chastain with Brad Pitt in Terrence Malick's The Tree of Life.


Generally people who are at his level aren't insecure, and don't need to pull rank on people. They're usually the coolest ones on the set. 
Yeah, exactly. There are so many actors whose work I admire, but then I hear these horrible stories of how they treat people. But so far, you haven't succumbed to the old adage of "never meet your idols, for they'll disappoint you." Hopefully never!