This Berry Upside Down Cake highlights the bright flavor of fresh berries and has a layer of cinnamon crumb swirl in the center! This post is sponsored by Krusteaz.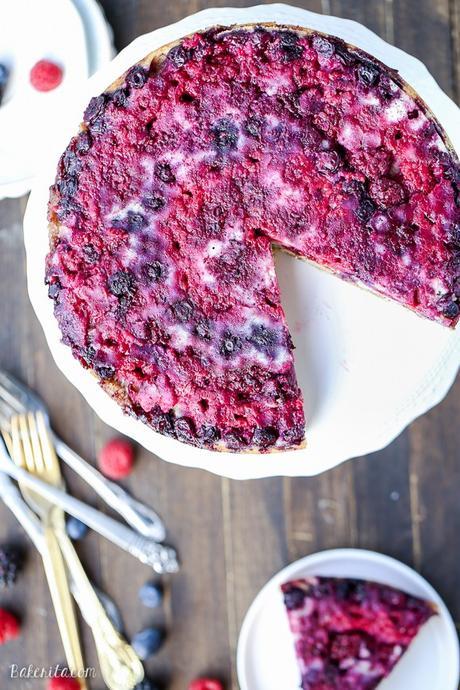 Berries are back to being reasonably priced in the grocery stores, and it means I'm stocking up every single time I'm food shopping. I can never get enough of berries, and they're one of my favorite ingredients to bake with – that's why probably why I have a TON of berry recipes.
The sweet, tart flavor of berries – particularly blackberries and raspberries – can brighten up any dish, and I knew they would really shine in an upside down cake. My friend Isadora from She Likes Food made a beautiful mixed berry upside down chocolate cake (hers is also gluten-free!) and I couldn't get it out of my head! I took inspiration from her delicious-sounding cake to create my own berry upside down cake.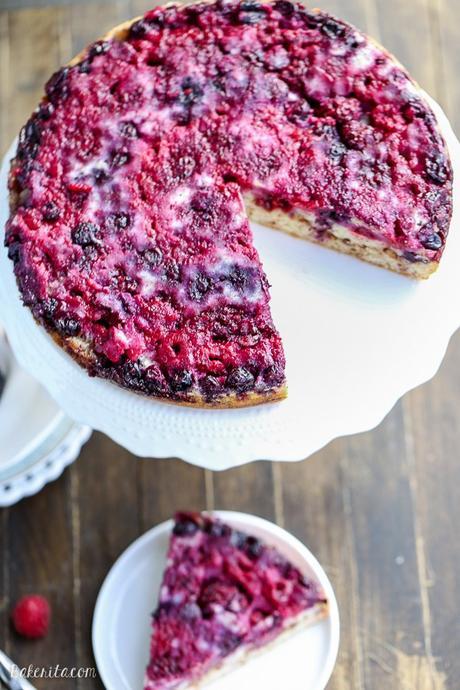 This is berry upside down cake would be the perfect addition to an Easter brunch, but it's so easy that you can whip it up any day your craving something full of berry flavor. The cake is made with the help of Krusteaz Cinnamon Swirl Crumb Cake Mix, jazzed up a bit.
I used Greek yogurt in the cake to help soften it up, add some moisture, and give a bit of that tangy flavor. Lemon zest also helps brighten up the cake batter, which is spread on top of the berries – I used a mix of raspberries, blackberries, and blueberries.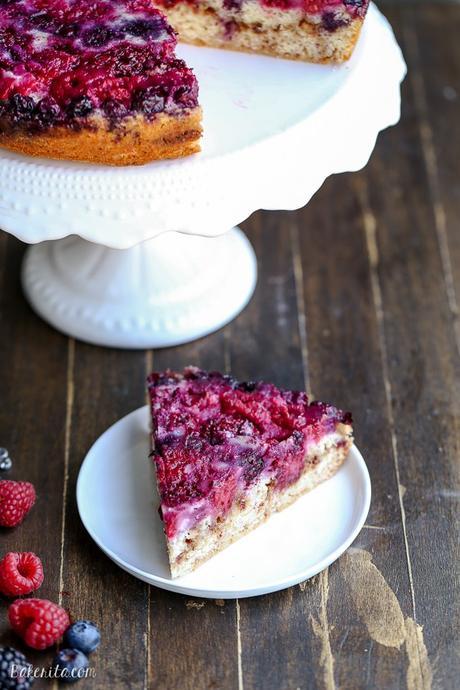 Half of the batter is spread on top of the berries, and then comes a thick layer of cinnamon swirl crumb! The rest of the batter goes on top, and then it's baked through until the berries are bubbly. I made this cake in a springform pan so it would be super easy to remove the sides, flip over, and then pry off the bottom of the pan, but if you don't have one, a regular cake pan will do just fine. I'd recommend lining the pan with parchment to ensure your cake comes out of the pan cleanly.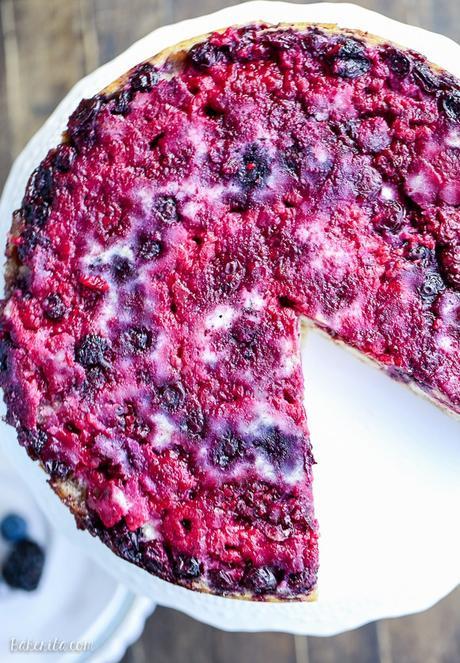 This cake is so full of bright Springtime flavors and absolutely delicious – I couldn't get over the beautiful colors of the berries. Serve it for brunch, dessert, or a snack – you can't go wrong whenever you decide to serve it! Enjoy :)
Facebook | Instagram | Twitter | Pinterest
Remember to #bakerita if you try the recipe!
Berry Upside Down Cake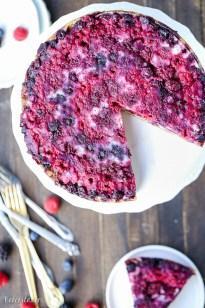 Save
Print
Prep time 15 mins Cook time 1 hour Total time 1 hour 15 mins   Author:
Rachel Conners
Serves:
10 slices
Ingredients
2 cups mixed berries (raspberries, blueberries, & blackberries)
1 package Krusteaz Cinnamon Swirl Crumb Cake & Muffin Mix
1 egg
½ cup Greek yogurt
½ cup water
1 teaspoon lemon zest
Directions
Find the complete instructions on Krusteaz website.
Notes Inspired by Mixed Berry Upside Down Chocolate Cake (Gluten-Free) from She Likes Food 3.5.3208
This post is sponsored by Krusteaz. Thank you for supporting the brands that support Bakerita!

There's more where that came from!
Paleo Banana Upside Down Cake
Apple Berry Crisp
Chocolate Berry Bars (Paleo + Vegan)
Blueberry Crumb Cake
Vanilla Bean Angel Food Cake
Peach Cornmeal Upside Down Cake