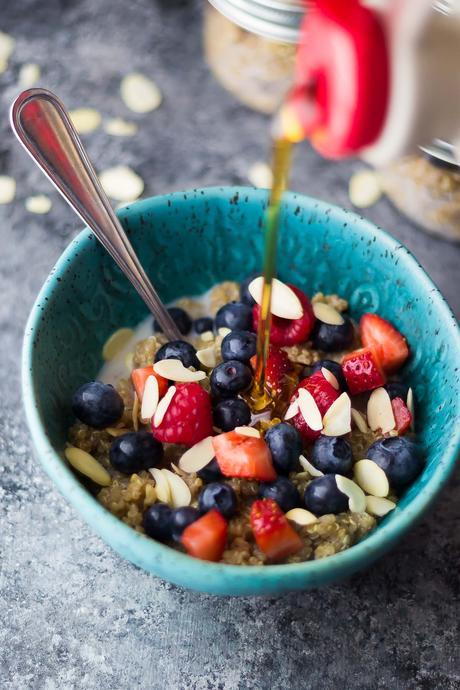 Make a batch of this berry almond breakfast quinoa, and you'll have four breakfasts ready for the week!  Vegan, gluten-free and free of refined sugars, so it's a great way to start your day.
I have been REALLY enjoying breakfast lately.  Those words are very unusual coming from me.
Ever since my Facebook community told me they were totally into doing a 14 Day Breakfast Prep Challenge in September, I've been on a make-ahead breakfast mission!
Looking around my blog, I realized that I am not a sweet breakfast person.  I have plenty of savory make-ahead breakfasts (such as these Quinoa Egg Breakfast Muffins and these Spinach & Feta Egg Breakfast Quesadillas).  But no sweet breakfasts.
So today's recipe is filling the void with this Berry Almond Breakfast Quinoa!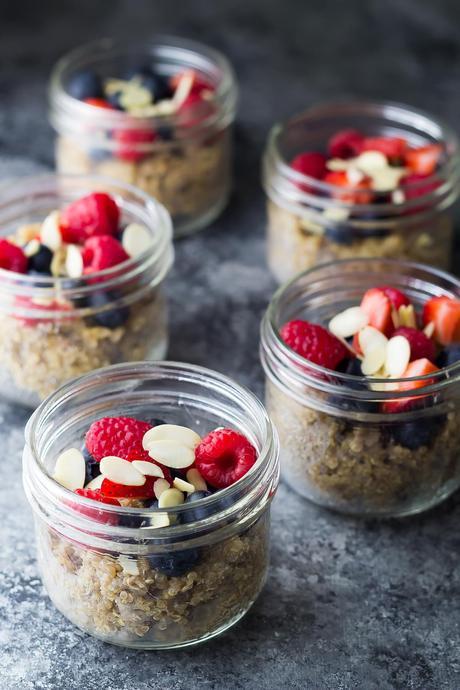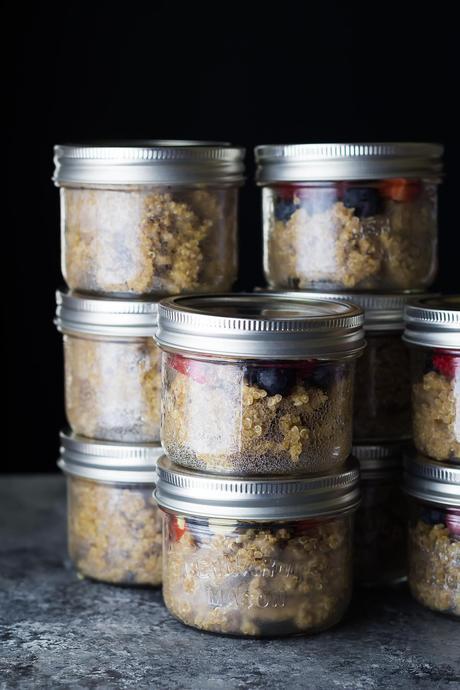 This breakfast quinoa recipe is kind of a riff on oatmeal, but I have to say I will take the texture of this quinoa to mushy oatmeal any day!
I cooked up a cup of quinoa in some almond milk (sub cow's milk by all means if you'd like!), flavoring it with a touch of cinnamon and cardamom.  After cooking, stir in a couple of tablespoons of maple syrup, top with some berries and almond slices, and serve (or save for later).
This berry almond breakfast quinoa is not really that sweet, actually most of the sweetness comes from the berries on top.  Use whatever berries you have on hand, it's even great with frozen berries!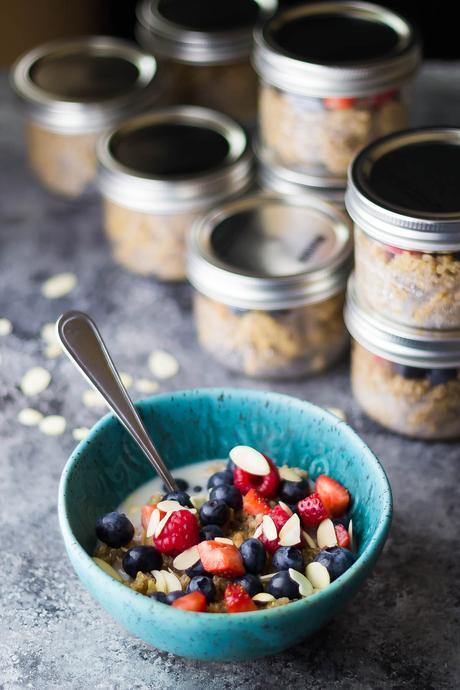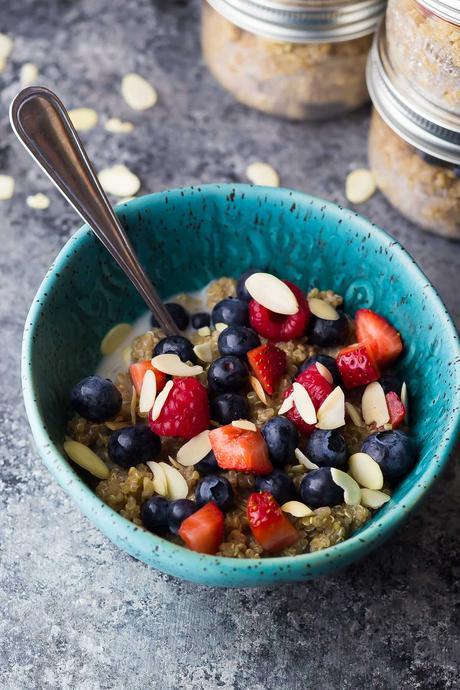 I stored my quinoa in these 250 mL jars, which was perfect for a portion of quinoa, but there wasn't much space for berries.  If you'd like to portion out a full serving of berries (I use a full cup), I recommend these glass storage containers
.  They are microwave safe so you can reheat right in the container!
To reheat, simply add a bit more almond milk, stir it all up, heat for a minute or so on 80% so it is lightly heated.  And enjoy!
I love that you can just grab these out of the fridge and take them with you, so if you are in a serious rush, you still get to eat a nutritious breakfast.
OK friends!  That's it for today.

If you'd like more information on the FREE 14 Day Breakfast Challenge, head over here.  
Or you can sign up below and I will e-mail you everything you need to know!
Email Address
First Name
Berry Almond Breakfast Quinoa (Make Ahead)   Print Prep time 5 mins Cook time 15 mins Total time 20 mins   Author: Denise Serves: 4 Ingredients
1 cup quinoa
2 cups almond milk (regular, not unsweetened)
½ teaspoon ground cinnamon
¼ teaspoon ground cardamom
2 tablespoons maple syrup
4 cups mixed berries
4 tablespoons sliced almonds
Instructions
In a medium pot, combine the quinoa, almond milk, cinnamon, and cardamom.
Bring to a boil, reduce heat and simmer for 15 or so minutes, until the quinoa is cooked through.
Cool quinoa. Stir in the maple syrup, and divide into four containers: ¾ cup cooked quinoa, 1 cup fruit, 1 tablespoon sliced almonds.
3.5.3208