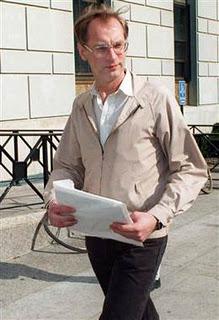 US News reports
James Ramseur, one of four then-teenagers wounded in the notorious 1984 incident, was discovered dead in a Bronx motel room on Thursday, with two empty prescription pill bottles next to the bed.
His death is being investigated as an apparent overdose and as a possible suicide, sources told The Daily News. They said Ramseur, 45, checked into the motel Tuesday and was scheduled to check out Thursday morning.
His body was found by the motel manager who went into his room after he didn't return the keys Thursday. No note was left.
Ramseur was freed from prison last year after serving 25 years for a rape, according to NBCNewYork.com. He was one of four black teens shot by Goetz on a train on Dec. 22, 1984, in a shooting that earned Goetz the nickname of "subway vigilante" by city newspapers.
Obviously this boy would have had a chance at a good life if Goetz hadn't blasted holes in him back in '84. In fact, Goetz is probably partly to blame for the rape committed two years later. (ha-ha, gotcha, only kidding)
The thing is Goetz earned his handle honestly. The New York vigilante was exactly that, a vigilante. Every day people are accosted by threatening-looking youths without deciding they need to be shot. What Goetz did was a perfect example of a false DGU.
The irony is he was acquitted of the wrongful shooting. This highly publicized case may have done more harm to the country than we can count. It set the tone for these kinds of actions, justifying taking the law into one's own hands.
Wikipedia:
"The incident has been cited as a contributing factor to the groundswell movement against urban crime and disorder, and successful National Rifle Association campaigns to loosen restrictions on the concealed carrying of firearms."
Untold damage.
What's your opinion? Please leave a comment.